About OnTime 360
OnTime 360 is a delivery management solution that enables businesses to streamline processes related to dispatching, order tracking, scheduling, barcode scanning and more. It provides mobile applications for Android and iOS devices for professionals to collect signatures and attach parcel images as per requirements. OnTime 360 helps businesses generate time sheets to calculate payroll and track vehicle maintenance schedules, packages, drivers or routes. It lets users generate custom invoices, import client or shipping data in Microsoft Excel and CSV formats, handle workflows and communicate with dispatchers via emails or text messages. Additionally, customers can utilize the online portal to view order history, print shipping labels and manage addresses. OnTime 360 comes with an application programming interface (API), which allows businesses to integrate the system with several third-party systems. The solution is available on monthly subscriptions and support is extended via documentation, videos, phone and other online measures.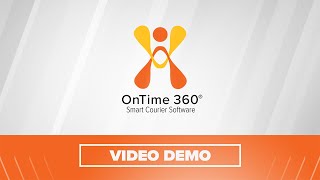 OnTime 360 does not have a free version but does offer a free trial. OnTime 360 paid version starts at US$39.00/month.
Starting Price:
US$39.00/month
Alternatives to OnTime 360
Industry: Import & Export
Company size: 51–200 Employees
Used

Weekly

for

1+ year

Review Source
---
Brilliant!
It wasn't the best app of its kind that I have tried, but it performed well, and its ease of use makes it pleasant
Pros
It's REALLY easy to use, and that is something that I value very much, it can be dispatched from anywhere and give the buyer/importer peace of mind. With our clients it worked wonders! And the price is pretty good
Cons
The search bar could improve, such as being able to use it on the billing screen, would be great!
Reasons for Switching to OnTime 360
I just had to decide on one and chose OnTime
Industry: Transportation/Trucking/Railroad
Company size: 11–50 Employees
Used

Daily

for

2+ years

Review Source
---
HAVE LOVED IT FROM DAY 1
It has helped our business be up to date and more efficient.
Pros
The versatility from day one! The ease of use.
Cons
I would like to see the reports have the ability to be modified for more specific uses.
Reasons for Switching to OnTime 360
Ontime allowed us to use the software with out changing any thing.
Used

Daily

for

1-5 months

Review Source
---
After 5 months of trying to get this system functioning we had to abandon it
Pros
Saving quotes was a nice feature. The web portal is nice and the drive mobile app is also user well done. It can take on a variety of complex rates and make them work, however it is very time consuming and complex to set up. You can customize a lot of features, and import data to OnTime360, which can be helpful but also messy, requiring time to clean up what is imported.
Cons
Save your money and your time. OnTime360 IS NOT completely mobile. If you are a fast paced small business and your dispatchers are not always at a windows computer 24hrs a day good luck! You will need a windows operating system laptop or tablet to lug around with internet access. Their customer service lacks in following up with things they need to get back to you on. They will answer your questions, but they are also rigid and not willing to take customer suggestions to make improvements that will benefit a broader base of clients. They make everything sound simple and it is not. I can generally easily learn most software programs, so I am not computer illiterate. I have to cancel and lose 6 months worth of money, because I asked how will my dispatcher will log in when they are not in the office to late in the game. Their answer is that cannot be done, and we will not make that available and we are not giving you any of your money back. Coming from using another dispatching software system for many years, I never liked the OnTime Dispatch you must use multiple screens and to get anything done and you cannot easily see what your drivers are working on. The functionality, updating, syncing is slow, even though we have high speed internet, and they could never get me an answer as to why.
Response from

Vesigo Studios

We are sorry to see that you have chosen to close your OnTime 360 account.

Many of our customers agree that our price quotes feature, Customer Web Portal, new Mobile Applications for drivers, and flexible pricing are among our many great features.

Our unlimited in-house Customer Service is included free of charge to our customers using all OnTime subscription levels. Many of our customer's suggestions have been included in recent updates to our software. Of course, as with any new software system, there is a learning curve and we welcome our customers to call or email us at their convenience.

We understand that, despite our continual efforts, some of the difficulties you were having could not be resolved to your satisfaction. Please note that a partial refund was provided. As always, we strive to take our customers recommendations and constructive criticism into consideration and continually work to improve. We appreciate you taking time to give us your feedback.

Replied 02/03/2018
Industry: Transportation/Trucking/Railroad
Company size: 11–50 Employees
Used

Daily

for

1-5 months

Review Source
---
I regret not switching to OnTime sooner
Overall I wish we would've implemented this program sooner. The efficiency has increased as well as reducing a lot of tedious office work that is now unnecessary. There are so many detailed functions of the program that we use daily. Customer service/technical support is amazing. They answer pretty much right away and are able to help in real time, emails are also responded to within 24 hours. The guys and Technical Support are invaluable and I can't say enough things about their promptness, knowledge, and the courteousness and willingness to help figure out a problem and provide a solution. We talk almost daily about how much this program/features have helped our business.
Pros
It easily organizes all of our jobs so that nothing gets missed. We no longer rely on memory/paper trail to get the job done. It provides excellent proof of delivery and has streamlined back and office procedure considerably. It is a huge selling point to our clients to be able to have a professional platform with all of the features to present to them to gain new clients. Our clients along with drivers and myself as the main office administrator, have been extremely satisfied with this new change and ease of use across-the-board. It has taken us to the next level and increased efficiency, we are thankful daily for on time and have considered it to be one of the best business decisions we have made.
Cons
The order in which the route stops appear is a little confusing to program at first. When setting up there were some things I wish I would've known before hand to avoid mistakes made but it was an opportunity to learn the software better. A nice feature would be to add in when the item is estimated to be picked up instead of starting the tracking from actual pickup time.
Industry: Transportation/Trucking/Railroad
Company size: 11–50 Employees
Used

Daily

for

2+ years

Review Source
---
This is integral to our company's day to day function
We are quite pleased with the software, the company, their service. They keep refining it and adding features, which makes our job easier.
Pros
The best feature to this software is the customer web portal. It helps us boost sales and reduces our phone traffic immensely. The technical support is outstanding. When an issue arrises it is dealt with quickly and competently. The tracking screen is easy to use
Cons
The receive payment area could use improvement, but it only comes up twice monthly in our company so it isn't a big problem at all.