About LearnWorlds
LearnWorlds is a cloud-based, all-in-one LMS designed to help businesses create, sell and market online courses. It is suitable for entrepreneurs, eLearning companies, corporate trainers, educational organizations, SMEs and large enterprises or individual instructors. The solution offers built-in marketing and sales tools to help businesses grow their audience and increase revenue opportunities. Such tools include a powerful website builder, landing pages, lead magnets, conversion pixels, built-in SEO, payment gateways, custom native app creation, and many more. LearnWorlds helps you build course content through multiple learning actvities that enhance learners' engagement and offer engaging learning experiences. Course creators can upload embedded and SCORM content, audio, text, ebooks and PDF files, and choose to add titles, images, pointers, hotspots, links, and questions inside interactive videos that have synchronized transcripts extracted automatically. Other features include a customizable course player, drip feeds, various assignment forms, quizzes and testing formats, live sessions, branded digital certificates and more. To help you scale your business, LearnWorlds also integrates with other platforms including Zapier, Zoom, MailChimp, HubSpot, FreshDesk, and comes with a variety of payment gateways including PayPal, Stripe, Shopify among others. The platfrom offers advanced reporting capabilities allowing you to deep dive into modern learning analytics to check your learners' progess, engagement, and activity. Get access to powerful course insights, check which content performs best inside your courses, and make data-driven decisions for your business. Pricing is on a monthly or yearly subscription basis. Support is available via an online help center, video tutorials, and other resources.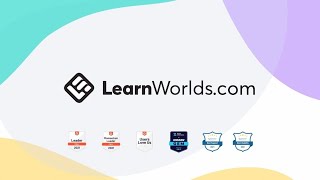 LearnWorlds does not have a free version but does offer a free trial. LearnWorlds paid version starts at US$24.00/month.
Alternatives to LearnWorlds
Used

Daily

for

1-5 months

Review Source
---
Their initial proposal to switch hosts was the ultimate in a professional academic offer.
This software makes it possible to me to have an international school, to interact with a widely diverse platform of students without the "brick and mortar"overhead that continues to make education too expensive for many students. It also allows me the one-on-one contact with students who have very specific questions that I want to throughly answer, instead of sitting in a typical lecture hall with hundreds of others holding onto their unanswered questions.
Pros
There's nothing wrong with making a fortune selling courses on using a hula hoop, but I've been professional field researcher outside the USA for nearly 13 years.
I have five professional degrees in subjects that I am passionate about to my core. I want to attract self-directed students. All the other online hosts that I thoroughly researched or used focused on what I call "recreational learning." My courses are serious investigations to make a sizable income.
LearnWorlds has so many professionals on staff that they understood that concept and are helping me to attract those who need CPD credits as an ESL teacher or a respectable career as an English Tutor in as little as a week."
Industry: Media Production
Company size: 2–10 Employees
Used for

6-12 months

Review Source
---
Elearning by accident
Pros
We had a customer that had us create all of their elearning for their company, so we had to get involved into this new area, and since we do media creation, they wanted us to coordinate the whole project. We tried many elearning apps and we finally recommended this one to our client for different reasons. It I should very easy to use, flexible and intuitive. The value/price equation is excellent. The app allows you to grow with it. It is very powerful and has many extras that most elearning platforms don't have, like the interactive videos app included with the subscription. The platform offers web hosting, very useful marketing tools, and email marketing tools or integrations. The support I should excellent and you get the impression they are on top of it. It is a great platform.
Cons
They platform offers gamification but it is not completely developed so it is not very useful. However, they stated it is in progress of being improved.
Reasons for Choosing LearnWorlds
More accessible, great features.
Industry: Education Management
Company size: 2–10 Employees
Used

Daily

for

6-12 months

Review Source
---
They sepnd a lot of time getting your business then ignore the problems
They are really responsive in the first couple of months so you can invest your time and money setting up in their system. Then once you're invested they ignore you and spend their time trying to grow their business model with new clients. If you have a long term plan for online learning I'm not sure they're ready to cater to any other businesses than their own.
Pros
It has a nice look, and is user friendly.
Cons
The software has problems. Tabulation of reports and certificates are something I have been going back and forth with the development and customer service team about, they have been incorrect. They apologise for the problems, come back to me every 4 days when they can be bothered and just say we are super busy growing our business due to the surge in online application due to Covid. That doesn't solve my problems, nor does it justify my subscription. My problems are still outstanding and months, weeks later they are still looking into it. Very poor.
Industry: Civil Engineering
Company size: 1,001–5,000 Employees
Used

Weekly

for

2+ years

Review Source
---
A one-stop shop with all the tools you need to create a customized training platform.
With LearnWorlds, we were able to create a special website to ensure that all employees can access training courses and educational materials easily, which had a positive impact on increasing interaction and participation.
Pros
LearnWorlds is straightforward and easy to use, and you can get started with its great tools in no time. It is good that with LearnWorlds we get our own website to publish training courses, and it is good that all settings do not require any programming experience, as we can simply choose one of the ready-made templates and make the appropriate modifications that match our needs. I appreciate that the LearnWorlds support team is available at all times and constantly provides us with feedback and assistance that ensures we reach the required results. It is wonderful that the preparation of training courses and educational brochures is also done smoothly, and it is noteworthy that the process of publishing on the site is done easily. I also appreciate that LearnWorlds supports all languages, which always helps us expand our training programs to include all segments of our employees.
Cons
I can't hate anything about LearnWorlds; all the tools are clear and easy to use, and their support team is knowledgeable and responsive.
Industry: Consumer Services
Company size: 2–10 Employees
Used

Daily

for

Free Trial

Review Source
---
Thus far, the best course platform
Pros
I love the product is created from an authoring view instead of a marketing one. You have all the tools you need to create a learning environment and powerful tools to enhance your videos directly.
Cons
There is an option to change the language, but it's not really that great. As a spanish native and implementor of learning programs for third parties it would be really useful to make a native spanish conversion for the UX: