About Deskera Books
Deskera Books is an easy-to-use tool for business owners. The dashboard gives users a quick overview of orders, invoices, bills, receivables, bank account balance, and much more. Users can create professional invoices with a collection of customizable templates and include payment link for stripe. Users can track bills, and pay online via Stripe, Paypal, Veem. It connects to your bank for reconciliation. Optimize inventory with a real-time view of stock at multiple warehouses. Fulfilling customer orders is easy with dropship, backorder, and pick pack & ship capability. Deskera Books provides a complete online accounting tool with JEs, notes, all financial reports - P&L, Balance Sheet, General Ledger to Cash Flow, in-built tax compliance, fixed assets, and multicurrency options. Deskera also helps run unlimited payroll as per local regulations, view payslips, download W-2, W-4, 1099s. Apply for time-offs and scan expenses receipts on your phone. Deskera integrates to a variety of systems including FedEx, Woocommerce, Zapier. Deskera Mobile app gives you the ability to run all Desktop features on the go.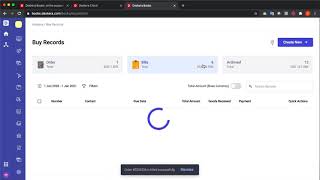 Deskera Books does not have a free version but does offer a free trial. Deskera Books paid version starts at US$49.00/month.
Starting Price:
US$49.00/month
Alternatives to Deskera Books
Industry: Computer Software
Company size: 2-10 Employees
Used

Weekly

for

1-5 months

Review Source
---
If you just took a bite of a lemon then Deskera will surely sweeten up your morning
Customer satisfaction 100%. UI 100%. Bank reconciliation for my accounts (Xero didn't have my banks) 1000%!!!
Really happy :)
Pros
Its all integrated! This really has the ability to provide a fully inclusive platform for startups. Additionally, the Appsumo pricing was an enormous help however I've seen the regular pricing and charging for admins only is the first of its kind. Really showing its priorities for startups.
Cons
The CRM isn't quite fully featured and for now I will stick with CompanyHub. Heaps in the roadmap though so we will regularly evaluate the situation.
Alternatives Considered
Xero
Reasons for Choosing Deskera Books
I've been looking for bank reconciliation as I hate doing it manually. This was a big win. Xero wants $50 a month and likely more because I use multiple currencies (USD and AUD) which is a rip off. When life hands you lemons, move to Deskera.
Reasons for Switching to Deskera Books
The above
Industry: Information Technology & Services
Company size: 2-10 Employees
Used

Daily

for

1-5 months

Review Source
---
Making the Switch
It covers distinct separate phases of my company and allows for the combining of different paid services. I look to continue saving on monthly expenses by having an effective and budget friendly solution.
Pros
I love that the developer of the software is listening to the users inside their Facebook private group and implementing the suggestions and changes. Any issues that arise are handled and provided with constant updates.
New features and integrations are being deployed frequently, adding value to the purchase.
The features and rich enough for my purposes and provides a tremendous value for my company.
Cons
While the software is not complex, making the transitions from decades of Quickbooks is time-consuming. I wish there was a way to import all my data and make the process a bit quicker and smoother. (Unless I overlooked this option somehow)
Industry: Marketing & Advertising
Company size: 2-10 Employees
Used

Daily

for

1+ year

Review Source
---
Could be better
overall it's good if used alone without the need for crm or other products
its best if you dont require heavy customisation to your invoices , templates etc..
Pros
I liked that it's a mature product
the support is always quick and helpful
the software is fast
covers all the basics
Cons
lacks full customisation that i needed
no integration between their own products! i.e Deskera CRM and Books
so we ended up adding clients twice.. as if we're using totally separate tools
which eventually was a dealbreaker for us
Industry: Marketing & Advertising
Company size: 2-10 Employees
Used

Daily

for

6-12 months

Review Source
---
Completely Amateur Software
I would stay away.
In the span of 1 month, I initially reported 4 bugs, only to have 2 bugs fixed, and I ended up with a whole new set of 5 bugs. All while wasting 30+ hours QA'ing the product for them because they don't know how to integrate with Stripe properly.
The reviews on G2, Capterra, and Appsumo must be sponsored because there's no way I'm the only person who integrated Stripe with Deskera and I'm the only one with tech glitches. 3 business owners contacted me asking why I'm sending duplicate invoices. Kudos to the Deskera team for adding Stripe integration WITHOUT testing and WITHOUT performing QA.
Pros
Nothing was positive about this experience for 4 months.
Cons
It's been 1 month since my original request to have fixes to something so simple, and more importantly, REASONABLE. (1) Email invoices directly from Deskera app (2) Add a payment link in the body of the email. (3) Add a payment link to the attached invoice. (4) Add payment details to their Integrated "Stripe Express" Dashboard. For bug (4), imagine as a business owner receiving 20 payments and none of them have customer info or any other details, all that Deskera shows is a blank page with totals. Photo is attached here https://tinyurl.com/yfev3e5g. This was the response for (4), and I quote: "If you further want to confirm who all have paid, that is what the Bank reconciliation process is for. You will need to reconcile your bank against the various payments you receive regularly as well..."
(1) was resolved
(2) was resolved
(3) was not resolved
(4) was not resolved
There is a new (5th) problem where integration with Stripe sends out phantom invoices that are separate from the invoices generated in Deskera. Accompanying the (5th) problem is a (6th) problem, where this new phantom invoice contains (A) a different Invoice # (B) contains different net terms and (C) contains a different date of issue. Another new problem after integrating with Stripe, (7) there is no connection back and forth. I.e. I send out an invoice for $1,000. Client asks for a $200 price adjustment. Deskera invoice is updated to show $800. The payment link does not update to reflect new $800 total.
Industry: Marketing & Advertising
Company size: Self Employed
Used

Daily

for

1-5 months

Review Source
---
Deskera Books is a great replacement for QuickBooks.
Pros
I've long been searching for a replacement for QuickBooks. Even my Intuit certified accounted loathes QuickBooks. Deskera Books has an easier interface and does everything I need it to do for invoicing and balancing my bank ledgers.
Cons
None so far. It does everything I need from an accounting standpoint.
Alternatives Considered
Xero
Reasons for Choosing Deskera Books
QuickBooks can be cumbersome and is expensive. Deskera Books does everything QuockBooks does and more. Deskera also has an integration with WooCommerce natively, so recociling sales is even easier.
Reasons for Switching to Deskera Books
Pricing and the native WooCommerce integrations made Deskara a slam dunk.