About vcita
vcita is a cloud-based, all-in-one business management solution designed especially for service-based micro and small businesses. Entrepreneurs and small business owners from different industries use vcita to manage their time, money, clients and marketing, all from one place. From collecting payments to managing clients, scheduling appointments to sharing documents and much more, vcita has all you need to organize and grow your business. Using vcita, businesses can discover new opportunities for growth, extend their brand, drive more clients to engage and deliver unparalleled, personalized services.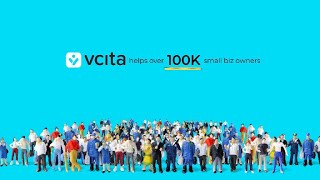 vcita does not have a free version but does offer a free trial. vcita paid version starts at US$29.00/month.
Starting Price:
US$29.00/month
Industry: Higher Education
Used

Daily

for

2+ years

Review Source
---
My admin and I have several hours of additional productive time!
I save at least 1 hour every week, and my admin saves 2-3 hours every week . This means that our team gets a lot more done in a week than was possible with vCita.
Pros
+ Ease of use - this tool is very easy to use for me, and my clients love it for the easy of use.
+ HUGE Time Savings - I have spent no time scheduling meetings this year, and my admin has spent less than 30 minutes.
+ Mobile interface - including a simple app, and SMS reminders
+ Overall cost
+ Customization
+ Record-keeping - I can easily search the meeting history for any of my students
Cons
- Cost of SMS packages - I stopped sending reminders because it was not a great cost-benefit ratio.
- Lack of group-scheduling feature.
Industry: Religious Institutions
Company size: 2–10 Employees
Used

Daily

for

6-12 months

Review Source
---
vcita has kept us going
Fantastic. We implemented vcita in a very short time and became immediately proficient in using it. It was that easy. The Zoom integration was the clincher for us- it is, by far, the best video platform on the market!
Pros
Zoom integration! Appointment management is simple and intuitive. We are able to invoice clients simply without a worrisome billing system. Incredible communication tools built into the system. Notifications/Reminders.
Cons
I wish we had a way to allow the client to set the amount he/she would like to or is able to pay.
Sometimes it is difficult to do the reckoning between reports in vcita and stripe.
Industry: Photography
Company size: 2–10 Employees
Used

Daily

for

2+ years

Review Source
---
Sinking Ship
Having been a customer for several years, vCita offered an all-in-one solution that few others compared to at the time. However, very little has changed in the last 3 years other than some unnecessary aesthetic updates and very minor enhancements. I got on board fully aware that there were several missing features I needed which were on the top of the feature request list and I put in place workarounds to suffice until these features were going to be implemented. I'm talking about pretty fundamental things, like the ability for online payments to be accepted with sales tax automatically calculated, and add-on/bundled products/services. Instead of the development team addressing critical upgrades the community is begging for, we get branding updates, color scheme changes, and random issues where things that have always worked fine no longer work properly.
Customer service is all but useless, and I constantly get the feeling their priorities lie in marketing the outdated product they have rather than improving it.
If you try the product and feel that it accomplishes 100% of what you need it to do, go for it. But if you find that it looks great but misses the mark on a few key areas, don't jump on board hoping it will be addressed in the next decade. Keep looking. I'm done waiting.
Pros
Relatively easy to use and deploy. Client interface is mostly intuitive and easy to use.
Cons
Product development is nonexistent. Customer support is a joke. On the rare occasion there is an update, I find something on my website no longer works, instead of being improved.
Industry: Marketing & Advertising
Company size: 2–10 Employees
Used

Daily

for

6-12 months

Review Source
---
Good customer management software
Good software to manage your prospects very well
Pros
The adaptation is simple but above all effective, the tool also offers me many other features
Cons
During its use I did not notice any problems frankly
Industry: Health, Wellness & Fitness
Company size: 2–10 Employees
Used

Daily

for

6-12 months

Review Source
---
A Really Great Tool
My experience has been great. I almost feel like the vcita people are my friends even though they're in Seattle and I'm in NJ.
Pros
I love the people like [SENSITIVE CONTENT HIDDEN] who understand that I am archaic and need help implementing technology. I also love that I can follow the day's activities by just flipping on my computer. Vita allows me to do virtually everything I need to do with the exception of cleaning the office.
Cons
I really do not have any complaints with the system.
Reasons for Switching to vcita
I felt that the vcita staff listened to me and did not try to shove a cookie cutter program down my throat.