About Streak
Streak is a cloud-based customer relationship management (CRM) solution that helps small to large enterprises manage projects and fundraising campaigns via Gmail. Users can automatically receive task details in the inbox and sort through messages to retrieve specific results using the search functionality. Streak lets businesses send invitation links to various organizational departments and grant permissions to specific employees. Teams can utilize performance reports to gain insights into product development processes and sales operations. Additionally, it offers mobile applications for iOS and Android devices, which lets users update customer details and share critical information with team members even from remote locations. Streak comes with an application programming interface (API), which allows enterprises to modify the system and integrate it with various third-party systems. It is available for free and on monthly or annual subscriptions. Support is extended via live chat and other online measures.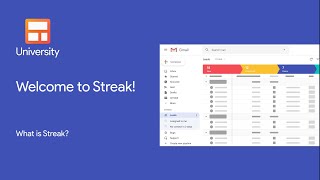 Streak has a free version and offers a free trial. Streak paid version starts at US$19.00/month.
Starting Price:
US$19.00/month
Industry: Staffing & Recruiting
Company size: 1,001–5,000 Employees
Used

Daily

for

2+ years

Review Source
---
Personalized Email Blast? Streak is the man!
This is the best platform so far out there that I've used in terms of sending emails, managing emails, and tracking the open rate and the acceptance rate of my emails.
You can also schedule an email sending time using Streak which is pretty awesome!
Pros
I've been in the recruiting field for more than two years now, and it has been a bottleneck for me sending emails outside of our candidate database. I usually do this whenever I need to update the candidates regarding next steps, and also if they have been turned down by the client after our presentation call with them.
What I usually do before is to send each candidate an email even if the context is just the same. This dilemma has been resolved by Streak! I was able to maintain the personal connection atmosphere with my candidates with the use of just a few seconds. All you need to do is to put the details of the candidate plus any personalized matter you want to add in the email context on a csv comma delimited excel sheet.
One more good thing about Streak is that you can schedule when an email should be sent. You can also monitor the acceptance and the open rate of your emails via Streak. Truly, Streak is the best platform for sending and email management.
Cons
I really don't have negative experience with Streak! I really love how the platform helped me do my job responsibilities without compromising human touch. Maybe this message is a sort of recommendation. I hope they can upgrade their system so that they too will upgrade to an applicant tracking system. If that time come, I will propose this to our company since I know Streak will help us in driving great ROI, and client engagements.
Industry: Market Research
Company size: 2–10 Employees
Used

Weekly

for

2+ years

Review Source
---
Live in gmail all day? This is the tool for you
Used it for over 2 years and absolutely loved it. The fact that I needed a more powerfull solution beyond tracking mails towards deal flow follow-up, chat embeds, forms etc made us look for a total solution. As a starter however, the solution was just fine.
Pros
1) Gmail first...
Activate the plugin and it just works, right where you need it: inside Gmail. Not having to move between windows or different tools makes it a big benefit to use Streak over others. It works with labels, provides direct & clear insights in your mailbox.
2) Collaboration... in gmail
We used Streak as a team. Sharing is easy as all mails are shared over 'boxes'.
Cons
1) lack of an evenly good mobile solution
They have an app that 'works', but it is not at the same level as their desktop gmail experience.
2) lack of featuers
No sequences were the major reason to stop using Streak.
Reasons for Switching to Streak
We now use Hubspot, but back then it was too feature-packed. Salesflare was back then less integrated with gmail, so we opted for Streak.
Industry: Online Media
Company size: 11–50 Employees
Used

Daily

for

2+ years

Review Source
---
Complete disrespect for loyal users (disgusting price increase/cash grab)
It's been fine. The tool works, support is sluggish and sometimes completely unresponsive, requiring follow-ups to get things actioned. Would not trust them.
Pros
It was a great lightweight tool for the beginning of our start-up, and managed to grow a little with our team. Works really well with Gmail.
Cons
Streak charges as though it's a fully-fledged CRM, but it is JUST a Gmail plugin; with huge platform risk should Google decide to stop supporting it. On top of this, they jacked up their pricing – not just for new seats, which would be fair – but for existing seats for very loyal customers; a cynical cash grab. We're talking a 34% increase. Just disgusting. Going back and forth with the FOUNDER, he still couldn't understand our point of view. We have now reduced our spend as much as possible ahead of moving away from them to an alternative platform without the Gmail plugin risks. If I were Streak, I'd be selling ASAP before the whole company tanks. Please think about the above before going with Streak, they have no loyalty, nor should their customers.
Reasons for Switching to Streak
It was all we needed at the time, and worked with our existing workflow. It was also cheap to begin with.
Industry: Leisure, Travel & Tourism
Company size: 2–10 Employees
Used

Weekly

for

1+ year

Review Source
---
Rough around the edges
I used Streak to follow acquisition of customers from cold contact to successful contract, and then, in another pipeline, how far along we are in our business relationship. If things would not move for a while, that identified a red flag I would investigate. If it wasn't for the inherent bugginess and general sluggishness of Streak, we would still be using it to this day as its integration with Gmail is just a fantastic idea.
Pros
It integrates directly to Gmail, and that alone makes it good. You open your Gmail, like you open it every morning and your CRM is good to go!
Cons
This thing is riddled with bugs and glitches. Often it would just not load and I would sit staring at a blank screen. Other times, it would load, but would completely choke my processor. A few times, it crashed my browser.
Reasons for Switching to Streak
We felt it was incredible how well it integrated in our processes and how easy it was to open it every morning without even thinking about having to do it.
Industry: Real Estate
Company size: 2–10 Employees
Used

Daily

for

2+ years

Review Source
---
SOOOO GOOD! Jump in without delay.
This is the stuff CRM's dreams are made of.
Pros
Masterful integration with Google's core productivity products (Gmail, G-Cal, G-Contacts, G-Meet, etc.). I wanted a CRM that increased efficiencies AND reduced redundancies, eliminated multiple software subscriptions, and existed WITHIN gmail. Streak achieves all of this (and—believe me—so much more) with flying colours. Not to detract from the many superior features of Streak, but I wish to use the following example to illustrate how exceptional Streak's value offering is. Whatever software you currently use to create snippets (AKA: email templates), if it's robust, your annual cost is likely a significant percentage of what you'd pay for Streak. Yet, Streak's snippet feature is far and away better than every similar snippet software I've ever used (and I've used the top 5 [in terms of largest user base]). While snippets are but a footnote feature amongst Streak's suite of sophisticated features, my point is that snippets alone are worth the value of a Streak account. Oh, that's right! The snippets are included in the free package. That's another point. Streak's free tier is so good that I'm sure many users/reviewers have little need for the paid plans if they run a solo operation. Just know this, though. Streak is the good stuff. If your business needs grow, so will your Streak consumption. Thankfully, Streak's paid plans are phenomenally competitive... dare I say, generous. Streak's ongoing maintenance, enhancements and customer services are golden.
Cons
The guilt I feel, for how little I pay, to use such a refreshingly functional CRM.