About Zoho Desk
Zoho Desk is a cloud-based help desk solution from Zoho Corporation, catering to businesses of all sizes. Key features include management of customer support tickets, a customer support portal, contract management and report creation. Zoho Desk collates interactions from various media (email, phone, chat, social media, a self-service portal, forums and forms) and presents them in one place. Tasks such as ticket assignment, service escalations, notification rules and time-based actions can be automated by setting workflow rules. The solution provides customizable and scheduled reports, happiness ratings and a graphical dashboard for analyzing customer satisfaction. Integration with Zoho customer relationship management (CRM) facilitates feeding of customer information into tickets logged in Zoho Desk, which enables service agents to know more about the customers. The solution also enables users to make custom changes, such as renaming tabs, adding new departments, customizing email templates, defining business hours and adding of help folders. Zoho Desk can also be integrated with clients' in-house systems.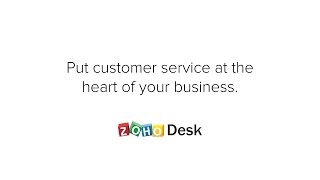 Zoho Desk has a free version and offers a free trial. Zoho Desk paid version starts at US$14.00/month.
Alternatives to Zoho Desk
Industry: Information Technology & Services
Company size: 10,000+ Employees
Used

Daily

for

2+ years

Review Source
---
The gold standard in customer service!
Invaluable progress has been made in facilitating communication. Helping us more effectively assist and guide customers who have questions or concerns about our offerings. Because of the faster resolution of customer issues, we have also seen a rise of at least 10% in the number of new customers requesting our services.
Pros
Currently, we're using the Zoho Desk application to aid our customers and foster deeper connections between our products and services. And in this way, we can speed up the resolution of any issues or complaints our users may have inside the service.
Cons
If we were using an issue tracking application, the ability to drag and drop items across categories would be really helpful. To my knowledge, the ability to receive and transmit voice memos has also been introduced. What you propose is novel in the extreme.
Industry: Hospital & Health Care
Company size: 10,000+ Employees
Used

Daily

for

2+ years

Review Source
---
Zoho Desk makes troubleshooting and customer service easy
Zoho Desk is now being utilized by our customer success and professional developers, and has helped us keep track of all the questions and concerns raised by our existing clientele and respond to them as quickly as possible.
Pros
We've incorporated Zoho Desk into our web app so that our existing customers can submit issues detailing the issue they're having and including screenshots and a description of the process they went through to get there.
Cons
There is a critical lack of functionality in Zoho Desk due to the lack of a desktop application. The Recent tab's quick access icon might have been positioned more conveniently, perhaps in the main header menu as opposed to the footer.
Industry: Education Management
Company size: 11-50 Employees
Used

Daily

for

Free Trial

Review Source
---
Cheap CRM for Startups -Easy to use.
Pros
The software is very easy to use, doesn't require training for the team.
Cons
Reporting system is not very robust, AI layer is also very basic.
Reasons for Choosing Zoho Desk
Needed more features mainly query identification and TAT setting for each type if query.
Industry: Marketing & Advertising
Company size: 2-10 Employees
Used

Daily

for

2+ years

Review Source
---
Fully ticketing and best helpdesk application system - Great Value for Great Features
Overall, I found the Zoho Desk user interface to be great. It's easy to navigate and create tickets, which saved me a lot of time and effort. I would highly recommend this product to anyone looking for a good ticketing system.
Pros
We were looking for a ticketing solution that could help us manage customer enquiries, document and collaborate communication, as well as track and resolve customer issues. Zoho Desk is the perfect solution for our customer success team. It's integration with other Zoho products such as Contacts and Calendar, has really streamlined how we interact with our customers. Zoho Desk has a huge list of features, making it very configurable to our specific business needs. The price is very competitive, making it an excellent value.
Cons
It can be frustrating when we can't find the right functionality or how to implement it, so it would be helpful if advanced features were more accessible or if there were tips on how to use them. However, sometimes companies choose to only make these available at higher pricing tiers.
Reasons for Switching to Zoho Desk
I chose Zoho desk over these alternative products because it has all the features a user needs to create a ticketing system, organize and prioritize service tickets, easily track all tasks, create tickets, and respond to them fast. Zoho Desk is flexible, user-friendly, and efficiently tracks customers' history of support tickets. Zoho Desk supports various integrations, such as Jira Software, Google Workspace, Trello, Zoho CRM, Microsoft Teams, Zapier, Zoho Assist, Zoho Sales, and Slack.
Industry: Information Technology & Services
Company size: 11-50 Employees
Used

Daily

for

6-12 months

Review Source
---
Zoho - One of the best ticket systems around
The initial setup was quick and easy, and since then it has been very smooth. The team enjoy using the software, the customers are feeling the benefit of the reliable ticket features.
Pros
The best bit about the software is that my team enjoy using it. It's user friendly, and visually appealing. The setup was also very pain free. Couple hours and we were ready to go.
Cons
We miss the FAQ's section of our previous helpdesk supplier. This is so handy and is really something that needs adding to Zoho.
Reasons for Choosing Zoho Desk
Our contract had expired with our previous provider, and we felt we wanted a fresher change.
Reasons for Switching to Zoho Desk
The price was a deciding factor, and the support offered.