About CloudTalk
CloudTalk is a contact center management solution that enables businesses to streamline communications with teams and customers using virtual call systems. It allows executives to manage inbound/outbound calls, extract interaction history from various sources and provide personalized support to clients. Key features of CloudTalk include automated call distribution, interaction recording, voicemail, interactive voice response (IVR) and custom reporting. Businesses can utilize wallboard to gain real-time visibility across staff activities and identify behavior trends using sentiment or emotional analytics. Additionally, agents can utilize the after-call-work (ACW) functionality to complete follow-up tasks, improving customer satisfaction. CloudTalk integrates with various third-party platforms such as Salesforce, Zendesk, Pipedrive and more, streamlining telephony workflows across locations. It provides web and mobile applications for Windows, Linux, Mac, Android and iOS users. The solution is available on monthly subscriptions and support is extended via phone, email and other online measures.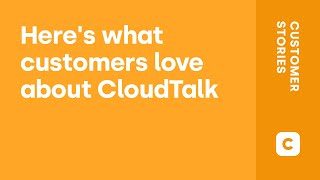 CloudTalk does not have a free version but does offer a free trial. CloudTalk paid version starts at US$25.00/month.
Starting Price:
US$25.00/month
Alternatives to CloudTalk
Industry: E-Learning
Company size: 2–10 Employees
Used

Daily

for

1+ year

Review Source
---
Great IVR & solid value
Very positive! Sending the high-five to their team.
Pros
Besides having like every feature of the contact center available on the market, we like the easy-to-use interface, their team (especially support) and the pricing is better compared to the competitors.
Cons
The mobile app could be improved, but we prefer the desktop app anyways.
Reasons for Switching to CloudTalk
Best value for the pricing, solid support
Industry: Leisure, Travel & Tourism
Company size: 51–200 Employees
Used

Daily

for

1+ year

Review Source
---
Great product and fantastic support!
I can say 10/10.
They have all that we need, and, in addition, they offered me great opportunities. a recent one was an article in their customer experience section.
Pros
The integration process was enjoyable, as we had a dedicated Sales manager taking care of our implementation. As we are already integrated, my favorite features are the interactive voice replies, missed calls, and the statistics we can use to improve our decisions.
Cons
The cloudtalk team is improving along the way. We have experienced some temporary bugs.
Alternatives Considered
Twilio
Reasons for Choosing CloudTalk
The hardness to communicate with Twillio and to obtain support for our desirable functions.
Reasons for Switching to CloudTalk
Cloudtalk team was more responsive and quickly introduced us to all the features we were looking for.
Industry: Entertainment
Company size: 2–10 Employees
Used

Daily

for

6-12 months

Review Source
---
Looks good from a distance, but they're a mess internally
Pros
The idea of the software being able to tie remote-access cell phones together is wonderful, but not fully fleshed out. Their IVR interface seems great on the webpage, but it often glitches, and calls just get dumped to a voicemail void with no message.
Cons
CloudTalk is a young system that promises more than it can deliver. They offer apps for all sorts of connection points, and integrated systems for automation... but once you get signed up, you learn that most of it is beta software and it's SUPER glitchy. The marketing team is propping up a half-built software system.
The iPhone and Desktop apps do not work reliably (if-at-all). The Phone app cannot transfer calls or take SMS messages properly. It often just quits in the background on your phone so you don't even know that your phone cannot receive calls. The system also drops entire call processes and never lets you know that someone tried to call. I've tried calling our own office phone and not been able to get through to my own desk through cloudtalk.
Their support chat service says "average response time is 5 minutes" but it usually is 2-4 hours, or a couple days. No explanation why. They REFUSE to get on the phone to solve issues unless you pay 2x as much for an Expert account, which is just a sign that they do not care about anyone but their premium customers. They will NOT go out of their way to help you.
I had a lot of faith in this company when we first saw a demo of CloudTalk, and thought that it would be perfect for us, but they just put too many roadblocks in the way for us to continue using their service. I don't feel like a valued customer, and I don't see any improvement in a year.
Industry: Insurance
Company size: 11–50 Employees
Used

Daily

for

1-5 months

Review Source
---
Cloudtalk is the many tools in one
It's a really great app especially because you can do more things than just call a contact. Top point the dashboard they provide is perfect and it gives you the control you need in order to analyze better your calls and get better results.
Pros
The features me and my team like the most are the possibility to send SMS and get replies, from your contacts, the possibility to use tags in order to categorize your calls, and leave notes at any time even when the call is over or maybe you have forgotten to write something and you can go back to the call history. I like it because it gives you the idea of a real phone so you can do more things with one app. Plus, the statistics dashboard is excellent.
Cons
The thing I liked the least at the beginning was some technical problems we faced with the integration with our CRM.
Reasons for Choosing CloudTalk
Because we had limited feautres with the old program and we didn't have the maximum control of the inbound or outbound calls.
Reasons for Switching to CloudTalk
Because the moment I talked with the sales manager I understood immediately that they are flexible on adapting to the needs of the customer, present everything they can provide and helo with whatever the customer needs and that is something great because there are tools (similar and not) that you need a lot of time before you have an answer from the support team.
Industry: Information Technology & Services
Company size: 1,001–5,000 Employees
Used

Daily

for

1-5 months

Review Source
---
Light weight telephony with easy integration
Easy to start off and get it to the team. Easy for users to understand and use it. Overall my team was able to outbound and inbound calls on their programs.
Pros
Quick to start. You have a telephony system set up in less than an hour. Add new users on the fly.
Cons
Integrations with home grown CRM's can get better.
Alternatives Considered
Twilio
Reasons for Switching to CloudTalk
Free trial, ease of integration with softwares