About Funraise
Funraise provides exceptional, friendly digital fundraising technology. State-of-the-art donation management tools centralize fundraising management in one platform, making it easy to create lasting impact with nonprofit-first technology. Experience why organizations like United Nations HCR and National Wildlife Federation trust Funraise to power their fundraising. Start for free and grow your impact.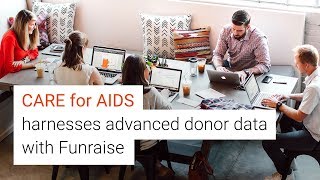 Funraise has a free version and offers a free trial. Funraise paid version starts at N/A.
Pricing Details:
Funraise can create a customized pricing and feature package for you.
Industry: Nonprofit Organization Management
Company size: 11-50 Employees
Used

Daily

for

1-5 months

Review Source
---
The one you've been looking for
Funraise has become a tremendous support system upon which to build our marketing and fundraising efforts. Their teams are friendly and responsive, and they are constantly providing free knowledge and resources which help inform our efforts. The platform is constantly improving as well, with new releases regularly.
Pros
Funraise combines every tool a non-profit organization may need to be successful into one easy-to-use platform, at a reasonable price point. Being able to manage donation forms, email automation, peer-to-peer fundraising and donation data analytics in one place is a welcomed addition to our tool kit and is already paying dividends.
Cons
There's not much to dislike. It's very intuitive and easy to use, even right out of the box. An end-to-end SMS marketing approach would be a nice feature addition that would help enhance donor communication.
Reasons for Switching to Funraise
Funraise provides the most comprehensive solution to address all of our needs. Rather than paying multiple vendors to manage multiple "pieces" of the process, we found Funraise to deliver in all areas, and allow us to become platform experts in one place rather than learning a little about a large number of products. The team is awesome. Our account execs and support team members have been phenomenal. The company leadership is forward thinking and always pushing for the next great version of their product. Highly recommend!
Response from

Funraise

Drew, as always, we appreciate your "funpraise". We love working with such forward-thinking and invested organizations and look forward to a long relationship with you and your team!

Replied 23/07/2020
Industry: Nonprofit Organization Management
Company size: 2-10 Employees
Used

Daily

for

1+ year

Review Source
---
review
It's great - being a small team and at times a 1 man team when it comes to the development side Funraise automates many tasks as well as helps keep us very organized.
Pros
It's very easy to use, and has all features under one roof: event, peer to peer, recurring donors, donation button, social media, texting, and I'm sure I'm even missing other features. The integrations to email marketing, company matching, and wealth screenings are also very simple and easy.
Cons
There are some limitations to bulk action items that could make management easier as well as some manual specific limitations to the text feature.
Response from

Funraise

Thanks for the feedback, Richard! And the feeling's mutual: We feel like you're one of ours, and we love what BLUE Missions does every day.

Replied 16/03/2021
Industry: Nonprofit Organization Management
Company size: 11-50 Employees
Used

Daily

for

1-5 months

Review Source
---
Great Customer Service From [SENSITIVE CONTENT HIDDEN] and others
The customer service and patience from [SENSITIVE CONTENT HIDDEN] has been the best part of it. His help, knowledge and responsiveness is what makes Funraise worth the cost.
Another program might have more bells and whistles -- but a young man who responds like he does -- is the bells and whistles.
Pros
As a development professional I appreciate that their is a free version for less experienced people.
Cons
The software seems to not have been designed for experienced Development professionals who want to use the features and events that other platforms like Greater Giving provide. Limited customization, limited buttons, etc.
That being said you should design your software to ask the user what are you trying to do and then take them through the steps, IE. Are you holding a gala? Yes. Do you have an auction at your gala YEs....then you build a skeleton platform for them.
Why don't you send me emails using your own platform. I set up a page for example? then you send me an email afterwards and on a regular basis that walks me through another feature I can or should be suing.
There's just too much to discover on my own.
Response from

Funraise

Hi Lori, thanks for your feedback! We just want to note that it sounds like you're utilizing a limited set of Funraise features based on your plan, but there's lots more... as you noted. "There's just too much to discover on my own."

To help out, we'd love to provide an advanced demo to help you take advantage of everything Funraise has to offer and show you how Funraise is powering international organizations raising millions online. We'll reach out to schedule a call. Thanks again!

Replied 04/03/2021
Industry: Nonprofit Organization Management
Company size: 11-50 Employees
Used

Daily

for

2+ years

Review Source
---
Work with a CRM that works with you
Pros
Your software is a tool that needs to work for you, not the other way around. Funraise allowed us to implement much needed data and donor tracking upgrades quickly, with more innovation, and in a cost effective way. Customer support has always gone above and beyond to help us overcome any hiccups along the way. Overall, we have out performed our fundraising goals year over year since using Funraise and our data is now easy to find and manager.
Cons
There are some minor customizations that I'd like to make to donor records or to event pages but Funraise is always improving and introducing new features. I love that they grow with us, anticipate needs and work to build solutions so that I don't have to wait to long for those changes.
Response from

Funraise

Thanks for the feedback, Sonja! It's always our pleasure to dream up new solutions and work with customers to implement them for maximum impact.

Replied 22/07/2021
Industry: Nonprofit Organization Management
Company size: 2-10 Employees
Used

Daily

for

2+ years

Review Source
---
A Wonderful Fundraising Software
Overall, our experience with Funraise has been excellent. We've grown a lot over the past 3+ years and so has Funraise. It has been so great to continually increase our utilization of Funraise as they have added new features and updates, which they do so regularly. One of the most important factors in choosing a platform for me is knowing I will have quality customer support to help me when I run into problems or questions - and Funraise excels with this!
Pros
Funraise works so well with our website and our CRM. Donation forms are easy to create and embed in our website even for those of us who are not web developers, and when a donor gives on that form, the donation automatically is entered into our CRM, Salesforce. Additionally, Funraise offers many other features such as customizable peer-to-peer platforms, automated emails, event ticketing, and more. Their customer support team is excellent and always promptly responds to inquiries and actively helps to solve any problems we have come across.
Cons
The one feature we would really love to have access to but do not would be an online portal system for donors to manage their recurring donations and payment methods.
Alternatives Considered
Classy
Reasons for Choosing Funraise
Funraise integrated seamlessly with all our other platforms, our donation forms looked great on our website and donations were automatically created in our CRM (no more manual entries!) This saved our team so much time especially as we have grown so much since adopting Funraise. Additionally, Funraise allows for easy and intuitive reporting on donations and donors. Anyone on our team can easily find information about our current donors there.
Reasons for Switching to Funraise
Funraise was the most robust platform that both fit within our budget and integrated with the systems we already had! We loved that we would no longer have to manually enter every donation into our CRM (Salesforce) which was a requirement as we planned to grow our donor base.
Response from

Funraise

Thank you so much for the feedback, Emily! It has been a pleasure for our team to see Compassion First grow, and we hope you'll keep wishing for that one feature you're looking for... you may get your wish sooner than you think!

Replied 10/03/2021