About Notion
Notion is a digital workspace that lets small to large businesses streamline and manage notes, tasks, projects, records, calendar and more. Key features include portfolio tracker, designer templates, database management, documentation and data export. Deployed on a web-interface or on-premise platform, Notion provides businesses with a product roadmap, task lists and repository patterns, streamlining project workflows, from initiation to completion. It provides mobile applications for iOS and Android devices, which let users view and manage completed, in progress and not started tasks, even from remote locations. Additionally, it allows businesses to collaborate and perform team tasks, share meeting notes, update project expense report and maintain benefits/vacation policies. Notion comes with an application programming interface (API), which lets businesses integrate the system with several third-party integrations such as Google Sheets, Twitter, Figma and more. Pricing is available on a monthly subscription and support is extended via email, phone and documentation.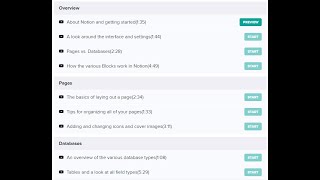 Notion has a free version and offers a free trial. Notion paid version starts at US$10.00/month.
Starting Price:
US$10.00/month
Industry: Legal Services
Company size: Self Employed
Used

Daily

for

2+ years

Review Source
---
Great for managing information
Pros
I really like how I am able to store all style guides and guidelines in one easy to access place. I am often working for multiple clients at the same time, and being able to easily access each client's specific guidelines all in one place streamlines my work tremendously.
Cons
There is not too much I dislike about Notion. When I first started using it, it took me a little while to get used to the way their databases and data tables work, but overall it was a pretty easy transition.
Industry: Information Technology & Services
Company size: 51–200 Employees
Used

Daily

for

1+ year

Review Source
---
Motion to use Notion (I was REALLY trying to make it rhyme!)
Never heard of anyone wanting to change it to something else, which is high praise on its own! I fell in love with it when my company utilized it to onboard me, and I have stayed faithful ever since.
Pros
It is a user-friendly space for organizing the work of any remote team. Multiple workspaces, the ability to create templates, and a very robust database system work to the advantage of keeping your thoughts and notes organized. Just remember to spend some time planning the architecture. It's not the easiest entry point, but once that's settled it's really a pleasure to work with.
Cons
Once the organization is large enough, keeping all the articles current is a challenge. I would recommend finding a couple of Notion champions who would keep the volume and quality in check.
Reasons for Switching to Notion
I was not part of that decision, but I've heard stories about it being recommended by a couple of team members who were using it personally
Industry: Marketing & Advertising
Company size: 501–1,000 Employees
Used

Weekly

for

6-12 months

Review Source
---
Notion - Great Concept mid tier execution
Overall, my experience with Notion has been a mixed bag. On one hand, I appreciate the platform's flexibility and versatility when it comes to storing and organizing data and information. Notion allows users to create a wide range of content types, including notes, databases, calendars, and more, which can all be linked together in a highly customizable way.However, I have found that Notion can be quite challenging to use, especially for new users who may not be familiar with its unique structure and terminology. The platform has a steep learning curve, and it can take some time to fully grasp all of its features and functions.Furthermore, while Notion is excellent for individual use or small-team collaboration, I have found it less than ideal for distributing information to larger groups or organizations. Notion's pricing structure can be quite expensive for larger teams, and it can be difficult to manage permissions and access levels for a large number of users.
Pros
I like the idea of Notion as it provides organizations with a simple opportunity to manage documents and other important information.
Cons
Using Notion, I realized how complex some implementation and syncing could be. It wasn't very user-friendly and difficult to navigate.
Industry: Education Management
Company size: 201–500 Employees
Used

Daily

for

1+ year

Review Source
---
Amazing! Simplified Database Management
Exceptional. Life Saving. Notion actually helped me organise all my research and workflow integrated.
Pros
Simple interface with database backend, makes it customisable to be used for any form of management.So useful to have web based interface and database table structure, with customisable frontend database display, with link to share, with templates to duplicate all in one.
Cons
Formatting text has limitation, cannot increase or decrease font sizes in the body.Also cannot customise the heading/subheading etc.
Reasons for Choosing Notion
Microsoft OneNote also does similar stuff, helping to organise notes etc and Evernote as well has advanced formatting as well.But ease of database in the backend, makes me choose Notion to the rest.
Reasons for Switching to Notion
Onenote doesn't have any excel integration, like for search, filter etc
Industry: Computer Software
Company size: 5,001–10,000 Employees
Used

Daily

for

1+ year

Review Source
---
The best for organizing and keeping track of projects
Pros
I like how Notion helps me keep all areas of my life organized, from work to side projects to my day-to-day personal life, all in one application. Brainstorming has become more accessible, and my project planning is more organized. Now with the AI feature, it helps to take the guesswork out of specific mundane tasks and speeds up many processes for me.
Cons
There are no downsides for me. I feel like it's only gotten better over time. There are a ton of templates that already fit my needs, so no worries there. The addition of AI has only made it better, so keep up the good work.