About JIRA Service Management
Formerly known as Jira Service Desk, Jira Service Management is an IT service management solution that unlocks high-velocity teams. IT is in the midst of rapid transformation to build capabilities that enable quick delivery of great services while managing cost and risk. But old ways of working constrain progress. Rigid processes limit team agility. Disparate, disconnected tools interrupt the flow of information and hinder good decision-making. With Jira Service Management, teams can: - Manage work across teams on one platform - Enable employees and customers to quickly get the help they need with a self-service portal - Respond, resolve and continuously learn from incidents - Innovate faster with automated change risk assessments, advanced approval workflows - Gain visibility into infrastructure and understand service dependencies - Set up advanced SLA metrics and report on performance in real-time - Configure automated rules so users can streamline repetitive tasks and agents can get more done With over 1000+ integrations on Atlassian Marketplace, including CircleCI, Jenkins, AWS, and more, Jira Service Management can be easily customized to fit any team's needs.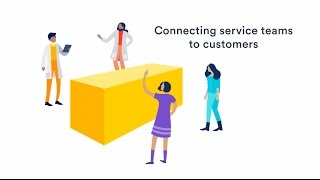 JIRA Service Management pricing
JIRA Service Management has a free version and offers a free trial. JIRA Service Management paid version starts at US$20.00/month.
Pricing Details:
Free up to 3 agents 7 day free trial of paid plans Standard: 4-15 agents for $20/agent/month, 16+ agents at discounted price Premium: 4-15 agents for $40/agent/month, 16+ agents at discounted price Enterprise plans are also available, billed annually
View Pricing Plans
Alternatives to JIRA Service Management
JIRA Service Management Reviews
Industry: E-Learning
Company size: 51-200 Employees
Used

Daily

for

1-5 months

Review Source
---
From the Trusted Atlassian
In a crowded space for helpdesk apps, Jira Service Desk stood out because of the company that backs it up, its family of related apps and, the current integrations with existing third-party apps out there. Jira SD is well worth trying out.
Pros
From the same company of my favorite and trusted apps like Trello and Jira... We then gave Jira Service Desk a try. The user interface has a modern look and feel and is intuitive enough even for a novice user or admin. It has a pretty standard set of tools to run your usual IT Helpdesk and Support roles straight out of the box (Incident management, Problem, Change, SLA management, etc.). In fact, you can set up your helpdesk well within an hour (of course not counting the per company nitty-gritty). Default setup works, but it's also super customizable based on your company needs. The Dashboard has all the at-a-glance metrics, statistics and graphs to keep you up to speed with the overall status.
Again, coming from Atlassian, it has a ton of possibilities in terms of integration with other apps. I feel the constant stream of dev improvements and updates.
Cons
Even though I mentioned that the third party apps can be easily integrable, we find the documentation for creating one's own integration apps a bit lacking. Also, the creation of tickets can be more streamlined or simplified (perhaps with the minimum number of fields and button clicks) to make it easier or faster to create and then further details can follow.
Industry: Music
Company size: 501-1,000 Employees
Used

Daily

for

6-12 months

Review Source
---
A great option for on-site ICT service desk management
Overall we are very happy with Jira Service Desk; it has allowed us to provide a higher level of support to users than our previous service desk, and non-profit pricing was very beneficial for us. The software is usable in its default setup but we have found that there is still plenty of customisation that can be done if needed to suit more complex requirements.
Pros
I find the UI of Jira Service Desk very clean and modern compared to other service desks software on the market. Included with the service desk is a customisable user-facing portal for users to raise tickets in, which proved very popular with staff when raising tickets alongside traditional email tickets. Due to the way Jira splits service desks into different projects, we were able to create service desks for other departments in the organisation which helped improve productivity and workflow. There are some very useful and well-designed default reports included for ticket statistics (which can be used to keep management happy!). We found the default setup of Jira Service Desk fit our needs very well, but it is very easy to customise ticket workflows and other features to suit more complex needs.
Cons
For a service desk technician using Jira Service Desk the back-end UI for managing tickets can be a little overwhelming, however this can be fixed by editing the default workflows for tickets to hide not required information and details. The administration settings are somewhat unintuitively set out for system administrators, but once you get to grips with the layout it becomes easy enough to find what you need from the settings page. We found the instructions on the Atlassian website for setting up an external redirect with a custom URL in IIS a little sparse on detail, but a quick trip to the Atlassian forums cleared up any queries we had with the process.
Reasons for Choosing JIRA Service Management
We switched as part of a service contract change which meant our Kaseya service desk which was provided by our MSP was no longer an option. Instead we decided to look at alternative service desk software that could be used for our needs, and as we were at the time considering implementing both OpsGenie and Confluence (which are also Atlassian products) we decided to remain in the Atlassian ecosystem and choose Jira Service Desk.
Reasons for Switching to JIRA Service Management
We chose Jira Service Desk as it was one of the few with a pricing model that worked for us; being a non-profit organisation, their free licencing for non-profits was a huge selling point to us. This was coupled with the fact we were at the time considering implementing both OpsGenie and Confluence (which are also Atlassian products) so we felt staying within the Atlassian ecosystem would prove beneficial.
Industry: Information Technology & Services
Company size: 11-50 Employees
Used

Daily

for

2+ years

Review Source
---
Full Help Desk management
JIRA Service Management was a great solution to implement to replace an outdated custom written software package. It still allowed a lot of flexibility by configuration without having to resort to coding changes.
Pros
Jira Service Management is an excellent choice to implement a full-featured powerful and easy to use platform for directing all your help desk activities. With many options to implement for user control, notifications, alert management, tracking KPIs, and structuring tickets into categories it provides an IT response desk everything they need to succeed.
Cons
The more users you have that have to actively participate in the life cycle of tickets the more expensive it can get
Industry: Information Technology & Services
Company size: 10,000+ Employees
Used

Daily

for

6-12 months

Review Source
---
In absence of better software it might be...
I'm working in scrum team. But I'm a part of big it organization. Jira helps us to reflect complexity of our organization and help to collaborate and to track work to be done and done already. It have many reporting options. But for me there is a little bit too much of options that I'm not using - features overkill which only contaminate usability. If you could decide how to clean a view it would be great. But as I said in title - although it's not dream software in absence of better it serves well.
Pros
Most important functions, from perspective of scrum or devops team member, can be learn quickly and used easily. Also it gives a lot of option of organizing workflow between many agile teams. You can have different levels of tasks - and visualizations to them. I like that you can organize many boards and link everything. It takes of course a little bit of consistency in following the rules in order to not create a mess.
Cons
Well, it tends to have sudden downtime.. for no reason (well at least from my perspective) it's not responding. Speed interface could be improved. Sometimes you have to wait a while after an action performed.
Industry: Banking
Company size: 1,001-5,000 Employees
Used

Daily

for

1+ year

Review Source
---
JIRA - A Must have ITSM
Very useful, one-stop solution with related to ITSM, Ticketing and change management.
Pros
Highly customizable dashboard is a huge turn on. You can see almost everything that is going on may be whether it is a project or an issue
Cons
When an issue go unaddressed for a long period of time, I suggest that there should be any way to automatically escalate or generate a reminder.