About ServiceWorks
ServiceWorks is a cloud-based solution that helps businesses manage field employees and service delivery operations. Key features include inventory management, route optimization, customer feedback, alerts/notifications, data storage, invoicing and dispatching. Designed for businesses of all sizes, ServiceWorks comes with a tracking tool to scan and update devices while working with firms located in remote areas. The communication module enables users to automate processes such as notifying clients about payments and orders. Additionally, it allows users to draft and send estimates from remote locations and share them with employees and clients. ServiceWorks comes with a GPS tracking solution to map employees' locations and save routes for future reference. The product allows integration with QuickBooks. It is available on a monthly subscription and support is extended via documentation, phone, email and online help desk.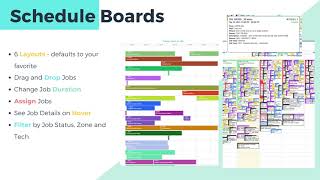 ServiceWorks has a free version and offers a free trial. ServiceWorks paid version starts at US$49.00/month.
Starting Price:
US$49.00/month
Pricing Details:
14-day free trial, no credit card required. We have two tiers for pricing. For more information please visit https://service.works/pricing.html
Alternatives to ServiceWorks
Industry: Renewables & Environment
Company size: 2-10 Employees
Used

Daily

for

6-12 months

Review Source
---
How service works saved us at least one full time employee AND made our services better
Pros
The scheduling and ease of information gathering. The way it is setup we can easily navigate and find what our client wanted and we are now able to customise even more their experiences with us. It has removed a lot of non value added activities that we had to do manually. We have the opportunity to look for cost overruns and how efficient we are as a company every day and at any time we have access to progress reports.
Cons
The initial configuration is rather easy but being in Quebec, Canada has made some issues difficult for us in setting up taxes and linking up quick books. Otherwise the CRM, Dispatch, job creating software ticks all the boxes for us.
Reasons for Switching to ServiceWorks
Pirce and recommandation from a ERP specialist
Industry: Consumer Services
Company size: 2-10 Employees
Used

Daily

for

1+ year

Review Source
---
Great software
It's a great app for appliance repair companies like us.
Pros
Offers a lot of options and makes everything really easy for the office and techs both.
Cons
It has occasional bugs that make it impossible to work but it's rare and the customer service is great about fixing it!
Industry: Consumer Services
Company size: 2-10 Employees
Used

Daily

for

1+ year

Review Source
---
Could be great. Maybe wait a few years
Pros
The software is inexpensive. The features they proclaim to have are great, but many of them do not work as advertised if at all.
Cons
There are constant major changes that are not communicated. Repeat failiures within the software are almost a weekly event. It is to the point where we joke around about betting what is going to fail next. We have had issues with everything you can think of from ordering/checking in parts, submitting claims, sending notifications, routing, scheduling, accounts receivable, reports made, etc. You name it and it either is still not working or has broken multiple times in the last few months. Most recently was today when customers were getting notifications if the schedule date was changed on their ticket. It was the notification to let them know parts were in. Also today was the system automatically changing the status of tickets with backorder parts received to a status that isn't usable. These are both items that have failed before and I'm sure will fail again. They fail to test updates sufficiently when they are made time and time again. Their customer service is non existent. Easy way to tell is to try calling the number yourself. I'm convinced it is set to just go to voicemail automatically, and don't expect a call back. The only live person ever available was the sales rep who first set us up. He was great but has now left the company and I expect many users will do the same.
Response from

Service Works

We are constantly trying to improve and provide all of our customers support and care. We always listen to our customers and add new features. We learn from you to make our software better everyday.
Thanks for the feedback and being an amazing customer!

Replied 05/03/2021
Industry: Construction
Company size: Self Employed
Used

Daily

for

1-5 months

Review Source
---
End of the search
My overall buy point was their customer service. The attention to detail that [SENSITIVE CONTENT HIDDEN] delivers to my situation gives me all the confidence in the world that I will stay with this company for a long time. We can now set this aside as we rebuild our business in the future. We are licensed in NY. TN and AZ and are expecting 100 employee's in each location. This software will be going right along with us.
Pros
I like the population auto fills. The search ability is a key factor in running our business. We ran a business in Arizona with twenty-five employee's and keep tracking of what was going on was our biggest hurdle. I tried a lot of other software for this purpose (several costing 5 times the cost of sw) without the power of service works.
Cons
Just like learning any new software there are some frustrations along the way. There are a few bugs in the system that haven't been ironed out yet, for example; sometimes I will but in place holder information like the phone number if I don't know it. I will enter all fours or something with the intent to go back and enter the number when I get it. SW uses the ph number for the customer number. I doesn't allow you you to edit the customer number, oh it has the edit icon and you can delete it, but it won't allow you you to enter anything. By the way the work around for this one is copy and paste.
Industry: Consumer Services
Company size: 2-10 Employees
Used

Daily

for

1+ year

Review Source
---
Software for the Appliance Service Professional
the most important part of the program we were able to start using it almost immediately At the time we got the program Service Works was not active in Canada but since we had used a previous product of their design they offered it to us and switched over our old program to the new one. While we have only used this product a couple of years we have worked with this team for years and they are great. I struggle with technical issues and they take time to explain (in English) what is going on.
Pros
There are many wonderful features but the feature we utilize the most is the dispatch. Being able to dispatch a call by location of the tech allows us to start the day knowing how the week is setting up.
Cons
I am having a few issues learning all the features some are a bit redundant but we have to devote the time to learning to use the features making it a priority