About VAIRKKO Suite
eLearning Cloud is a cloud-based learning management solution (LMS) from VAIRKKO that enables organizations to provide training to their employees. The solution allows users to distribute learning content to company employees, create new training courses, update corporate policies and conduct new employee orientations. Users can upload movies, PowerPoint files, PDFs, images and audio clips. They can configure course prerequisites to guide new employees through learning and development programs. Post-course test actions require employees to give practical applications of what they have learned in the courses and provide course feedback. eLearning Cloud provides remedial training to employees on test questions they answered incorrectly. The solution offers multiple question types such as blanks, multiple choice questions and numeric questions. Users can set time limits on the courses so that employees must finish the courses within a stipulated time. They can also configure notifications to receive emails or SMS messages when employees finish their courses. Support is offered via online ticketing.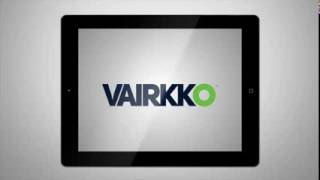 VAIRKKO Suite does not have a free version but does offer a free trial. VAIRKKO Suite paid version starts at US$1.00/month.
Starting Price:
US$1.00/month
Pricing Details:
A-la-carte system that allows users to choose products as per business requirements
Alternatives to VAIRKKO Suite
Industry: Public Safety
Company size: 11-50 Employees
Used

Daily

for

2+ years

Review Source
---
Toolkit Review
Overall experience has been fantastic through the years. Keep up the good work!
Pros
I like the ease of use and all of the combined functionality offered. I can keep track of certifications and my work schedule, with ease.
Cons
I have not found anything with the software that is negative. Perhaps offer a smartphone app?
Response from

VAIRKKO Technologies

Hi David,

Thank you for your review of the VAIRKKO platform. We are happy to hear that you are getting so much use out of the platform and that it offers a one-stop shop for many of your organizations needs - from tracking certifications to viewing your work schedule.

Thank you again for your review of the VAIRKKO platform and for being a valued customer!

Replied 23/01/2019
Industry: Utilities
Company size: 201-500 Employees
Used

Daily

for

6-12 months

Review Source
---
Tracking Training . . . Look No Further
My overall experience with Vairkko has been amazing. Everything from set up, to use, to interaction with customer service. I can't say enough good things about this software. If you are looking for an amazing tracking software look no further. We even use it to track our incentive program. Simply put . . . it's amazing!
Pros
This software is very easy to use. The training and usage videos that are available if you forget a process, are a great resource. If you are still having an issue their customer service is top notch. Their onboarding process is awesome as they assign an account manager that works with you every step of the way. They have you complete various tasks to get you used to using the system.
Cons
There actually has not been anything that I do not like. Every feature is very intuitive and easy to use.
Reasons for Switching to VAIRKKO Suite
Ease of use and features. Overall presentation by the vendor.
Industry: Transportation/Trucking/Railroad
Company size: 2-10 Employees
Used for

1-5 months

Review Source
---
Bulky and Overbuilt for our needs, with terrible customer service
Overwhelmingly disappointed. We wanted a simple solution, and to be fair, this is not a simple system. It is incredibly complex, and overbuilt for what we needed. It may be great for someone else.
The sign up and mandatory training was too much for me. I think it was 2 hours of training before I could use my account, then another 2 sessions of 90 minutes each, which I did not have the time for. I just wanted a simple solution to my problem, and instead was given a tutorial on an overbuilt product. And I will say, without the 2+ hours of training I completed, I would not have been able to figure out the software.
My interactions with the company itself were even more disappointing. We asked for a month-to-month package for just credential tracking. However, against our will, the contract stated it was an annual contract, but the sales person said not to worry about that and just cancel it in 30 days; also there was an add-on costfor an additional 10 hrs training that we did not want nor use.
On day 31 or 32, because I run a company, I asked to be released from my annual contract and go back to month-to-month. I was told that I had passed the 30 day mark, and now had to complete the entire contract, even though I wanted a month-to-month to begin with and they sent over the contract with the wrong details, and we never used the additional training, but were made to pay for it. It was incredibly unethical and unprofessional the way it was handled.
Pros
We had hoped it would solve a problem we were having with credentialing. We wanted to track our drivers' credentialing documents. In theory, it would have done this. We are not sure how well it would have worked. It seems they wiped our data out of the system, and I didn't realize this until one of my drivers told me he had to get his DL renewed because it was expiring in a few days. We are paying for the system to alert us of this type of issue.
Cons
I had bookmark links just to find where I had to go. It is not user friendly, unless you are spending hours in the system getting to learn the pathways to find different areas.
The set up process is cumbersome, and the training requirements are burdensome. However, for how overbuilt and confusing the software is, I can understand the heavy emphasis on mandatory training.
We never found out if the system really worked, as it looks like our data was taken out of the system by Vairkko, and they won't let us out of our contract, which was supposed to be month-to-month, but the sales guy sent an annual instead. And they said since it was signed, we had to fulfill it.
Response from

VAIRKKO Technologies

We are sorry to hear that your time with VAIRKKO has been frustrating. We strive to work with each one of our clients to ensure they have a positive experience with our product - our billing department worked to find a mutually agreeable solution to account for the training fee, which you had decided to continue paying for.

For the notifications feature, this needs to be manually turned on - we do this to protect new companies so their employees don't receive notification emails upon data import. We looked in your system, the notification feature is turned off. We would be happy to show you how to turn it on.

As for your system data, what has been imported is still in the system as of 8/24, the morning of this response. We will be reaching out to walk through the system with you so hopefully we are able to resolve some of the issues you speak to in this review. We are sorry this has been a frustrating experience and we are committed to working with you, if you are willing.

Replied 24/08/2018
Industry: Medical Practice
Company size: 201-500 Employees
Used

Daily

for

2+ years

Review Source
---
simplicity
it has been welcoming, good program that seems to work.
Pros
its easy to use for our business and pretty user friendly.
Cons
some screens would take longer times to load, maintenance issues in the beginning and inability to "sign" my signature on a smart phone still.
Response from

VAIRKKO Technologies

Hello,

Thank you for the time you took to review the VAIRKKO platform. We are happy to hear that you have found the system easy to use and user friendly. We have just released the Signature system into the platform - so check with your organization to see if this would be a good fit.

Thank you again for your feedback and for being a valued customer. We look forward to your continued use with the platform.

Replied 15/01/2019
Industry: Public Safety
Company size: 11-50 Employees
Used

Daily

for

2+ years

Review Source
---
VAIRKKO Review
Pros
I enjoy the scheduling aspects of this. I am able to place students with their FTO and preceptor as well as find coverage for call outs easily.
Cons
None really I enjoy the features and have no problems with same
Response from

VAIRKKO Technologies

Hi Danilo,

Thank you for the time you took to leave a review about the VAIRKKO platform! This is the highest compliment. We're happy to hear that you have enjoyed using the platform for your scheduling needs and that the additional features have been nice for you.

Thanks again for the review and for being a valued VAIRKKO customer. We look forward to our continued working relationship.

Replied 22/04/2019