About iSpring Suite
iSpring Suite is a robust authoring toolkit that helps organizations of all sizes create responsive eLearning content. The interface is extremely user friendly because it works within the familiar PowerPoint environment. With no learning curve, users can create e-courses, video tutorials, video lectures, quizzes, interactions, screencasts, dialogue simulations, and e-books with page-flipping effects. The content produced in iSpring Suite works flawlessly with all modern LMSs. iSpring tools support all the classic and new eLearning standards: SCORM 1.2, SCORM 2004, AICC, cmi5, and xAPI (Tin Can) perfectly. That means users don't have to spend time resolving compatibility issues. iSpring Suite is available by subscription, and the iSpring Suite Max plan guarantees: Regular free updates Access to iSpring Content Library (68,000+ eLearning assets iSpring Space – an online space for course authoring and collaboration that can be accessed with any device Live technical support 24/7 via phone, chat, and email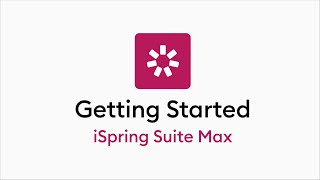 iSpring Suite has a free version and offers a free trial. iSpring Suite paid version starts at US$770.00/year.
Starting Price:
US$770.00/year
Pricing Details:
Volume and academic discounts.
Alternatives to iSpring Suite
Industry: Government Administration
Company size: 201-500 Employees
Used

Weekly

for

2+ years

Review Source
---
Great product!
I use it all the time to create eLearning content. It has multiple applications, such as learning courses, quizzes, conversation simulations, flip books, and more. Highly recommend.
Pros
I have been using the iSpring Suite for a few years now, primarily as a PowerPoint plugin to create eLearning and publish it in Scorm 1.2 format. It's very easy to turn a regular PowerPoint presentation into an interactive eLearning course.
Cons
It's a great product. Using the suite through PowerPoint is powerful, but limiting if you don't use Office365.
Response from

iSpring Solutions

Hi Adam,
Thank you very much for posting you detailed review here on Capterra. We appreciate it tons! Hope iSpring keeps serving you well :)
You also gave our Customer Support only 3 stars. Could you please share the details? Please send a message to [email protected] Thank you!

Replied 22/12/2020
Industry: Information Technology & Services
Company size: 11-50 Employees
Used

Daily

for

2+ years

Review Source
---
The Total elearning experience in a Box
I have been suing the iSpring range of software for 6 years now and have been impressed with the way in which iSpring continues to add new features and enhance the products. The stability as a standalone product and the integration into Microsoft PowerPoint is something that iSpring can be proud of.
Pros
It is an all encompassing, seamlessly integrated product with all the features to create and deliver eLearning Solutions.
Cons
Would be great to be able to comment on each slide in iSpring Space when doing quality Assurance with team members.
Reasons for Switching to iSpring Suite
The fact that it has an LMS and a Publishing Suite. The ease of use within PowerPoint was the deciding point as the level f expertise required to get an employee trained to use iSpring Suite is minimal. One can then concentrate on the more advanced features in order to get a team fully functional to produce awesome courses.
Response from

iSpring Solutions

Hello Vincent,

Thank you very much for posting your detailed review here on Capterra. We appreciate it tons!

As per your feature request, thanks a lot for sharing. I will pass it on to our Product Development team.

Hope iSpring keeps serving you well :)

Replied 09/04/2021
Industry: Security & Investigations
Company size: 11-50 Employees
Used

Daily

for

6-12 months

Review Source
---
Great software to develop your online course
It was easy to learn, has lots of great tools and options that make a course look so professional and highly interactive. I would recommend it!
Pros
I love the fact that it's a bolt-on to Microsoft Powerpoint. I don't have to learn a whole other software and I can use a combination of Powerpoint and iSpring features and functionality. It has a lot of cool tools, like different kind of user-interactions and quiz types that are super easy to set up and look amazing.
Cons
The software is a bit pricey, especially if you need more than one developer. Some basic tools, like text-to-speech was only available in their Max software. I like the fact that they have a course-hosting software too, that it easily works with, I just wish it had more marketing features otherwise we would have chosen it.
Response from

iSpring Solutions

Hi Andrea,

Thank you so much for reviewing iSpring here on Capterra! We appreciate it tons.

It's great to hear that you are happy with iSpring solution.

Keep up the great work!

Replied 17/09/2021
Industry: Nonprofit Organization Management
Company size: 501-1,000 Employees
Used

Daily

for

1-5 months

Review Source
---
An intuitive time-saver
My job entails training those in caring professions how to use software - be it bespoke packages, or how to use Microsoft Excel to analyse statistics and everything in-between. Taking time out of busy and unpredictable schedules to attend an all day course on Advanced Excel is often not an option. iSpring Suite is allowing courses to be broken down into 15/20 minute 'learning episodes' that are more manageable. Furthermore, staff working nights are able to more readily access learning - something that was difficult in the past... Overall the software will improve access and participation, reducing IT Support workloads and helping ensure compliance, competence and ultimately provide more stimulating, engaging work.
Pros
The iSpring Suite bridges the gap between mundane PowerPoint based training, and more complex flash or HTML 5 based digital training, that requires a specific skills set that does not necessarily correspond with those of a teacher or trainer. It provides the right mix of interactivity to engage those of all learning biases, the versatility to cover almost any topic and a good range of assessment and analytics to simplify assessment and training effectiveness.
Given that there is almost zero learning curve with the software, and the SCORM compliance enabling use with any Learning Management System worth it's salt, it's a extremely cost effective solution that simply lets you get on with creating content.
Furthermore, should you be au fait with HTML and CSS, the output generated can by tweaked if required, but the standard interface and options provide a clean, user friendly and attractive front end to courses.
Cons
The only slight tarnish on an otherwise perfect product is the lack of titling facilities within the screen/video capture module, iCamPro. This is a minor niggle, given that the iSpring Suite is integrated into PowerPoint, which can be used to bridge this shortfall through appropriate use of animation and export to WMV which can then be spliced into video files as required...
Response from

iSpring Solutions

Hello Paul,
Thank you greatly for posting this detailed and sincere review of iSpring solutions. We greatly appreciate it :)
If any questions come up, please don't hesitate to contact our Technical support department - [email protected] One of the specialists will be happy to assist you with your questions.

Replied 05/12/2018
Industry: Hospital & Health Care
Company size: 11-50 Employees
Used

Daily

for

2+ years

Review Source
---
The most user friendly solution for creating interactive online courses
I love this software and the customer service, so despite I don't actually use all functionality (not collaborating and not using the cloud space offered) I am still happy to subscribe to the suit max.
This is the most intuitive and easy to use course authoring software perfectly integrated in Microsoft PowerPoint.
Pros
Its perfect integration with PowePoint makes the creation of an interactive online lecture easy and a joy. Compared to other products, the learning curve for iSpring is days rather than months. It's under interface is extremely intuitive, the functionality is near complete - hard to find any other option which might be necessary.
The customer service is brilliant, responsive and supportive.
Cons
I think that some functionality is not necessarily needed for a single author (like collaboration) and some might not be worth the annual subscription (content library). It is unfortunate that even with a lifetime licence, I cannot get regular maintenance updates without subscribing to the full package. It would be a bit better if subscription options could be better optimized for individual needs.
Reasons for Switching to iSpring Suite
PowerPoint integration and ease of use, offered all functionality I needed
Response from

iSpring Solutions

Hi Csaba,

Thank you so much for reviewing iSpring here on Capterra! We appreciate it tons.

It's nice to hear that iSpring's been working great for you so far.

As per your feature request, thanks a lot for sharing. I will pass it on to our Product Development team. We sincerely appreciate your thoughtfulness in helping us improve our products.

Hope iSpring keeps serving you well :)

Replied 09/08/2021