About CANVAS
Canvas LMS from Instructure is a cloud-based learning management system (LMS) specifically designed for K-5 on up through higher education institutions. Canvas LMS is a scalable platform that can be used by educational institutions of all sizes and types, from individual classrooms to large universities to companies with a blended or fully virtual learning environment. The Canvas platform offers complete LMS functionality for online learning including standards-based grade books, customizable student assessments, course content authoring, mobile communication, plus more. Canvas LMS can integrate with an educational institution's existing SIS and other teaching tools. Additionally, the Canvas App Center offers mobile-ready teaching tools that can add new functionalities to the platform. Over two hundred different LTI tools allow educators to customize courses and monitor engagement with classes or individual students. Canvas also offers native mobile apps for iOS and Android devices, allowing educators, students, and parents to view key information, share and receive updates, or submit results from anywhere at any time. With these tools, Canvas LMS offers comprehensive, high-quality mobile learning experiences.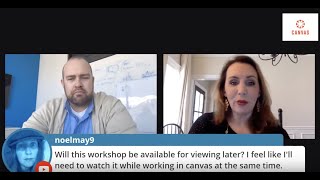 CANVAS has a free version and offers a free trial.
Industry: Information Technology & Services
Company size: Self Employed
Used for

2+ years

Review Source
---
CANVAS makes higher education accessible anywhere you have an internet connection!
CANVAS is very user-friendly and an all-around excellent way to engage in continuing education and life-long learning. Personally, as an older student, I love using CANVAS.
Pros
While I am unsure of the College's side in using this software, for me, as a student, I love using CANVAS. I enjoy travelling and with an easy-to-use, school-issued/provided LMS (Learning Management System/Software), I can take many classes online from anywhere in the world with an internet connection. The mobile application is robust and incredibly convenient, allowing 99% all-the-same functionality as the desktop version. Students can even take online quizzes and finals using their internet-connected mobile device (Smartphone). It is very user-friendly and an all-around excellent way to engage in continuing education and life-long learning as an older (personally, 42 years) college student.
Cons
The only drawbacks to CANVAS I experienced were a loss of data if the active internet connection broke while in the middle of completing/submitting assignments and quizzes. I know that CANVAS has since implemented an auto-save feature on the quizzes, so that part of the problem is resolved. Whether or not this is true of the assignment submissions, I honestly do not know at this time.
Industry: Education Management
Company size: 501-1,000 Employees
Used

Daily

for

1+ year

Review Source
---
Review on Canvas
As a user of 2 years and counting, I am very satisfied with my overall experience with Canvas and am very likely to share it with others. It is software that will continue to be used in the future; it's a major improvement to online learning.
Pros
This software is very well organised with minor issues. I think as a user of 2+ years, I am extremely satisfied with the software. Although there are some minor improvements to be made, I believe that this software is the future of remote higher education.
Cons
I think my major complaint about this software would be the fact that hiding and/or deleting certain courses' cards/lists isn't an option. When one year is over and another begins, half of the courses still on my dashboard can be considered clutter and are no longer needed. I think another feature that would make organising easier is editing the name of the course on my dashboard. Organisations usually title their courses in the same format with minimal changes which does make it harder to differentiate from one another. Adding subtle features that allow for personalising your dashboard without compromising the content of the courses would be helpful, I believe.
Industry: Education Management
Company size: 11-50 Employees
Used

Daily

for

6-12 months

Review Source
---
Disappointing
We are solving none of our business problems. It does deliver on what we require as an organisation wants, and in fact is creating more issues and using more of our human resources than prior to using Canvas. We realised this was the case a few weeks after signing up but when a request was made to release us from our contract this was refused. Very poor customer service overall and would definitely not recommend to any colleagues in the VET sector.
Pros
It is relatively easy to upload our learning resources and present them in an interesting way for our students.
Cons
It is aimed at schools and higher education, but was sold to us as suitable for the Vocational education sector. It does not have many of the features we need when assessing, gathering evidence, mapping etc. That are vital for compliance. It is not user friendly for our course developers, trainers, assessor or admin staff. We cannot wait to move on to another system. Also, the onboarding and initial training was tortuous and at the early stages when we a training organisation is getting used to a new system, too much information to take on board.
Industry: Mechanical or Industrial Engineering
Company size: 201-500 Employees
Used

Daily

for

2+ years

Review Source
---
The Blackboard Slayer
The benefits of canvas over blackboard make it the clear winner. It built the habit of checking my grades and checking the schedule for more work really easy and convenient.
Pros
Canvas is a flexible learning management platform that integrates well with zoom, panopto, proprietary websites, and more. It helps students take exams and submit homework with reliable automatic grading and robust grade calculations. It does a good job at providing an efficient interface between teacher and learner, and helps students make better study habits. Very happy user of CANVAS
Cons
The biggest drawback of using canvas is easily the possibility that an administrator doesn't set their course up efficiently. However, this is no fault of the platform itself as many make it perfectly easy to use and reliable.
Industry: Education Management
Company size: 11-50 Employees
Used

Daily

for

1+ year

Review Source
---
Making simple and stylish presentations is made possible by canvas
It's a great tool that I can't do without because I use it to make visuals for social networks, make presentations, small animatons and many others. This tool is essential to the survival of my business.
Pros
what I like most about this tool is that it takes no more than 30 minutes to learn everything you need to know and the most important thing is that you don't have to start from scratch if you lack inspiration.
Cons
It goes without saying that canvas even in its free version offers to do a lot of things, but still the professional version is much better and the latter is not within the reach of everyone, especially for young startups who have just launched and do not have enough resources.
Reasons for Switching to CANVAS
For its notoriety and the great community that is behind this tool.