About busybusy
busybusy is the #1 Time Tracking and Job Costing App for Construction and all other industries with employees out in the field. Make time tracking and job costing a breeze with an easy-to-use, reliable app. Favorite features include: GPS Time Tracking, Supervisor Time Tracking, Scheduling, Photos & Notes, Budgets, PTO, Safety Reports, Daily Project Reports, Work Accomplished, and more. We offer a 90-day money-back guarantee, no contract, and billing based on usage to ensure great customer service! On-site teams can use the busybusy app to capture and organize site images, receipts, project progress, plans and other documents in a centralized repository for future reference. It offers a host of features such as timecards signing, location-based reminders, scheduling, offline access, data import/export, and more. Additionally, administrators can view and approve time-off requests, holidays, and sick leaves via a centralized dashboard. busybusy lets managers gain insights into budgets, expenses, revenue, site activities, utilization of resources and more via analytics and reports in real-time. It is available for free and monthly/annual subscriptions. Support is extended via phone, email and other online measures.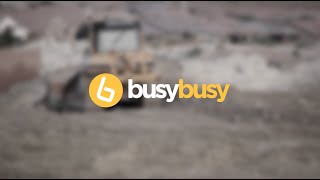 busybusy has a free version and offers a free trial.
Industry: Renewables & Environment
Company size: 2-10 Employees
Used

Daily

for

2+ years

Review Source
---
Great Reports!
Pros
I love the reports this software generates! We have multiple projects going on simultaneously in multiple locations with multiple employees. This software tracks the projects each employee is on, how much time each employee spends at each project and the type of work each employee is performing while at the project site. You can generate reports for such activities as labor activity by date, cost code, equipment, employee or the project itself. The software also tracks the timecard entries for any pay-period or date range, you can print the timecards, employees can verify and sign off on their time.
Cons
Due to the lack of sensitivity of the GPS tracking, occasionally you will need to broaden the circle of your project so that your employees will receive a notice to "clock in" and "clock out," this gives your employees a little slack to clock in when they may not physically be back at the project.
Response from

busybusy

Wow! Thanks for the nice review! We love our customers and are happy to hear that the reporting is working so well for you.

Replied 06/11/2018
Industry: Construction
Company size: 11-50 Employees
Used

Daily

for

2+ years

Review Source
---
Busybusy is amazing!
It's top notch.
Pros
It wasn't until we tried to switch away from busybusy when we implemented a new job costing software, that I realized how streamlined and efficient Busybusy is. We switched back immediately! The sync to quickbooks, ease of use, and flexibility to changes are what I like most.
Cons
The only con I see is not being able to assign different pay rates per project (like prevailing wage projects).
Reasons for Choosing busybusy
HeavyJob time tracking lacks in comparison to all busybusy features.
Reasons for Switching to busybusy
Heavyjob was inefficient and it's sync with quickbooks was terrible.
Used

Daily

for

1-5 months

Review Source
---
Looks great, but features are lacking.
None unless you want to consider a giant headache a benefit.
Pros
The reporting is great, lacks a little but is still better than others out there. It's quicker than some others when having to adjust time as well.
Cons
1. Must refresh almost constantly because the software doesn't update like it should.
2. When changing time it must be done from reporting if doing more than one employee. When doing so, if I'm working on someone on the bottom of the list of employees, instead of remembering where I left off, it goes back to the top every time.
3. App doesn't work most of the time - if you're in a dead area, recording does no good as there's no wifi to connect the device and record the information.
4. Employees unable to change their time, even when the option is selected for them to do so.
5. When initial login happens, it NEVER remembers the password and an entire fiasco happens because of it. Not good when you have a lot of employees all doing this at the same time. It certainly takes a lot of time away from the person setting it all up.
6. No feature to make the signing of time sheets a requirement, only an option, and no one signs the time sheets because they're not required to.
7. GPS only takes a snapshot of the location where they initially clocked in. It doesn't record locations throughout the day. When accountability is a factor, it's key to get real-time, readable GPS.
8. More expensive than many others that promise less functionality. BusyBusy promises more functionality, therefore making it one of the top charging companies, but doesn't deliver anything near what you expect.
We cancelled our subscription and went back to paper. That's how bad it was.
Response from

busybusy

Hi John,

thanks for taking the time to leave a review!
I'm so glad to hear you've found the reports and editing useful and easy!

Thank you for the detailed feedback, I will reach out to you to discuss each point further. Some of these are feature requests, but for some of them we do have solutions!

-ZL

Replied 31/08/2018
Industry: Construction
Company size: 2-10 Employees
Used

Daily

for

6-12 months

Review Source
---
Great product, Great support
Fantastic! This product is hands down the best, full featured for the price, even if you choose the monthly version.
Pros
It works well with how our company was already scheduling our jobs. Makes time tracking, much smoother, easier. Also love the job costing!
Cons
There really isn't anything. The customer service is top notch. They love ideas for improvements and even reach out to speak with you in more detail regarding them and how you feel it would be an improvement.
Reasons for Switching to busybusy
Pricing, scheduling, easy to have our employees start with it.
Industry: Construction
Company size: 2-10 Employees
Used

Daily

for

2+ years

Review Source
---
Combination of benefits for General Contractors and the like -
I was very hesitant to try Busy Busy (or any sort of time tracking for that matter). It was actually at the request of my husband. I really drug my feet. However, while setting it up and working on the integration part of the set up I could not believe how helpful, accessible and knowledgeable the employees were. What could have been a real pain in the you know what actually turned out to be super smooth and easy. And now I get the bonus of quick payrolls and any sort of employee/job reporting I want in a matter of minutes. I'm a huge fan!
Pros
The most beneficial being able to do payroll on payday as soon as your employees clock out. I can have payroll done before they even arrive to the office for their paycheck. I can then run a job/time report in QB and bill our customers for the hours, down to the minute, with descriptions of what the employee has done. At the end of the quarter I run a similar report monthly and quarterly which helps me to calculate taxes. There are so many ways to use the imported information. It has saved us so much time and our customers love the detail!
Cons
I WISH I could figure out how to get the "Description" information (in "Job Details") to transfer over to QB. It would give our customers just that much more information on exactly what our employees are doing.