About busybusy
busybusy is the #1 GPS Time Tracking and Job Costing Software for Construction. Accurately track field hours and reduce payroll time by 67%. Employees love this simple-to-use mobile time clock. Track employee timesheets and equipment, generate daily reports, take project photos, organize employee scheduling, and share documents in one easy-to-use app. Join the 55,000+ happy customers that have found relief from frustrating, outdated paper time cards. We offer a 90-day money-back guarantee, no contract, and billing based on usage to ensure great customer service! On-site teams can use the busybusy app to capture and organize site images, receipts, project progress, plans and other documents in a centralized repository for future reference. It offers a host of features such as timecards signing, location-based reminders, scheduling, offline access, data import/export, and more. Additionally, administrators can view and approve time-off requests, holidays, and sick leaves via a centralized dashboard. busybusy lets managers gain insights into budgets, expenses, revenue, site activities, utilization of resources, and more via analytics and reports in real-time. It is available for free and monthly/annual subscriptions. Support is extended via phone, email, and other online measures.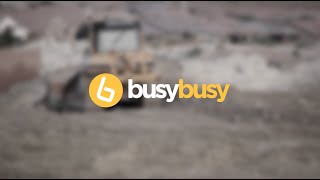 busybusy has a free version and offers a free trial. busybusy paid version starts at US$11.99/month.
Starting Price:
US$11.99/month
Used

Daily

for

1+ year

Review Source
---
We use Busybusy both in the field and in the office. We love the flexibility & mobility it...
Access to real-time data and tracking and the ability for users to provide additional information by using descriptive fields.
Pros
It can be used anywhere. We have construction crews in the field and it's great that they can use it wherever they are and we can have real-time data without having to wait for the end of the week for paper timecards. It takes a lot of the burden off of our foremen and frees them up for more important work. Plus, their customer service is outstanding!
Cons
Limited reporting features. Their canned reports often provide either two little data, or too much data that their canned reports often provide either two little data, or too much data that nut then needs to be manipulated in Excel.
Response from

busybusy

Hi Melinda,

Thank you for your review. We are happy your mobile crew can easily capture and send data from the field. It's a bummer to hear our reports are limited. I hope you've been able to submit the reports as feature request. If not, I'd be happy to jump on a shared screen meeting with you to further look at what reports you need.

Thank you,

Jairo

Replied 30/07/2018
Industry: Construction
Company size: 2–10 Employees
Used

Daily

for

6-12 months

Review Source
---
I've used many of the top apps for years, and BusyBusy has some amazing options that others...
They have been really amazing to work with honestly, the team is super helpful, replies quickly, and seems to really want to understand my issues and solve any problems. That is huge for me!
Pros
I like the field budgeting options that can use both time tracked (hours) or labor burden (dollars) to track the progress of each project
Cons
There isn't much to not like about it overall, but some of the menu's could be a little more user friendly, but honestly, I think all of the apps we've used could use some improvement on that.
Reasons for Choosing busybusy
Honestly because Quickbooks Time (the last option we used for about 3 years) raised their prices so high and their customer service got so bad. It's not a bad app, but to be that expensive and have horrible customer service... no thanks!
Reasons for Switching to busybusy
I honestly liked Clockshark (used them for a few years) and they had great customer service, but they didn't offer a few features that BusyBusy did which is really what sold me on using BusyBusy when we left Quickbooks Time.
Industry: Construction
Company size: 11–50 Employees
Used

Daily

for

2+ years

Review Source
---
Northstar
Good to great
Pros
We are happy with the time capturing and scheduling system
Cons
So far we have no complaints with the way we have been using the system
Used

Daily

for

1+ year

Review Source
---
Good app but needs improvement.
Pros
Pros
-Could build labor budgets.
-GPS locations.
-App reminds you to clock in when you get to the job site.
Cons
-Time consuming to edit each employees hours each week. Our typical work week is 7am-3:30pm. If a guy clocks in at 6:45 we have to manually change it at the end of the week to 7am. Also their break time is 30 mins each day. Your default is 15 mins so we have to manually edit each week.

-Can't build a labor budget based off the cost code rather you need to create a sub-projects.
-Would be nice if it could sync with Procore so we don't have to manually enter labor each week.
-Glitches ever so often.
Response from

busybusy

Hi David,

Thank you for the in depth review. We are happy you like the reminders and GPS stamps. We currently integrate with Procore. I will reach out to you directly to provide details on how our integration works.

Thanks for your time,
Jairo

Replied 25/06/2018
Industry: Construction
Company size: 11–50 Employees
Used

Daily

for

2+ years

Review Source
---
Essential for Payroll
We are not losing out on billable hours.We have a solid history for any clients (and labor force) who have questions.
Pros
We use busybusy to complete payroll, target project management needs, and capture billable hours
Cons
We actually don't access all features we could in busybusy. For our small business it, we are finding our use appropriate and essential. So we actually don't know what we are missing. WE are having trouble with our management force buying in to the concept. They feel like we are tracking them.