About Buddy Punch
Buddy Punch is a cloud-based time clock solution suitable for businesses of all sizes. Key features include overtime calculating, GPS tracking, PTO accrual, time card approval and job costing. Buddy Punch enables employees to clock in using different job codes and locations as needed. Employees can also be required to share their GPS location or use an authorized IP address in order to clock in. The solution also has a webcam feature that can automatically take a picture of the person doing the punching as they click on the punch in or punch out button. Managers can view and edit information on employees assigned to them and approve time cards and PTO requests. Users can set up rules where punches are automatically rounded up, down or to the nearest selected increment. Overtime can be calculated in multiple ways based on requirements. The solution also integrates with QuickBooks Online and Desktop.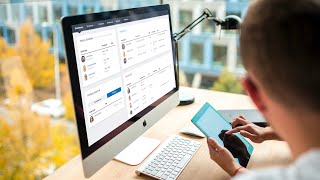 Buddy Punch does not have a free version but does offer a free trial. Buddy Punch paid version starts at US$3.49/month.
Starting Price:
US$3.49/month
Alternatives to Buddy Punch
Industry: Consumer Goods
Company size: 11-50 Employees
Used

Daily

for

2+ years

Review Source
---
Great time keeping app
Great app, check in and out with accuracy, keep in contact with supervisors and can submit photos for proof of visit if not using GPS.
Pros
I am an Event Specialist with Deluvia Inc, they upgraded from emailing and faxing my time sheets in to this system. They are out of state so this is a great way for them to keep up with my time while doing "Road Shows". I arrive at my location, open the app and sign in, my employers do require me to attach photos so I snap a photo of the store front before entering. While there, I setup my samples and take a few photos of my presentation to attach when I clock out. I like that I can see my schedule, even though I already know my Road Shows are 11 days back to back for each demo. It takes out 39 minutes for my lunch and keeps up with my total hours so I can accurately calculate my check. They can leave messages after each shift end set of photos. I have seen a few where they wanted to see different angles or my face more throughout my presentations. I've also been told my samples looked yummy, I left messages and asked questions that were answered. This is a good app to have when your employer is out of your area.
Cons
The only thing I found odd was I could log in anytime during my employment, but couldn't do so between Road Shows. I wanted to look at my schedules and could gain access to the app. Other than this hiccup, the app works fine. Deluvia gets my time and there are no shortages on my check.
Response from

Buddy Punch

Thank you for the review, it is great to hear that you're using our smartphone app as well as our notes and photos on punches feature. We have a few limiting options for employers and that is why you weren't able to login while outside of the show. Thanks again!

Replied 24/01/2019
Industry: Arts & Crafts
Company size: 2-10 Employees
Used

Daily

for

1+ year

Review Source
---
HR Management Software Business should implement
The overall experience using Buddy Punch within our business has been positive and we are glad that we chose it as a software. We would recommend business to try it as it is also reasonable to any business in terms of its cost.
Pros
This software has led our business to reduce a lot of costs when it comes to human resources management, payroll and time tracking. We implemented this software into our business as our employees exceeded 8 as we were finding it difficult to keep track of time, work, payroll, etc. This software has really helped us in this regard and we also saved a lot of time.
Cons
The only small issues faced were that sometimes the software was a bit slow and the screen gets stuck but otherwise we are quite pleased.
Alternatives Considered
Deputy
Reasons for Switching to Buddy Punch
A business partner recommended us Buddy Punch as he used to use it in another business and it was working quite efficiently for them so we decided to go for it.
Response from

Buddy Punch

Thank you Albert, we appreciate the review and the recommendation! It is great to hear that we're helping your business save time.

Replied 29/11/2022
Industry: Accounting
Company size: 2-10 Employees
Used

Daily

for

6-12 months

Review Source
---
so so not greatest
Several areas of concern. Very little corrections made based on feedback. Not able to contact support by phone. Delayed response in email. Not open to different types and operations for different business types. This is a very baseline product with little features. Menus are hard for older users to read. Not user friendly for most users. Time corrections are difficult for users to complete or request. Very limited on admin ability to control aspects of the clock to prevent user issues. reports decimal place cannot be changed from 3 to 2 decimals increases rounding time for admin. Integration with payroll company cost additional funds.
Pros
online can view anywhere from a computer . the app is poor at best and is not integrated to be used as a time clock or to check all features and make adjustments from admin must have a computer to do so
Response from

Buddy Punch

Josh - Thank you for taking the time to provide a review. Unfortunately many of your comments we believe are inaccurate and I would like to make sure that Buddy Punch is accurately reflected on Capterra. We do not charge for integrations with other Payroll Companies. We just added an integration with Paychex and there was no cost to any customer for doing so. We are also very timely in responding to inquiries. In your case specifically you opened a ticket on 7/29/16 at 3:52 pm. We responded at 4:14 pm the same day with a resolution. You opened a ticket on 8/29/16 at 12:35 pm, we replied at 12:46 pm. You opened a ticket on 9/12/16 at 10:21 am and we replied on 12:46 pm. We offer many features such as GPS, IP Address Lock, Webcam photos on punches, and notifications. We offer easy change requests with the user clicking on a button that says "I need to change something." I'm sorry we didn't work for your business and we will take your feedback into consideration.

Replied 20/09/2016
Industry: Wine & Spirits
Company size: 51-200 Employees
Used

Daily

for

6-12 months

Review Source
---
Helpful and Useful
We have only been using this software since 1-1-2022 and for the most part it have been very useful for everything that I have need it to do for me. If we need help or have a question [SENSITIVE CONTENT] has been able to reach out to our contact person and they have been very helpful.
Pros
I can see at any point and time when an employee punchedin or out daily, payroll period, monthly total hours etc.
Cons
I really wish under reports that I can pull a report such as when did each employee start working for the company. To be able to pull a report showing each employee with other HIS reporting information that is used for various information
Reasons for Choosing Buddy Punch
Out dated and we were using a couple different systems to do what we can with Buddy Punch. Your software was very user friendly and easy to learn and set up.
Reasons for Switching to Buddy Punch
we looked at 4 other systems as well. I have personally worked with ADP Workforce(would not work for our needs), WorkDay (not user friendly), ADP could not track driver and other projects that we were looking for. You gave the option of several ways of tracking our field employees if need be such and satellite per stop, per driver etc.
Response from

Buddy Punch

Thank you for the review Wendy, it is great to hear that you're finding us helpful and useful. We appreciate the 10 out of 10 rating and your business!

Replied 29/09/2022
Industry: Environmental Services
Company size: 2-10 Employees
Used

Daily

for

2+ years

Review Source
---
Buddy Punch Review
Buddy Punch has been fantastic. Love it and would keep using it.
Pros
Buddy Punch is very easy to use. The software is pretty intuitive and I'm glad more features as being added regularly because obviously it make my job easier and often they are features that I didn't even know I needed!
Cons
This isn't about the software, but the customer service. I understand the reasons for not providing a customer service number and all seem valid. However, I think it would be a good option for those of us that just can't seem to get a clue on a particular issue. What I will say is that the staff is really responsive and not having a live person to talk to makes this old lady (kinda) figure it out!
Response from

Buddy Punch

Thank you Laura for the review and your business, it is great to hear that you are finding us easy to use. We provide instant chat support instead of phone support, we understand that everyone has different preferences and we appreciate your feedback.

Replied 01/11/2022