About JivoChat
JivoChat is a business communication tool for e-commerce companies. It offers live chat, emails, calls and Facebook messaging in one omnichannel app. Users can implement live chat on their website, provide chat support to clients on Facebook, handle messages to a company's email address, and calls to a phone number in any country. Your messages and chat history can be found in one inbox so there's no need to sign up for multiple communication tools. Your team can react quickly to all inquiries. You can increase website conversion rates and building better customer service experiences. Live chat lets you talk with new and current visitors to your site with a proactive in-app chat. You can continue your conversation on your customers' favorite social media outlet: Facebook. Get a phone number in 50+ countries or activate any existing number to make outgoing calls with Jivo Business Phone. Use professional features such as call recordings, transfers, routing and more. A unique Instant Callbacks feature encourages your potential customers to call you so that you can close more deals. Redirect emails from your company's address to the JivoChat Inbox – your team will reply faster and no message will ever be missed.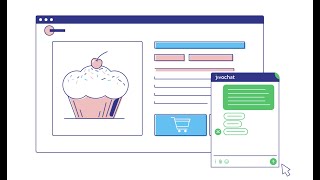 JivoChat has a free version and offers a free trial. JivoChat paid version starts at US$19.00/year.
Starting Price:
US$19.00/year
Industry: Business Supplies & Equipment
Company size: 11-50 Employees
Used

Daily

for

2+ years

Review Source
---
Great solution for the website
Jivochat helps us get more leads
Pros
Integration with other business apps CRM, mail etc.
Cons
Would like more configuration options for some features
Reasons for Switching to JivoChat
Price / functionality
Industry: Marketing & Advertising
Company size: 2-10 Employees
Used

Daily

for

2+ years

Review Source
---
A tool that we can't live without
Jivochat is our biggest communication funnel right now, most of our leads will contact us first through our chat, and the flexibility of sharing and transfer information between our people, we cannot see ourselves without it now.
Pros
I have been using Jivochat for a couple of years already and I must say that it became an essential tool for our day-to-day business. We love the options of seeing what the user is typing before pressing send, the connection to many third-party tools, and the continuous improvements in functionalities that Jivochat keeps bringing to the table, it makes it the perfect sales tool.
Cons
I would like to start seeing more integration possibilities with different platforms, and share of information.
Reasons for Switching to JivoChat
Best option
Industry: Computer Software
Company size: 11-50 Employees
Used

Daily

for

2+ years

Review Source
---
2+ years with Jivochat
This would've been a good tool with lots of useful options. However, the issues with this crucially important feature are a deal-breaker for us. We wish they got that fixed, so that we could post a better review here
Pros
A simple and functional tool that would've been great for any support service, had the developers bothered to fix the issues
Cons
All the good things I could've said about Jivochat are outweighed by a crucial flaw in their software that has been there for years.
When our support agents are not online, we receive offline messages from our customers. These message notifications are directed to our helpdesk tool, the user who's sent it also receives a notification. The problem is that if a user clicks unsubscribe in the notification they receive, the unsubscribe action works both for them and for us, and so after one user unsubscribes, we're also unsubscribed from all the offline message notifications that come from the other users. The messages no longer make it to our support desk, and we cannot process them, and this leads to decrease in customer satisfaction and lost business.
It is, of course, possible to find all the lost messages in Jivosite admin panel, however, we get hundreds of tickets a day that are processed in our ticketing system. It is very hard to manage tens of offline messages manually in the Jivosite admin panel without creating a ticket.
We have contacted their support agents time and time again about this, we had to do it three times just this month. Each time they fix this for us and promise that it will never happen again. Each time this does happen again.
Sadly, we haven't seen any improvement over the two years that we're using Jivosite, and unfortunately, we are already looking at other options.
Industry: Computer & Network Security
Company size: 2-10 Employees
Used

Daily

for

6-12 months

Review Source
---
JivoChat a well established chat and support tool
Pros
JivoChat is a well-established chat and support tool that has been helping us to communicate with our customers. Its features include live chat, and chatbot, making it the perfect solution for our company looking to improve our customer service.
Cons
Brand removing is not available for my subscription
Reasons for Choosing JivoChat
They are closing down the service.
Reasons for Switching to JivoChat
It is more costly to add extra agents
Industry: Information Technology & Services
Company size: 201-500 Employees
Used

Daily

for

6-12 months

Review Source
---
Efficient way of communicating with customers
Pros
All potential customers have some questions about the product which they are going to buy. If they don't get answers immediately they can easily leave the website. What I most like in JivoChat is instant communication feature with the visitors. With JivoChat website owners can provide detailed information about the product in realtime and increase sales. JivoChat is also efficient solution for companies in order to increase revenue and get instant feedback from customers.
Cons
In some websites JivoChat window pops up immediately without clicking on it. It is very disturbing for me. I don't know if this feature could be turned off or not. Because I couldn't see such option. But it would be great if this feature was editable.
Response from

Jivosite

Hey Valeh,

Thank you so much for your feedback and review.

The trigger, which is the feature of our chat popping up on your page, it's an automatic message that proactive invites your visitors to interact with your agent.

You can fully customize or even disable this function. To know how to do it please check this link:
https://www.jivochat.com/help/triggers/how_to_set_up_triggers.html

This can be a feature that can work totally on your favor. Check these articles to know how to benefit from it using on your website:

"10 Ways to Gain Conversions with Jivochat's Proactive Invitation"
https://www.jivochat.com/blog/jivo-tutorials/how-to-use-proactive-invites.html

"How to make proactive invitations work perfectly"
https://www.jivochat.com/help/triggers/tuning_triggers.html

Replied 18/10/2018