About Text-Em-All
Call-Em-All is a phone broadcasting service that provides the option to send automated phone calls, text messages and surveys on-demand. The platform provides instant emergency updates, school attendance notifications, event announcements, school closure alerts and notifications for many other scenarios. Users can view analytics based on completed calls to identify the impact of the outreach. It also allows organizational users and school administrators to broadcast a call, text message or a survey by manually adding contacts or uploading an Excel/CSV file. Call-Em-All has a dashboard that features a variety of metrics such as invalid numbers and voicemails and additionally, keypad entry is an option in the event a survey is sent out.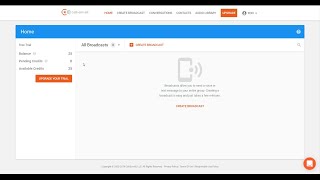 Text-Em-All has a free version and offers a free trial. Text-Em-All paid version starts at US$7.50/month.
Starting Price:
US$7.50/month
Alternatives to Text-Em-All
Industry: Human Resources
Company size: 201-500 Employees
Used

Daily

for

2+ years

Review Source
---
Excellant Service!
We are super busy ! Our offices are open 8 am - 5 pm but we have folks working all over the state at all times of the day and night, Call em all allows our staff to communicate with high volumes of folks at all time quickly and efficiently with out even having to have lift a phone!!
Pros
I love that we can set up calls and texts days in advance without the worry of forgetting! Very convenient way to communicate with all of our associates all times of day no matter where we are at or what we are doing!
Cons
I only have great things to say! I have not had any trouble with the program at all!
Industry: Staffing & Recruiting
Company size: 5,001-10,000 Employees
Used

Daily

for

2+ years

Review Source
---
Easy fast robocalls!
It's a very nice platform, very versatile, and no complaints!!!!
Pros
IT's quick and easy to setup a robocall to my employees. It helps me get the word out easily and efficiently!
Cons
I think that there should be a way to change the recording for a scheduled call. If you have already set it up, you have to cancel and redo it to change the recording.....this is dumb
Response from

Call-Em-All

Hi Curran,
Thanks for the feedback. We were able to look at your Call-Em-All account and it looks like you are on our older platform. We have released a newer version of our service that would allow you to input new audio into a scheduled broadcast instead of having to delete and redo the entire broadcast again. The upgraded pages can only be changed over by the master account holder. If you'd like to let them know or have them reach out, we're happy to help! There is no cost to upgrade.

I hope this information was helpful. Please feel free to give us a call at 877-226-3080 if you have any additional questions or need any assistance. We're happy to help!

Replied 20/11/2018
Industry: Restaurants
Company size: 11-50 Employees
Used for

Free Trial

Review Source
---
Why we choice text -em -all
Can send out more detailed directions
Pros
Ability to stay in touch no matter what with employees
Cons
Cost of products. Other than that I thought it worked grear
Industry: Religious Institutions
Company size: 2-10 Employees
Used

Weekly

for

2+ years

Review Source
---
Great for churches!
I'm utilizing CEA at my church in the following ways. 1) We send out a short (30-40 second) devotional every weekday morning from our pastors that we record ahead of time. We have had a very good response with this and have many people subscribed who don't even go to our church! 2) We send out vans to pick youth up in our community for our midweek youth group and use the texting features of CEA to send RSVP texts that the kids reply to so we can plan our van routes. 3) We use both calls and texts for special announcements we need to get to our congregation quickly. These include emergency prayer requests, weather cancelations, important reminders, etc. Overall, CEA has been a great service for us and we don't regret anything about signing up with them!
Pros
The flexibility that Call-Em-All offers is stellar! The ability to survey your call recipients is great. If you do the subscription, having the ability to send unlimited calls and texts and not having to be concerned about how many credits you're using is a relief. I think the price is very reasonable also.
Cons
I have used another texting software solution that had an accompanying app that was very nice. I wish CEA had one that you could receive notifications of replies to your text broadcasts and quickly send a reply of your own back. It would make the conversation ability of the software much easier.
Industry: Religious Institutions
Company size: 11-50 Employees
Used

Daily

for

2+ years

Review Source
---
review
We use the system daily to stay in communication with our church family. We send out encouraging messages as well as important prayer requests, schedule changes, reminders, updates, and more. This helps us stay connected with each other every day.
Pros
Helps us communicate quickly and easily to send updates, reminders, and more in an easy to use fashion.
Cons
Some mobile users like to receive a voicemail instead of a text. It would be nice to have an option to switch them to voicemail instead of text, with text being the default. We are able to work around this by sending a separate voice only message to those few numbers who want a voicemail instead of text. We like the new feature that allows you to select the previous voicemails so we don't have to call in to record a second message for these recipients.