About Onshape
Onshape is a CAD system that enhances the productivity of designers. It allows multiple designers to access and work on the same design simultaneously via cloud services with any phone, tablet, or computer. It prevents data loss, design gridlock, and crashes, which enable the designers to deliver their best work. Onshape has simplified the file checking process and in-context editing. You'll have complete control over the data as it allows you to store your data on a secure cloud workspace. Data sharing is easy and quick with Onshape, which will save the cost of additional local storage. Users can see who have made changes to the design or content with the control and monitor access feature. With the latest version of Onshape, you won't face any configuration, operation, or compatibility problems.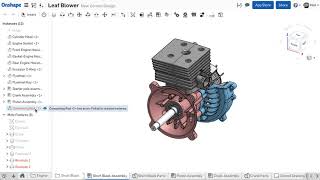 Onshape has a free version and offers a free trial. Onshape paid version starts at US$1,500.00/year.
Starting Price:
US$1,500.00/year
Industry: Telecommunications
Company size: Self Employed
Used

Weekly

for

1+ year

Review Source
---
Great software for 3D printers hobbyist
We can find easier tools on the internet like Tinkercad, but Onshape can deliver much more, like a professional and expensive tools can deliver, but you get it for free, you just need to spend a little time learning how to use it, but this time learning is very well paid off.
Pros
During this pandemic period I bought a 3D printer and started using it printing mainly already defined and available 3D models on the internet. Then I realized that I could myself produce my own 3D models and I found on Onshape the perfect tool for it. It also has great features that allows you to produce perfect models.
Cons
At the beginning Onshape seems complicated to use, but it is not, you just need to watch on Youtube some tutorials to start modeling your own 3D models. Anyway I can not complain about this tool, as the free version delivers what I need and much more.
Industry: Education Management
Company size: 51-200 Employees
Used

Daily

for

1-5 months

Review Source
---
As advertised, Google Docs for 3D design.
Went to Onshape from Autodesk Inventor out of necessity when school switched to remote learning, probably not going to go back. Onshape does nearly everything students would do in Inventor, but they can now access the program anywhere, whereas we only have one computer lab with Inventor. The only thing Inventor has over Onshape is the interactive tutorials that walk students through basic features within the software. Tutorial videos from OnShape aren't really the same, and ability to work offline would also be nice.
Pros
When students share their document with me I can view the document history to make sure it was that student who did all the work or keep track of who did what in a group project. I can help students remotely by making live changes to their document regardless of if it is a part studio or an assembly. We can voice or video chat while we both look live at the same document.
Cons
There is no way to do contact sets, which can make some assemblies not behave the way I would like. Additional joints can be a work-around in some cases, but not all. A way for parts to interact with each other would be a significant upgrade.
Reasons for Choosing Onshape
Fusion 360 has since added an online option so we have used that some since the switch, but Inventor had no online option. So with remote learning online was the only option as most students don't have storage to download a large program like Inventor.
Reasons for Switching to Onshape
More robust than SketchUp and at the time we went with onshape there wasn't a fully online version of Fusion 360 available.
Industry: Mechanical or Industrial Engineering
Company size: 501-1,000 Employees
Used

Weekly

for

2+ years

Review Source
---
Few Issues but great for Free CAD learning experience
Pros
I have been using Onshape for a while and for one of my Senior Graduate class project, I sued Onshape to help new CAD students get some experience as well. It is definitely a very popular online CAD program among many Mechanical Engineering students. It definitely cannot beat Solidworks in terms of ease of use but I would recommend it for following reasons
- Its FREE to use
Why not get your feet wet into the CAD design world with a tool that is free to use. One can easil get the basics of CAD modeling through this software.
- Online Cloud based software
We all know anything that is online and cloud based means it can be accessed anywhere if you have access to internet. No need to install huge GB of software on your machine instead just get a high speed internet and get on with the modeling.
And yes, it doesn't care if you have a Windows are a Mac so that's a plus.
- Features
Sketch, Extrude, Hole, Mirror, Chafing anything you need to do for CAD, Onshape has it. It is fast and assembly and mating process is intuitive and works really well.
For something that is free, cloud based, online and easily accessible this is one of the best CAD programs I have used and I would recommend it to anyone. Onshape has tons of documentation so learning is fun. For a beginner in CAD Onshape is the way to go.
Cons
This software has some cons which is not a dealbreaker bit definitely something to keep an eye out for,
- Crashes
During my project and online use it did crash on me multiple times. Refreshing the page helped but sometimes I did have to start a new project.
- Almost as good as Solidworks but not quite
If i were to compare it I would say it is 70% as good as solidworks
- Has it's own terminologies
Onshape has it's own features and terminologies which one has to be accustomed to. Onshape does provide online lot of documents and vocabularies so if you have time to spend reading that, it is not that bad.
Industry: Mechanical or Industrial Engineering
Company size: 10,000+ Employees
Used

Monthly

for

2+ years

Review Source
---
Online, collaborative CAD
I'd say it's not YET a complete software... but over the years has been updated a lot.
It's the best collaborative CAD that I've tried and iit's got a free version too. If you're a student, you can also get access to advanced features and have your private files.
Pros
Changes are instantaneous and are received by every member of the group.
The software is good, has got many features that can be more than sufficient for the vast majority of the users and has been constantly updated during the past 3 years.
Overall is fairly easy to navigate trough and it's similar to other more famous CADs, like Solidworks and NX.
It's got some nice integrations with other softwares, like Simsolid of Altair for instance, and I think that in the future the number of integrations will increase.
Cons
It's not yet ideal for surface modeling and I personally think that the measurement tool could be improved.
Files are public in the free version
Industry: Research
Company size: 1,001-5,000 Employees
Used

Weekly

for

1+ year

Review Source
---
What more could you ask for?
I love Onshape. I now use it exclusively for all my 3D printing projects because of its accessibility. And it's free!
Pros
a browser based CAD program? Super convenient! Especially when working on Linux where other software packages are unavailable. I find that Onshape has all the features and functionality I've ever needed, and the best part is I don't have to take up space on my computer with expensive software!
Cons
Sometimes the features are a bit tricky to find and use. I often have to google and look through forums to figure out how to accomplish a particular design.