About USATestprep
USATestprep is a tool that is designed for test preparation to help support teachers in classrooms by providing personalized learning and curriculum resources for K-12 schools. The features include custom assessments, instructional resources, district reporting, performance monitoring and test prep questions. This app is a classroom assistant that manages student performance improvement on national and state standard scales. It facilitates self-directed study in classrooms and at home, with the ability to set customizable benchmark assessments and tests. District administrators, department heads and teachers can use the data gathered by this platform to perform detailed analysis of districts, classes and students. The instructional resources are state-aligned and are built into the USATestprep user interface. The video vault on the app features vocab worksheets, interactive puzzles, vocab flashcards, comprehension questions, printable worksheets and games. It also has a class scoreboard with student motivation and participation-enhancing tools. There are more than 150,000 test questions in the repository which can be used to generate custom assessments and quizzes.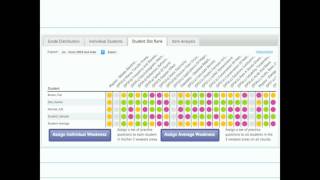 USATestprep does not have a free version but does offer a free trial. USATestprep paid version starts at US$3,350.00/year.
Starting Price:
US$3,350.00/year
Alternatives to USATestprep
Industry: E-Learning
Company size: 51-200 Employees
Used

Weekly

for

2+ years

Review Source
---
Great for the SPED community
Classroom-based teacher
Pros
From a SPED perspective, USATestPrep is a great asset to have in your toolkit! It allows individuals to have an individualized learning plan, if the teacher puts in just a little effort. Here are the pros:
- Students can independently see their strengths and weaknesses and work to improve
- Teachers can offer remediation to small groups of kids who need help with specific topics
- There's a variety of ways to practice: question sets, performance tasks, reading assignments, videos, games, puzzles. Lots of ways to engage diverse learners.
- Teachers can control the difficulty of questions being asked. It's awesome!
- Teachers can shorten assignments (which is often an accommodation on the IEP) with the click of a button.
- This could be used as an extra support in a resource classroom to supplement what teachers are doing in the classroom.
- It's easily navigated by students and teachers.
Cons
No real cons stick out from a SPED perspective. I suppose one could say that because there's so much here, an individual could get "lost in the weeds" at first. But USATestPrep provides a lot of help and has great customer support, so just be patient and this will not be a problem. One may also feel that it's a steep price if funding is a difficulty, but when you consider all that's available through the platform - it really is worth it.
Industry: Primary/Secondary Education
Company size: 1,001-5,000 Employees
Used

Weekly

for

1+ year

Review Source
---
An educational masterpiece
Pros
The functionality of this project is superior to any of its kind. It's aligned specifically to the standards that my students have to master and differentiated to reach each individual student. This makes my teaching preparation and colleague collaboration much more effective and efficient. I would recommend this to any teacher of any grade, content area, and level of student.
Cons
I like all the features involved with this program.
Industry: Education Management
Company size: 5,001-10,000 Employees
Used

Weekly

for

2+ years

Review Source
---
A potentially useful test prep program
USATestprep is an excellent idea. We used it as an organization for several years to help students prepare for high-stakes tests. Others are likely to have had better outcomes than I did, but this program wasn't for my students. We stopped using the program two years ago, so I also hold out hope they've revamped these questions. Some aspects of the program are highly worthwhile.
Pros
I really enjoyed how easy it was to sign up students for this program after we purchased a lesson. It integrated well with our class rosters. The games and activities were refreshing and fun for the students. Some (but not nearly all) of the questions were also worthwhile.
Cons
I used USA Test Prep to prepare students for the AP exams and our statewide graduation-required exam. I stopped using the program because it had serious issues with aligning questions to the standards. We found numerous questions that were not written at the correct level (Bloom's Taxonomy) and numerous others that were mis-categorized (i.e., fiction categorized as nonfiction). This is a paid program, so I was disappointed by this fact.
Response from

USATestprep

Hi Peter,

Thank you for taking the time to share your feedback. We are always improving our alignment and are usually able to make adjustments to questions same day at teacher request. We'd be happy to offer you a free re-activated trial to review all updates made.

Replied 02/08/2019
Industry: Primary/Secondary Education
Company size: 51-200 Employees
Used

Weekly

for

1+ year

Review Source
---
Great for students!
It has been wonderful for my entire school. Plus, customer service has been extremely helpful when needed.
Pros
It is an easy program for students to use. The questions are a great match to our state test. It is easy to see growth and assign individualized work for students. I love this program!
Cons
I wish that the program had the ability to divide the students by subgroups. That would help my data gathering.
Industry: Education Management
Company size: 201-500 Employees
Used

Weekly

for

2+ years

Review Source
---
USA Test Prep: An Invaluable Classroom Resource
My overall experience with USA Test Prep has been very positive. Customer service and training opportunities are excellent. The ability to individualize, remediate, review, and enrich my current curriculum is a life saver.
Pros
USA Test Prep lightens my teaching load by giving me a comprehensive bank of resources that are aligned with my curriculum. Bell ringers, formative and summative assessments, tutorial videos, data, a grade book and so much more are well organized and easy to use for both teachers and students. Students and teachers both receive immediate and valuable feedback with which to improve student learning. Students enjoy the games and performance based activities, and I love how much they have learned and how well they have performed on state testing since incorporating this resource into my curriculum. My students have bragged to me that the state test was easy because of the activities they completed on USA Test Prep.
Cons
Honestly, the only con that I have found is that the program offers so many resources, it can be difficult at first to learn it all. However, the support the company provides is excellent, so every question I have ever had has been taken care of immediately.
Response from

USATestprep

Kristie,
Many thanks for the review-- you made our Friday! We agree with your comment about there being so many resources, it can be easy to miss some of the options. We're working on making sure our teachers know EVERYTHING that is available to them and how to use it. If you ever have any suggestions on ways we can best let teachers know about some of the less frequently used (but no less important) options, let us know.

Thanks again!

Your USATestprep team

Replied 28/06/2019