About Accounting Seed
Accounting Seed Financial Suite is a cloud-based accounting solution catering to the needs of various industries including healthcare, insurance, manufacturing and consulting. The solution enables users to bill customers, accept payments, create custom financial reports and manage project accounting. Accounting Seed lets users create invoices from sales orders and set recurring customer bill generation. The solution can be integrated with Salesforce CRM for managing credit disbursement, tracking collections and customer interaction. Additionally, the solution can also be integrated with Stripe to collect online payments. Dashboards enable data visualization through charts and graphs for accounting and order management. Management reports can be configured with drag-and-drop editing and can be exported to Excel. The solution offers consolidated general ledger and project accounting for tracking project expenses and deliverables as well as project-based reports, budget reports and more. Accounting Seed Financial Suite is available on a monthly subscription basis and provides customer support through knowledge base available on the website, phone, email and online messaging.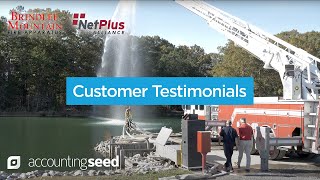 Accounting Seed does not have a free version but does offer a free trial. Accounting Seed paid version starts at US$3,960.00/year.
Starting Price:
US$3,960.00/year
Pricing Details:
Starting at $3,690/year. Includes: General Ledger Financial Reporting Billing & Cash Receipts Accounts Payable & Cash Disbursements Project Accounting Time Cards & Expense Reports Sales Order Management Inventory Control Purchase Order Management Work Order Management Lite Manufacturing
Alternatives to Accounting Seed
Industry: Telecommunications
Company size: 11-50 Employees
Used

Daily

for

1+ year

Review Source
---
Best Accounting Software for Fast Growing SMB
We have been using Accounting Seed for a bit over a year now and our whole teams loves it!
Pros
Super easy to use and easy to customize to meet your needs
Cons
Not the easiest to transition over to and it lacks good quality consulting partners.
Response from

Accounting Seed

Hi, Collin. Thank you for your awesome review of Accounting Seed!

We are thrilled to hear you are finding great value in the software and that it is meeting your needs as a fast growing small business.
We are always looking to improve - you mentioned there were some challenges with the transition. I would love to hear more about your experience. Please feel free to contact me at [email protected] to discuss in more detail or set up a phone call.

Again, thank you for taking the time to review our accounting solution! I look forward to connecting. - Shannon

Replied 29/01/2019
Industry: Insurance
Company size: 2-10 Employees
Used

Daily

for

2+ years

Review Source
---
Serious software for any business that needs and wants a comprehensive accounting system
Very pleased with working with team at AS. I marvel at how they cross from one industry to another with skill. Insurance accounting is very different from traditional accounting systems and i am impressed with how well AS has handled learning and growing in our vertical.
Pros
One we figure out the workflows and nuances with Accountingseed (AS), it is a pleasure to work with. The speed of the software is fast and AS is on top of regular updates to add important and necessary features. We have been a user of AS now for 3 years
Cons
Updates are not always pretty and could be better tested however AS is not deaf to any problems that result from updates or patches
Industry: Wholesale
Company size: 2-10 Employees
Used

Daily

for

6-12 months

Review Source
---
Great Support
We've had issues on and off using the program since going live in January 2019, however, AccountingSeed Customer Support has helped us through all of those issues. They've even done some customization for us as a courtesy. I've been working on a custom template (with Conga) for months now and the fields I need on the form were not available to us. CSR with AccountingSeed helped me today with these custom fields; he added them as a courtesy and also sent me a video on how he did this. VERY helpful to have in the future.
Pros
My favorite feature is being able to Clone repeat transactions; vendor invoices and journal entries. The Bank Reconciliation is a breeze. Submitting a Ticket for assistance is very convenient. I get an email within a few hours with a solution.
Cons
My least favorite features are the Financial Reports and AccountingSeed-created Forms. The reports we run are very different than what AccountingSeed offers. We've found a way to make it work by exporting to Excel, updating fields, adding/deleting, etc. Another feature is the various forms that AccountingSeed created for us; Purchase Order, Packing List and Billing. When we first started using AccountingSeed we found out they didn't have Sales Orders (order confirmations). We had to purchase another App (Conga) who created the Sales Order form for us. I'm currently working on a new Purchase Order template with Conga. The issue I have with the Billing form is that is says Billing. A lot of our customers comment, asking for the Invoice number. It's just a terminology issue; billing vs invoice. We will be creating our own Invoice template with Conga as well.
Reasons for Choosing Accounting Seed
We've used SalesForce since 2009. We were duplicating information about orders in SalesForce, and then creating the order in our separate accounting system. Now we use AccountingSeed with SalesForce and it deletes a lot of the duplication we were doing before. All the information is in one place; SalesForce, and AccountingSeed pulls from those records.
Reasons for Switching to Accounting Seed
We chose AccountingSeed because it works well/integrates well with SalesForce.
Industry: Information Technology & Services
Company size: 2-10 Employees
Used

Daily

for

6-12 months

Review Source
---
An Excellent Value Financial Solution
Overall, we have had good experiences. The package has a straightforward install (save once when we didn't have the correct release, and good to very good support. The Knowledge Base is helpful.
Pros
Having a financial solution on the Salesforce platform is a game-changer for development and implementation speed. Real-time financial information available at the Account, Opportunity, and Project record level increases the speed, accuracy, and relevance of critical business intelligence. This, in turn, translates into greater business agility while exponentially increasing confidence in the processing and assessment of business threats and opportunities.
Cons
Recently the platform and license costing has been a bit of a moving target. I have evangelized for this product and assisted several of our clients with AS implementations, and more than once we have found out significant cost impacts after the initial purchase. The bank connections have also been challenging, as while the advertised "1400" banks might sound like a lot, we have discovered the hard way that having a bank name on the list does not guarantee a connection, as each bank can have several connectors, and not all are compatible with Accounting Seed.
Reasons for Choosing Accounting Seed
Streamlining and optimizing processes
Reasons for Switching to Accounting Seed
Perceived value.
Industry: Consumer Services
Company size: 2-10 Employees
Used

Daily

for

2+ years

Review Source
---
Accounting Seed Review
I would say it has been positive once we got the system where we needed it. We had lots of customization done as the standard Accounting Seed didn't work for our company needs.
Pros
It integrated with Salesforce, which is why we purchased the product.
Cons
It is limited in reporting features and you have to do a lot of "unapplied" and "unpost" to fix an error in an entry.