About Accounting Seed
Accounting Seed Financial Suite is a cloud-based accounting solution catering to the needs of various industries including healthcare, insurance, manufacturing and consulting. The solution enables users to bill customers, accept payments, create custom financial reports and manage project accounting. Accounting Seed lets users create invoices from sales orders and set recurring customer bill generation. The solution can be integrated with Salesforce CRM for managing credit disbursement, tracking collections and customer interaction. Additionally, the solution can also be integrated with Stripe to collect online payments. Dashboards enable data visualization through charts and graphs for accounting and order management. Management reports can be configured with drag-and-drop editing and can be exported to Excel. The solution offers consolidated general ledger and project accounting for tracking project expenses and deliverables as well as project-based reports, budget reports and more. Accounting Seed Financial Suite is available on a monthly subscription basis and provides customer support through knowledge base available on the website, phone, email and online messaging.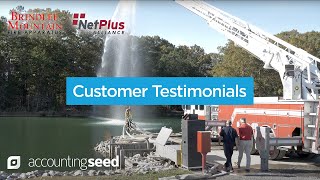 Accounting Seed does not have a free version and does not offer a free trial.
Alternatives to Accounting Seed
Industry: Computer Software
Company size: 11-50 Employees
Used

Daily

for

2+ years

Review Source
---
HIG Capital Backing Moving Accounting Seed to the Next Level
I have been working on the Salesforce platform for 17 years and with Accounting Seed for 10 years in accounting for my Legal Funding, Real Estate Rental and Professional Services businesses.
It is the ability to leverage the strength of the Salesforce platform that makes the experience strong and the HIG Capital investment and Partner environment that makes the future look stronger.
Pros
In 2021 HIG Capital made a majority investment in Accounting Seed that is moving this native Salesforce application to the next level. This investment has allowed the organization to move beyond an excellent leveraging of the Salesforce object architecture to add the competitive functionality of their more mature enterprise competitors such as Sage Intacct and Oracle Netsuite.
Newly release features include Multi-Ledger Consolidation with Elimination Entries, further advancements in reporting. Focusing on the importance of the partner channel has brought much needed integration with Bill.com, Partner Portals and applications.
Project Accounting is also been made stronger through a Project Management platform developed by the partner community.
Cons
The Accounting Seed Orders and Entry do not add up to the functionality required in an enterprise resource planning application. One needs to use an outside partner integrated application such as Legendary Supply Chain. The budgeting and commission functionality could still be improved although several partners are stepping up in this area as well.
Reasons for Choosing Accounting Seed
There was no CRM capability integrated with the Intuit platform and it was a step backward from QuickBooks Enterprise edition.
Reasons for Switching to Accounting Seed
The power of the Salesforce platform and the ability of Accounting Seed to leverage it
Industry: Nonprofit Organization Management
Company size: 11-50 Employees
Used

Daily

for

2+ years

Review Source
---
Accounting Software built into SalesForce
We needed a system that integrated with our contacts and programs. We wanted to be able to see what programs a donor had given to along with financial data for those programs. With Accounting Seed working inside SalesForce, all our data, across all departments, is in one place can easily be linked, integrated, displayed, and reported. This allows us to better serve our constituents with accurate data immediately at our fingers via desktop or mobile apps with access anywhere in the world.
Pros
Accounting Seed works splendidly inside SalesForce. You get all the advantages of a product that integrates with all your SalesForce data. No need for imports or exports. Everything is in one place. Employees learn one system and they can work all across the organization. The availability of multi-levels of security allows you to tailor applications to the appropriate person, department, or team. Internal control features and audit trails are securely automated. Backing up your data is simple with just a few clicks. Project managment allow each project to act almost like its own company and integrates well with any other Salesforce data.
Cons
I would like to see more preformatted reports. There are a few in the system but I suspect there could be more that could print directly from the system in a more presentable format. All reports can be exported to Excel. This allows those that know Excel to manipulate the data as only Excel can do. That is nice but requires extra effort to format the data.
Industry: Information Technology & Services
Company size: 2-10 Employees
Used

Daily

for

6-12 months

Review Source
---
An Excellent Value Financial Solution
Overall, we have had good experiences. The package has a straightforward install (save once when we didn't have the correct release, and good to very good support. The Knowledge Base is helpful.
Pros
Having a financial solution on the Salesforce platform is a game-changer for development and implementation speed. Real-time financial information available at the Account, Opportunity, and Project record level increases the speed, accuracy, and relevance of critical business intelligence. This, in turn, translates into greater business agility while exponentially increasing confidence in the processing and assessment of business threats and opportunities.
Cons
Recently the platform and license costing has been a bit of a moving target. I have evangelized for this product and assisted several of our clients with AS implementations, and more than once we have found out significant cost impacts after the initial purchase. The bank connections have also been challenging, as while the advertised "1400" banks might sound like a lot, we have discovered the hard way that having a bank name on the list does not guarantee a connection, as each bank can have several connectors, and not all are compatible with Accounting Seed.
Reasons for Choosing Accounting Seed
Streamlining and optimizing processes
Reasons for Switching to Accounting Seed
Perceived value.
Industry: Insurance
Company size: 2-10 Employees
Used

Daily

for

2+ years

Review Source
---
Serious software for any business that needs and wants a comprehensive accounting system
Very pleased with working with team at AS. I marvel at how they cross from one industry to another with skill. Insurance accounting is very different from traditional accounting systems and i am impressed with how well AS has handled learning and growing in our vertical.
Pros
One we figure out the workflows and nuances with Accountingseed (AS), it is a pleasure to work with. The speed of the software is fast and AS is on top of regular updates to add important and necessary features. We have been a user of AS now for 3 years
Cons
Updates are not always pretty and could be better tested however AS is not deaf to any problems that result from updates or patches
Industry: Computer Software
Company size: 2-10 Employees
Used

Daily

for

1-5 months

Review Source
---
Great Product
overall Accounting Seed has been a great experience. I appreciate the architecture of their program as it is built a a very secure way that is intuitive.
Pros
I appreciate the free Documentation on explaining different accounting concepts. I also appreciated the original CEO's music video to help promote.
We switched to Accounting Seed after having a terrible time trying to setup Sage and they made the process easy and efficient.
Then we moved another company of ours to Accounting Seed which uses the ERP features which have worked well.
Cons
I don't like the process to login to the support portal and put in support tickets. You used to be able to put tickets in via email. But, they took that away. Now you have to login to the support portal, which very annoyingly does not allow you to hit enter to login. and then create a ticket. You receive email updates on tickets, but you can't reply from the email. You have to log back into the support portal for each reply.
Seems to be a cheap way to reduce support tickets.
Reasons for Choosing Accounting Seed
Cost & was not user-friendly
Reasons for Switching to Accounting Seed
Price and ease of implementation