About Accounting Seed
Accounting Seed Financial Suite is a cloud-based accounting solution catering to the needs of various industries including healthcare, insurance, manufacturing and consulting. The solution enables users to bill customers, accept payments, create custom financial reports and manage project accounting. Accounting Seed lets users create invoices from sales orders and set recurring customer bill generation. The solution can be integrated with Salesforce CRM for managing credit disbursement, tracking collections and customer interaction. Additionally, the solution can also be integrated with Stripe to collect online payments. Dashboards enable data visualization through charts and graphs for accounting and order management. Management reports can be configured with drag-and-drop editing and can be exported to Excel. The solution offers consolidated general ledger and project accounting for tracking project expenses and deliverables as well as project-based reports, budget reports and more. Accounting Seed Financial Suite is available on a monthly subscription basis and provides customer support through knowledge base available on the website, phone, email and online messaging.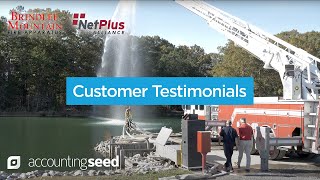 Accounting Seed does not have a free version and does not offer a free trial.
Alternatives to Accounting Seed
Industry: Hospitality
Company size: 11–50 Employees
Used

Weekly

for

2+ years

Review Source
---
Great Integration with Salesforce
I'm so glad we chose Accounting Seed. If you like Salesforce, it "just feels right" and is quite intuitive. Very easy to customize, and to run reports with additional info already in Salesforce. Customer support has always been helpful.
Pros
I love the native integration with Salesforce. This allows us to easily create reports with information about our accounts that are unrelated to a traditional accounting software. Having a central source of truth of all Account information, and that source being Salesforce, makes operations and financial reporting a breeze.
Cons
"Bank Direct Connect" process to import transactions from our bank account can be glitchy and buggy and at times have caused us many extra hours of work and caused us to delay our monthly close.
Reasons for Switching to Accounting Seed
Native Salesforce integration.
Industry: Nonprofit Organization Management
Company size: 11–50 Employees
Used

Daily

for

2+ years

Review Source
---
Accounting Software built into SalesForce
We needed a system that integrated with our contacts and programs. We wanted to be able to see what programs a donor had given to along with financial data for those programs. With Accounting Seed working inside SalesForce, all our data, across all departments, is in one place can easily be linked, integrated, displayed, and reported. This allows us to better serve our constituents with accurate data immediately at our fingers via desktop or mobile apps with access anywhere in the world.
Pros
Accounting Seed works splendidly inside SalesForce. You get all the advantages of a product that integrates with all your SalesForce data. No need for imports or exports. Everything is in one place. Employees learn one system and they can work all across the organization. The availability of multi-levels of security allows you to tailor applications to the appropriate person, department, or team. Internal control features and audit trails are securely automated. Backing up your data is simple with just a few clicks. Project managment allow each project to act almost like its own company and integrates well with any other Salesforce data.
Cons
I would like to see more preformatted reports. There are a few in the system but I suspect there could be more that could print directly from the system in a more presentable format. All reports can be exported to Excel. This allows those that know Excel to manipulate the data as only Excel can do. That is nice but requires extra effort to format the data.
Industry: Transportation/Trucking/Railroad
Company size: 51–200 Employees
Used

Daily

for

6-12 months

Review Source
---
Accounting Seed Review
Honestly a product without good support is no good to me. Anytime something comes up I know I have to figure it out myself or waste time trying to correspond with someone.
Pros
Ease of importing data through the data import wizard
Cons
Customer support is terrible. The guy that was answering my support tickets was not understanding me and would not call on the phone. I never once talked to him through anything but messages in the ticket portal. My ticket was not resolved for over a month.
Response from

Accounting Seed

Hi Nichol,

Thank you for your feedback. We have contacted our Support Team regarding your feedback and we understand they have reached out to you in order to further discuss the ticket that you had submitted. We apologize for the inconvenience.

In the future, please do not hesitate to contact our Customer Success team by emailing [email protected].

Replied 16/02/2021
Industry: Information Technology & Services
Company size: 11–50 Employees
Used

Daily

for

2+ years

Review Source
---
Best Accounting/Finance Package on SalesForce
Really no significant obs
Pros
Very fully featured with foreign currency translation, multiple ledgers and consolidation, PLUS the easiest on which to create automations across not only all Accounting Seed modules, but all other modules on SalesForce as well.
Cons
For GL reports and trial balances, for a particular specified period, it would be better if the beginning balance, and ending balance were displayed, along with all of the period debits and credits to a GL Account.
Industry: Insurance
Company size: 2–10 Employees
Used

Daily

for

2+ years

Review Source
---
Serious software for any business that needs and wants a comprehensive accounting system
Very pleased with working with team at AS. I marvel at how they cross from one industry to another with skill. Insurance accounting is very different from traditional accounting systems and i am impressed with how well AS has handled learning and growing in our vertical.
Pros
One we figure out the workflows and nuances with Accountingseed (AS), it is a pleasure to work with. The speed of the software is fast and AS is on top of regular updates to add important and necessary features. We have been a user of AS now for 3 years
Cons
Updates are not always pretty and could be better tested however AS is not deaf to any problems that result from updates or patches