About Teachable
Teachable is a cloud-based learning management solution used by small and midsize businesses. The solution allows users to create and share online courses by adding audio, video, images, text and PDF files. Students can access these courses across devices such as computers, tablets, and smartphones. The solution enables users to create online quizzes and certificates to evaluate students' progress. Google Forms are included to collect course feedback. Targeted emails can be sent based on filters such as enrollment, course completion and code redemption. The solution integrates with Zapier to provide access to tools such as Intercom, Olark, MailChimp and Zendesk. Teachable's dashboard provides an overview of student signups and revenue across a defined time period. In addition, users can incentivize enrollments by creating discount coupons. Advertising effectiveness can be tracked by adding conversion pixels to their website. The solution is available on a subscription basis and support is provided via an online ticketing system.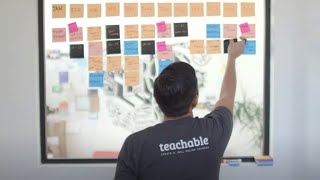 Teachable does not have a free version but does offer a free trial. Teachable paid version starts at US$39.00/month.
Starting Price:
US$39.00/month
Alternatives to Teachable
Industry: Religious Institutions
Company size: 2-10 Employees
Used

Weekly

for

2+ years

Review Source
---
Teachable Moments
Overall Teachable solved a revenue issue for us! We needed a place for people to go and purchase out products and downloadable services without having to start from scratch - which is quite costly - and Teachable allowed us to do that. It help us generate necessary revenue with ease.
Pros
Teachable is very user friendly. I am not a very technically inclined person and this program gave me the ease I needed to set our digital classroom. AT the time we began using the company could not afford more than $100 a month and Teachable was very affordable for out small nonprofit.
Cons
I would say that my least favorite aspect of Teachable is or was the design templates, although they recently upgraded this feature and you can do a few more fancy things to your store and landing page.
Alternatives Considered
Kajabi
Reasons for Choosing Teachable
At the time I felt that Teachable had more flexibility with a free or no cost version.
Reasons for Switching to Teachable
Kajabi is for a more established company with a consistent revenue stream and at the time we were not that company.
Industry: Public Safety
Company size: 2-10 Employees
Used

Daily

for

2+ years

Review Source
---
Teachable--- Hosting Your Online Classes
My overall experience with Teachable has been very positive. Responsive customer support, improved features, and excellent onboarding training. My only frustration is the inability to auto-schedule blog posts.
Pros
I've been a Teachable user for a few years (I was a user when the name was Fedora). Since then, Teachable has been one of the most mentioned names for online course creators. One of the things I like best about Teachable is how easy it is to use the platform. In a matter of time, you can create an online course, including curriculum and media. This is super convenient for both the novice online course creator and the more experienced ones. It's a time saver!
Cons
Since 2019, the blog feature of being able to auto-schedule posting has not worked. I've placed support tickets to address the issue, but as of this writing (Feb 2020), the feature still isn't working. I write blog content well in advance and was able to schedule blog posts with ease. Now I have to set a reminder to go into my Teachable account to manually post the blog. This is not ideal.
Reasons for Choosing Teachable
SchoolKeep was changing its charging platform to a per-student model that didn't have a place in my business.
Reasons for Switching to Teachable
I liked the interface Teachable had (Fedora) vs. Thinkific.
Industry: E-Learning
Company size: Self Employed
Used

Daily

for

2+ years

Review Source
---
The Grass is Not Always Greener
Teachable allows me to run a great online school - and to do so with much of the functionality in one package. I do opt to substitute my own website and email automation (WordPress and Active Campaign) but I use their eCommerce payment platform and feel very confident. I have often wondered about switching but never have found an alterative that does not offer better than an alternative set of compromises.
Pros
Teachable is easy to use and does everything I need it to - and mostly very well. I also like that the company behaves ethically.
The user experience for my students is excellent and the all-in one package makes it very easy for me.
Cons
There are a few little niggles. Not a great mobile solution (but perfectly adequate) and the text editor in the course builder is low on capabilities for formatting beyond the basics (Tables? Not so much). And the placement of toolbars and save buttons is frustrating.
Used

Daily

for

2+ years

Review Source
---
A great online course platform that's improving all the time
Pros
My favourite thing about Teachable is it 'just works' out of the box. Most of its functionality is intuitive and it doesn't try to add a million features that most people won't use. It's a software tool that knows what it is and who it's for. It makes it very easy to make a good looking site and get a course up for sale. Anyone can get started and be able to do most of what they need to be able to do to create a profitable online course business easily.
Cons
The drawback is in that final 5%. It's easy to make a good looking site, but not easy to make an amazing looking site. I have in the past had some issues with their affiliate system and with their support staff, but to be fair this was in late 2016 and they have made big improvements since then. I would like to see them roll out new features more consistently so that their users are on the cutting edge of online course technology rather than just slightly behind. Teachable is also best for people that don't want to integrate multiple tools. This is also a good thing as it stays focused, but I think it's worth noting here as a potential user should consider that what they get with Teachable is what they get. Don't start using it expecting to link it with a forum later if you don't love how their commenting system works (for example).
Industry: Professional Training & Coaching
Company size: 2-10 Employees
Used

Daily

for

2+ years

Review Source
---
I absolutely LOVE this course creation and course selling platform!
I love the professional look of Teachable and I think that makes students feel more comfortable buying online courses from "your average Joe".
Pros
For starters, it is great that you can creaet a course and put it on Teachable for free to test drive the platform and see if it will be a good fit for you and your students. I like that the platform is easy to use, customizable, NOT CLUNKY, and is professional looking.
Cons
The pricing might be a bit much if you're just starting out as a course creator and aren't sure if you're course is going to sell out the way you want it to. Other than that, there really isn't anything bad I can say about Teachable. They've done a great job creating a platform that makes it easy for anyone to sell a course they've created.