About CloudTalk
CloudTalk is a contact center management solution that enables businesses to streamline communications with teams and customers using virtual call systems. It allows executives to manage inbound/outbound calls, extract interaction history from various sources and provide personalized support to clients. Key features of CloudTalk include automated call distribution, interaction recording, voicemail, interactive voice response (IVR) and custom reporting. Businesses can utilize wallboard to gain real-time visibility across staff activities and identify behavior trends using sentiment or emotional analytics. Additionally, agents can utilize the after-call-work (ACW) functionality to complete follow-up tasks, improving customer satisfaction. CloudTalk integrates with various third-party platforms such as Salesforce, Zendesk, Pipedrive and more, streamlining telephony workflows across locations. It provides web and mobile applications for Windows, Linux, Mac, Android and iOS users. The solution is available on monthly subscriptions and support is extended via phone, email and other online measures.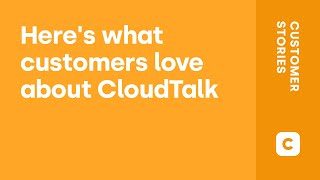 CloudTalk does not have a free version but does offer a free trial. CloudTalk paid version starts at US$25.00/month.
Alternatives to CloudTalk
Industry: Information Technology & Services
Company size: 2-10 Employees
Used

Daily

for

Free Trial

Review Source
---
intruitive for Both Admins and Users
There are few companies that earn our respect in both terms of service and after-sales support and Cloudtalk has really impressed us. We see ourselves doing business with them for the foreseeable future.
Pros
One of the most difficult issues with adapting to new software is not just getting the administrators to like and accept the software but to also get the final users of the solutions (support team) to use it with minimal setup and a short learning cycle. It was so easy for staff to make use of it right out of the box that we were running literally within minutes. Also as a Systems Administrator, nothing is better than having a clean interface to work with, you get a quick summary right on your dashboard and any function or feature you need is within easy reach.
Plus with the support staff helping to iron out any and all issues that pop up, which was very few (was mostly our fault - a bad internet), we were more than happy having it as our default solution moving forward.
Cons
For now, I don't think there is anything negative I have to say about Cloudtalk. Would love to pick a number from a selection but that's not a con.
Industry: Marketing & Advertising
Company size: 2-10 Employees
Used

Daily

for

1-5 months

Review Source
---
CloudTalk offers the best solution to our small team
With CloudTalk we are solving the cold outreach via phone to potentially interested customers. The benefits of the software are: Monthly payable (no annual membership required), great customer support(!), intuitive handling and easy to use. Plus, CloudTalk works very well with most existing CRMs.
Pros
The most incredible feature about CloudTalk is the function to autorecord convesations and to integrate them into our current CRM (we are using HubSpot). This is very convenient when reaching out to potential clients once again after several days or even weeks have passed because I can always go back into the frame and the vibe of the previous call and seamlessly go on to the next.
Cons
There is nothing in particular that comes to mind. Maybe the call prices per minute are a little higher than for other cloud telephone systems.
Reasons for Switching to CloudTalk
Because monthly payment was a given with CloudTalk and Aircall starts with 2 or 3 users minimum but we only need one call agent at the moment.
Industry: Cosmetics
Company size: 2-10 Employees
Used

Daily

for

1-5 months

Review Source
---
Huge call lag causing customer to ring multiple times just to speak with support
Poor. We signed up for a monthly plan only to see that we had been billed for a full 12 months.
Pros
Its would be cost-effective it it worked properly
Cons
Call connection lag time was unacceptable. Dropped calls created an extra administrative burden for us to call back for our customers to try and call us back.
We spent more time playing phone tag and asking "why cant we hear the caller" than we did resolving the customer call.
Not good enough.
We signed up for a monthly plan only to find on our first bill we had paid for both call credits of $30 USD and 12 months of plan costs. Not what we were expecting given we had signed up for a monthly plan.
When we reached out to customer support we were quickly referred to the TOS and told "no refunds for unused terms".
This is ridiculous in today's day and age.
Technology companies are using their reach into a worldwide customer base to enable their growth then applying less than stellar customer support.
Go to a shop (in person) and hand them some money for a good or service.
If they don't deliver what you have paid for then proceed to tell you "bad luck, you handed your money over" and "no refunds" you would punch that person in the face and never use them again. Or you would take punitive remedial action against them.
If you don't treat people the same as you would in person then you should not be in business.
I don't care who you are or what you think you are, treat people like people (and how you expect to be treated yourself) and you will be respected. Treat people like idiots, numbers, and hide behind bullshit then expect the mirror to shine back on you.
Industry: Accounting
Company size: 1,001-5,000 Employees
Used

Weekly

for

1-5 months

Review Source
---
Industry: Information Technology & Services
Company size: 11-50 Employees
Used

Daily

for

1-5 months

Review Source
---
All in one solution that is super easy to use
It has been a great experience and the product is solving most, if not all of my needs.
Pros
It's super accessible and easy to understand. It has a no bs approach where things are simply explained and work the way they should without being unnecessarily complicated.
Cons
The only thing I didnt like is that the campaign management options are locked behind a paywall but that is fair enough