About Easygenerator
Easygenerator is a cloud-based e-learning authoring solution. The tool allows users to create e-learning courses from scratch without the need for previous course creation experience. Key features include drag-and-drop course creation, EasyAI (an AI assistant for creation), auto-translation, live co-authoring, user management, and award-winning support. With Easygenerator, authors have the flexibility to shape their courses by generating relevant content and defining clear learning objectives. They can also apply their unique instructional and graphical designs to create visually appealing courses. Publishing tools are also available that enables authors to deliver the course via SCORM to LMSs, xAPI for LXPs, private links, and more. Additionally, authors can take advantage of predesigned templates and customizable colors to design courses that perfectly align with their vision. Pricing for Easygenerator is based on a monthly subscription model. Users can access support through various channels, including email, a comprehensive knowledge base, instructional videos, an online help desk, live chat, and phone assistance. Overall, Easygenerator simplifies the process of creating and managing learning courses, making it an ideal solution for businesses seeking a way to empower anyone in the business to create e-learning courses and share knowledge easily.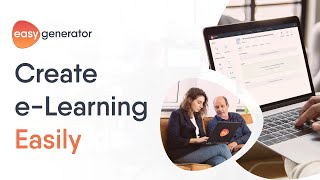 Easygenerator has a free version and offers a free trial. Easygenerator paid version starts at US$108.00/month.
Alternatives to Easygenerator
Industry: Retail
Company size: 51–200 Employees
Used

Weekly

for

6-12 months

Review Source
---
Extremely easy to use , interactive, engaging, and fun.
Pros
The name is no lie. It's an incredibly efficient and easy to use tool as both a content builder and as a lesson taker. It's a million times more interactive and engaging than any other solution we've used before with all the different types of question and content options. Since we moved to EasyGenerator almost a year ago, our agents are more engaged and excited to get into lessons than ever. Learning has become fun as well as necessary.
Love the integration with Branchtrack. Scenarios are a great way to really speak to the nuances of language and how to speak to a customer, especially when trying to gauge their emotion throughout a conversation.
The support is also exceptional, especially considering they are in a completely different time zone across the world from us. Super friendly, helpful anytime we have a question, and receptive to feedback.
When we knew we had to improve our current learning ethos and software, we set forth on an exhaustive search to find a better solution. We set up trials with various eLearning tools and created lessons that we presented to our agents before asking for feedback on all of them at the end. Our agents overwhelmingly voted for EasyGenerator, our content building team overwhelmingly voted for it, and with such a great price and value, EasyGenerator was a no brainer from the agent level to C-level.
Cons
We certainly have things on our wishlist, like more study-based questions, such as flashcard functionality, simple games for even more fun learning options, and more robust reporting, especially the ability to track learners across various courses. But none of these things are truly cons as it stands. Especially since the EasyGenerator team is so receptive to feedback and genuinely interested in new ideas to make their solution even better.
Response from

Easygenerator

Hi Sawyer, thank you for taking the time to leave such a detailed review. We're glad you're having such a positive experience with our product and support team. Indeed, we've taken your feedback and now offer +10 customizable question types and have significantly boosted our results tracking and reporting features. You can find out what's new in our Help Center: https://help.easygenerator.com/en/.

Replied 10/02/2023
Industry: Food Production
Company size: 1,001–5,000 Employees
Used

Daily

for

1+ year

Review Source
---
Powerful and easy to use
Pros
What I like the most about EasyGenerator is how smooth the user experience is. It is so intuitive that you can master the tool in just a few minutes.
You can feel they have designed it with the end user in mind, there are many functionalities that just made my life so much easier.
I really enjoy the possibility to customize the theme colours to make a elearning on brand which makes the elearning look very professional towards our customers.
Their customer support is always available and super helpful, I really enjoy the fact to be able to chat with them live when I have an issue, they have gone the extra mile multiple times to support me.
I'd recommend it to anyone, and I actually did already several times, and the feedback was always extremely positive.
Cons
To be honest, nothing I can think of. I feel EasyGenerator is always ahead of my needs.
Response from

Easygenerator

Hi Loris, thanks for leaving a review. We're happy to hear you're having such a positive experience with our authoring features and support team!

Replied 10/02/2023
Industry: Market Research
Company size: 10,000+ Employees
Used

Daily

for

1+ year

Review Source
---
Fantastic eLearning tool that is only getting better. They're actively improving this daily!
It has allowed us to create a blended learning environment while at the same time easing our curriculum writers into online course building with a very simple and effective tool.
Pros
I like the ease of use of this software. It is very very easy to become proficient and the options and customization are constantly being updated and tweaked. The question types are widely varied which allows for a wealth of engagement. The interface is smooth and intuitive and the overall look and feel of the site is fantastic.
Cons
It only exports SCORM 1.2 files while other eLearning software exports in SCORM 2004 files. The text editor can be temperamental and the Branchtrack tool is neat but impractical for heavy use. The results data is also very clunky with limited ability to run reports.
Response from

Easygenerator

Hi Ryan, thank you for sharing about your experience with Easygenerator! We're thrilled you enjoy the ease of use. Over the years, we've upgraded our tool significantly so you can now download courses as SCORM 1.2 and SCORM 2004 files (https://www.easygenerator.com/en/features/scorm-and-xapi/) and we've expanded our results tracking options (https://help.easygenerator.com/en/articles/3828496-results-tracking-options). We hope this has helped you continue to make the most out of the tool!

Replied 10/02/2023
Industry: Automotive
Company size: 5,001–10,000 Employees
Used

Daily

for

1+ year

Review Source
---
Simple yet powerful interface, excellent support and quality finished product.
I am able to reach customers that have logistical constraints and provide them with quality learning tools. I can create refresher courses for people that have already been on Face 2 Face training and save them time and money on re-training. I can showcase new features quicker and to a larger audience. My advice is, go for it! EasyGenerator won't let you down, the support on offer makes the implementation seamless and the product features are plenty to create high quality learning tools.
Pros
The speed at which courses can be created and the general ease of use of the setup. The support from the team is excellent and speedy. The implementation was quick and easy. The tutorial available gives you enough information to begin creating courses right away and the tool is packed with features that allow you to offer an interactive experience to the user.
Cons
I would like notified before updates are done as I sometimes need to access the site when upgrades are being completed. If I had prior knowledge of these upgrades I could plan ahead.
Response from

Easygenerator

Hi Garry, thanks for leaving a review. We're happy to hear you're having such a positive experience with Easygenerator and our authoring tool features! Indeed, because we regularly upgrade our product, our tool is down every Thursday between 7:00 and 9:00 am CET. If you find the tool down at any other time, please reach out to our support team via live chat so we can assist you.

Replied 10/02/2023
Industry: Education Management
Company size: 11–50 Employees
Used

Daily

for

2+ years

Review Source
---
easygenerator is really easy to use to create great looking and didactical valueble courses
Very powerful and flexible tool with which we can create courses for all our customers from all kinds of branches. We also use it to create quick internal onboarding lessons.
Pros
- Great variety of questions
- Real responsive design, so you only need to create one course for all devices
- We can create our own template with own didactic which makes the tool really powerful for our business
- Very modern look and feel
- Creating a course with just a couple of clicks.
Cons
- the variety of animated elements is still growing but currently a little bit limited.
- including external content is currently a little bit tidious, but the introduction of the document library should make this a lot easier.
Response from

Easygenerator

Hi Stefan, thanks for leaving a review. We're happy to hear you're having such a positive experience with Easygenerator and our authoring tool features! Indeed, we've now added a full-fledged media library to make it easier to add all kinds of media to your courses. You can learn more about it here: https://help.easygenerator.com/en/articles/677409-what-is-my-library.

Replied 10/02/2023