About Nifty
Nifty is a new-wave project management tool that reduces project development cycles and improves team productivity by combining all of the important features of project management into one software. The end result is milestone-driven progress that keep teams inspired, insuring organizational goals remain on schedule. Nifty's software allows you to manage tasks through both Kanban or list view, has a built in calendar that can be integrated with Google, as well as file and document sharing. Collaborating on Nifty is natural because each project has an individual discussion thread encouraging project specific communication. Nifty also has an integration with Github that truly makes Nifty unique by encouraging cross departmental collaboration like no other.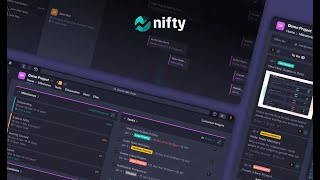 Nifty has a free version and offers a free trial. Nifty paid version starts at US$39.00/month.
Industry: Internet
Company size: Self Employed
Used

Daily

for

1-5 months

Review Source
---
A really promising application
I want to use it with my daily project and task manager. It has some edges to polish (improve that Spanish translation for example) but it is really promising.
Pros
It is loaded with features and functionalities. Translated into many languages and with app for iPhone and iPad. I really see a promising future for it if they keep working hard on it.
Cons
The interface is excessively overloaded. It should be more configurable so that only what you really need is visible. The Spanish translation could be improved.
Industry: E-Learning
Company size: 11-50 Employees
Used

Daily

for

6-12 months

Review Source
---
After Trying a Few PM Tools; This One Stuck
Nifty has been an awesome PM tool for the price point. When compared to other cloud based PM tools such as basecamp, asana, and others this one is the way to go and the many things they have been improving on.
Pros
Nifty makes Project Management so simple for our team. It provides multiple views either Kanban, List, or others to properly manage a team. Also, the learning curve is very small compared to other robust PM software. The collaborative ability within projects and tasks with Google integration (doc, sheets, etc) is a game-changer. I really like the ease of seeing everything going on and the easy manner in which moving tasks are. The UX and ease of use for this software is top of the line. Especially in dark mode.
Cons
The cloud-based software can be slow sometimes but definitely nothing to go crazy fussing about. Either way, I believe the Nifty team is working hard to improve it. Also, it would be great to have a CSV upload of tasks/projects.
Reasons for Choosing Nifty
Value for pricing is better for us with Nifty.
Industry: Cosmetics
Company size: 11-50 Employees
Used

Daily

for

6-12 months

Review Source
---
Having used them all - Nifty is the best!
Pros
Speaking about around 8 year agency experience as a Project Manager I have tried them all: JIRA, Trello, Asana, Monday and so on and so forth. I must admit that when leaving JIRA aside since it's for a different purpose IMO, nifty is the best among them! It's even that good that internally we don't use teams or slack anymore since it also offers a chat function.
Cons
Nothing to add here. There's really nothing bad about this software. There used to. When cloning a Milestone you'd only clone the milestone without the tasks associated with it. That problem does not exist anymore and the team has developed such awesome features of which I didn't know I need them. But I do. Every day!
Industry: Consumer Goods
Company size: 11-50 Employees
Used

Daily

for

6-12 months

Review Source
---
Think well before you buy
Unfortunately the app looks promising but the overall experience wasted a lot of my time and main reason because of customer support.
Pros
the user interface is friendly and you can understand it quickly
Cons
1-Their database management and recording user data, for example, have an issue of duplication, and if you created a workspace and then deleted you will not be able to use this name again and the nifty system will keep sending you notifications about It like it still exists.
2-Customer support is not professional and most of the time they take around 4-5 days to reply to your questions. This is the main reason I left the App.
Alternatives Considered
Flowlu
Reasons for Choosing Nifty
The App Really Great and have a lot of options that can manage your work and give your real value for your money.
Reasons for Switching to Nifty
I choose it because of the reviews and comments on app sumo but actually, it was misleading
Industry: Nonprofit Organization Management
Company size: 2-10 Employees
Used

Daily

for

1+ year

Review Source
---
Excellent & affordable project management tool
I use Nifty to run a fairly large team of volunteers and interns, who are essential to helping us get our work done. There is no way we could afford licenses for all these occasional users, so the guest allowance really helps. And besides that, the usability of the tool is excellent.
Pros
Nifty is a great tool. Its feature set is comprehensive and intuitive to use. We've tried Clickup, Asana and Monday and for whatever reason, those other tools just never took with our team. I love the collaborative "nifty documents". And the mobile app works great - duplicates the website experience very well.
Cons
Guests cannot chat with each other - only the account admin. So it's not quite a Slack replacer, which we really wanted to get away from. They can talk in the Discussions area of a project, however. Also, you have to attach a google document by creating it FIRST inside Nifty. It doesn't work well to try and attached a pre-existing google document when you are in Nifty. Also, I'd like more markup features on the Nifty docs pages - like highlighting, and a better commenting experience.
Reasons for Choosing Nifty
Monday was unnecessarily complicated and also rather expensive.
Reasons for Switching to Nifty
Better feature set, better pricing, easier to use - more intuitive