About Nifty
Nifty is a new-wave project management tool that reduces project development cycles and improves team productivity by combining all of the important features of project management into one software. The end result is milestone-driven progress that keep teams inspired, insuring organizational goals remain on schedule. Nifty's software allows you to manage tasks through both Kanban or list view, has a built in calendar that can be integrated with Google, as well as file and document sharing. Collaborating on Nifty is natural because each project has an individual discussion thread encouraging project specific communication. Nifty also has an integration with Github that truly makes Nifty unique by encouraging cross departmental collaboration like no other.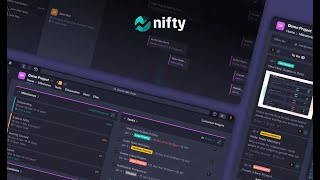 Nifty has a free version and offers a free trial. Nifty paid version starts at US$49.00/month.
Industry: Marketing & Advertising
Company size: 2–10 Employees
Used

Daily

for

1-5 months

Review Source
---
Congratulations! You Found The Best PM Software Available!
I had the pleasure of talking with the [SENSITIVE CONTENT HIDDEN]! Not only is the software itself extremely value-based, but the customer support that is included also goes beyond expectations. I am happy to support his company, and recommend you do the same!
Pros
Luckily, my team and I were able to find Nifty right before we committed to a competitor which would have increased our overhead substantially. Compared to the 3,000 Dollar Annual Fee + the 7,000 Dollar overhead, it was really a tough pill for us to swallow. Before we bit the bullet, Nifty found it's way to me and let me tell you as a Project Manager and Operations Officer, Nifty lives up to its name. I could go on about the features, but the best part of the software is its multitude of integrations. Softwares like Trello, Basecamp, and Zoom are already integrated. This isn't a PM software your team will just refer to once a day, it's a platform from which your team can not only communicate, but work together and collaborate to complete projects, tasks, and goals.
Cons
The only problem with project management is getting a team to utilize new PM Software. Luckily, the support team is there to make sure your company's transition is as smooth as possible.
Alternatives Considered
Wrike
Reasons for Choosing Nifty
Pricing. Nifty even offered a lifetime deal which is beyond a good deal.
Reasons for Switching to Nifty
Pricing
Industry: Marketing & Advertising
Company size: Self Employed
Used

Daily

for

2+ years

Review Source
---
Modern, forward-facing project management with a gorgeous interface
I love using Nifty. It is clean, they are always updating the software, and it has been well supported. I enjoy having a task management app that is full-featured but doesn't run slow. 99% of what I need is already there, and I'm finding new features all the time that I get usage out of. The interface, the client portal features, and more make it really enjoyable and flexible for the way I use it, which is to manage client projects and tasks while also having a place for documents and agreements and embedding analytics for clients to see all in one place.
Pros
I love how well laid out Nifty is. Everything is very clean and easy to see, easy to read, and a joy to use. The site is snappy and not slow like many other tools I've used. Nifty has almost every feature I need, minus a couple of organizational features. But I'm able to manage as many projects as I need, create custom tables and fields, and even have a client portal where I can let clients see and manage tasks, documents, and even embed things like reports, videos and pretty much anything else that can be embedded. I also love how you can use cName so put your whole Nifty account into your own custom domain on your site, which looks better for clients. This is AMAZING in a tool of this price.
Cons
I really wish there was one more level of nesting for projects, so I can have multiple projects under a single brand. It's not terrible as I can create multiple portfolios and put them inside it. But one more level would allow me to organize things a little better, which is the only thing I miss from my previous task management app. I would also love to have the ability to embed a pre-sorted "finished tasks" view easily. Right now, it doesn't properly sort tasks when your client visits a shared view. The email system where you can add tasks and documents through email works most of the time, but I've had it not add things a few times.
Reasons for Switching to Nifty
ClickUp is fantastic, but has just gotten a little busy and complicated. While it can do most everything, it's almost TOO much. But also, a major issue for me is that ClickUp is more limited in sharing views and you can't use your own domain for that.
Industry: Consumer Goods
Company size: 11–50 Employees
Used

Daily

for

6-12 months

Review Source
---
Think well before you buy
Unfortunately the app looks promising but the overall experience wasted a lot of my time and main reason because of customer support.
Pros
the user interface is friendly and you can understand it quickly
Cons
1-Their database management and recording user data, for example, have an issue of duplication, and if you created a workspace and then deleted you will not be able to use this name again and the nifty system will keep sending you notifications about It like it still exists.
2-Customer support is not professional and most of the time they take around 4-5 days to reply to your questions. This is the main reason I left the App.
Alternatives Considered
Flowlu
Reasons for Choosing Nifty
The App Really Great and have a lot of options that can manage your work and give your real value for your money.
Reasons for Switching to Nifty
I choose it because of the reviews and comments on app sumo but actually, it was misleading
Industry: Marketing & Advertising
Company size: Self Employed
Used

Daily

for

6-12 months

Review Source
---
Forget Asana and Trello when you have Nifty
Nifty is my go-to project management tool both for my business. Switching from Asana was super smooth and I was able to transfer all of my projects exactly as they were, with all my numerous notes, too. The other great thing about Nifty is that you can work on Google docs within the app. It's not something I actively use, but it's quite handy if you want to share docs with someone without sharing dozens of links in one go. The templates and the customization of Nifty in general are absolutely amazing. Since I set up my workflow and everything I needed inside the app, I've never looked back.
Pros
Since I started using Nifty after looking for an Asana alternative, I haven't looked back. I start my day by firing it up and keeping all my focus-tasks for the day in front of me. I am pretty minimalistic with my setup and don't like a lot of fancy stuff, so I know I'm not even using half of what's available. But that's what makes Nifty perfect for me. I've also created my own super basic custom CRM to keep track of new leads and any client-related projects I'm working on alongside my own.
Cons
One things I'd love is fr the time tracker tool to be a little more intuitive. Right now, tracking time or even manually editing or adding time when you've forgotten to start the timer is a bit cumbersome. I'd also like to have more customization options for those custom tags because the color palette is limited and it leads to occasionally messing up some tags.
Industry: Sports
Company size: 2–10 Employees
Used

Daily

for

1+ year

Review Source
---
Best Value Project Management App
Nifty allows us to have a place where we can get all ideas out of our heads, and into a place where they can be prioritized and where we can create action plans for each item. We're so glad to have a tool as robust and powerful as Nifty!
Pros
Nifty is more than we could hope for, at the price point. The best part about Nifty is how quickly they are releasing new features to improve their product. Their support team is second to none, as well. We get responses almost instantaneously, every time we need help with something. In terms of features and functionality, this app has it all!
Cons
There is only ONE THING that we truly have a gripe about, with Nifty. The SEARCH algorithm is not great. There's so many times we're searching for something and just can't find the thing we're searching for, despite knowing that we're using the correct keyword. I would LOVE to see them implement an Algolia search tool within nifty, or do something to create a better COMPREHENSIVE search function. If a word exists somewhere in a task, comment, native doc, google doc, sub-task, tag, project name, milestone, etc.... we should be able to quickly and easily find it. This is the only CON that we've run into with Nifty, time and time again.
Reasons for Choosing Nifty
Better value, while not losing any critical functionality