About Confluence
Confluence is a project management solution that enables organizations to create, collaborate, organize and review project documents. The system offers both cloud-based and on-premise deployment. Confluence's editor feature allows employees to create content such as meeting notes, product requirements and research reports. The solution enables managers to review and share feedback in documents themselves. Confluence's knowledge management module provides users with a centralized repository to access and search relevant content according to project requirements. The system lets managers restrict access to confidential data and collaborate within closed groups. Users can publish, organize and access company information in a central location. Confluence's task management feature allows managers to delegate, monitor and track changes to tasks assigned to each employee. The task management feature updates managers with status on tasks that are completed, impending, or overdue. The software integrates with JIRA to enable project transparency.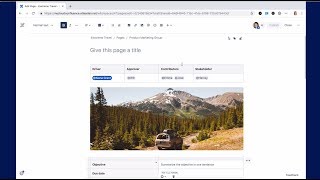 Confluence has a free version and does not offer a free trial. Confluence paid version starts at US$55.00/month.
Starting Price:
US$55.00/month
Alternatives to Confluence
Industry: Veterinary
Company size: 51–200 Employees
Used

Daily

for

2+ years

Review Source
---
Collaboration Tool that Helps my team Accomplish More
Collaboration friction is a story of the past. Confluence use is a new normal that has changed our work-life for the best. Productivity can be seen in completion of our rotations on timely manner. All of which is courtesy of Confluence
Pros
I have to say that Confluence is an innovative solution that stand out from others of it's calliber in the market . Acquisition and implementation costs were within our budget range. It is also soo easy to use for everybody in our team thanks to it's UI that is perfectly tailored. Most of our work as the vet society in Vetcare Africa is usually outside the office and Confluence has to engage and collaborate as a team working on different rotation projects. It is remote friendly and centralize all the information in one space from tasks allocated to each one of us to projects from where we can coordinate and get status update on our peers as well as shared projects. It is therefore easy to get everyone at par across teams through comments, mentions and notification. It is also flexible enough with options to create plans with texts, tables, images etc . Imagine all of these in one single place and has customizable templates
Cons
I have not encountered any single dislike with Confluence. It is an easy to use tool that enhances collaboration by also integrating with tools like Microsoft Teams and Google Drive
Industry: Entertainment
Company size: 11–50 Employees
Used

Daily

for

2+ years

Review Source
---
Confluence is a top workspace for collaboration.
With my work colleagues, we use Confluence as a digital workspace where we come, share ideas and information and work in unity when collaborating on our game building projects. It brought us together and gave us a common goal line to focus on which has seen us become better at doing what we are supposed to do and deliver excellent games within the planned timelines.
Pros
We use Confluence when developing games and i can praise it mostly on how it put us on a common working ground during our day to day activities. We have seen better cohesion and teamwork spirit thanks to Confluence. We were offered excellent support when we were getting started which included well formulated self-support articles. It is a fantastic product for creating plans which helps us remain focused onto what is expected of us. Confluence has a specialty of keeping every information secured and we have benefited alot from this.
Cons
Confluence has a lot of support articles which are easy to follow and this made it easy for us to overcome any challenges we faced.
Industry: Information Technology & Services
Company size: 5,001–10,000 Employees
Used

Daily

for

6-12 months

Review Source
---
"Confluence: The Tool I Trust the Most"
For the most part, I'm happy with the programme for doing simple IT project and product management tasks.
Pros
What drew me to Confluence was the ease with which a wiki could be set up. It will be easier for recently hired colleagues to get the knowledge they need to completely integrate into their organisations if they have this capability.
Cons
Certain features might be included by default rather than through plugins, but that is the nature of the marketplace.
Industry: Computer Software
Company size: 501–1,000 Employees
Used

Daily

for

2+ years

Review Source
---
Confluence, My Most Reliable Tool
It's been incredible and we've been slowly breaking away from random documents in inboxes, desktops, Sharepoint, OneDrive and centralizing the information. It's been amazing.
Pros
#1 I love Confluence, as it's so user friendly and so simple to use. I've taken it and built out the structure at my new company, as well as previous ones to make our shared Confluence space a HUB for our Documentation, Meetings Customers/Projects/Team, Resources, Planning, you name it. It's so easy and it's a great way to keep everyone informed and involved. AND you can customize how it looks.
Cons
Not much I dislike. Maybe if I could have a few more customization options, but that is about it.
Industry: Information Technology & Services
Company size: Self Employed
Used

Daily

for

2+ years

Review Source
---
Simple to use, but surprisingly deep, Confluence is a solid choice
It's very easy to teach someone how to use Confluence because if you know how to edit a document in Word, you are 75% there.
Pros
Confluence is super easy to use. You can click on a page and be editing text in no time. Editing text is just like editing a Word doc using a fairly straightforward GUI. You can also format code blocks as well as informational blocks to help tidy up your documentation and call out important points.
Cons
No real cons other than it can be a little tough to set up a standalone copy of Confluence. We decided to go with the cloud based version for ease of deployment and management.