About Agile CRM
Agile CRM is a cloud-based customer relationship management (CRM) solution designed for small and midsize businesses. It offers contact management, telephony tools, appointment scheduling, marketing automation, project management, a landing-page builder and knowledge base functionalities. The contact management module lets users record and access customer data such as contact information, interaction records, social-media accounts and lead scores. The software also offers email integration, which allows users to sync data with email services including Gmail, Microsoft Exchange and Office 365 and IMAP services. Users can track website visitors to analyze customer behavior, and marketing automation tools help users create marketing workflows with a drag-and-drop interface. Users can also send automatic reminders based on time and contact options. Agile CRM also includes task management functionality. Users can drag-and-drop tasks in lists, sort tasks, add notes and update task status. Social media integrations allow users to publish and respond to posts on social channels such as Facebook, LinkedIn and Twitter. Pricing is per user per month. Phone and email support is available.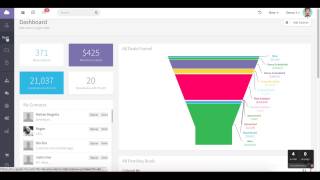 Agile CRM has a free version and offers a free trial. Agile CRM paid version starts at US$8.99.
Alternatives to Agile CRM
Industry: Education Management
Company size: 2-10 Employees
Used

Daily

for

6-12 months

Review Source
---
All I need to work in one place
The biggest benefit that this software has given me has been to optimize everything that has to do with the world of sales and marketing, generating the reports I need to demonstrate in the company how useful our strategies are, what aspects to improve, and generate our own leads, all in a very organized way and as its name says "agile".
Pros
I started working with this platform a little less than a year ago. My job consisted (and still is) in generating leads for the company and developing marketing and sales campaigns from scratch.
Agile CRM has been fundamental, since it integrates perfectly with everything I need. I have my contacts in one place, which I can follow very easily. Its greatest strength is the ease of use and integration with multiple tools. Something as simple as managing notifications and alerts make the most of my time and organize my agenda in a practical way.
I can generate reports where the effectiveness of the different strategies is established. For example, the result of phone calls, mail campaigns, newsletters, and more.
I was able to import all the contacts in a very simple way and clean my list in a short time.
Another great thing: the mobile app and the possibility of integrating with other programs. Today I have it integrated with Bria and Skype, also linkedin and facebook. Everything in one place, is the most practical CRM platform that someone like me (who has just started and was analyzing options) has found, and I´m very satisfied with this software.
Cons
I think it would be convenient that in the future they made some training videos to explain how to correctly configure the automation tools, since I think it has been the most difficult to understand.
Company size: 201-500 Employees
Used

Daily

for

1+ year

Review Source
---
Agile is a Fantastic Solution in a Crowded Market
I feel like I am becoming a CRM expert. I have used and suggested many CRMs over the years, and I feel like I have seen it all. When I look for a CRM in 2018, I ask myself 3 questions. Question 1: Who is going to use these features? If my team lacks tech savviness, if they are going to be picky about the UI, or if they are used to a different platform, you could run into problems. At the end of the day, a CRM should be invisible, and it should be as natural as using your body. If you team struggles to use their tools, you will run into problems. There's no point in blaming your team if the tool is hard to learn. The job needs to be done either way. (Keeping a mobile option in mind is a good idea as well. Don't underestimate the value of client's won at a bar.) Question 2: How quickly will the system be up to 100% functionality? Every day that you team has to track client data on Post-Its is a day that you're throwing information in the trash (and hanging your Marketing + Support out to dry). Expect a month to get set up, but anything over 3 months is too long. Even if you're an enterprise, you can't afford to fly blind for that long. Also, integrations, integrations, integrations... If the sales rep can't demo a tool you use daily running on their CRM, demand a "no commitment demo" period. Most companies will try to lock you into a one year commitment, but it is perfectly reasonable to know everything works together in harmony. Question 3: Is this the right price for me? The thing about CRMs is that there are hundreds of them. It's impossible to say which one is right for you because in reality, there are probably a dozen you will love. If you feel that you are down to 2 or 3 CRMs that seem identical, they probably are... Go for the one that is priced right and ready to scale WITH YOU.
Agile is great on all these fronts. Easy to use. Beautiful UI. Easy to set up. Very affordable option. Love 'em. You won't be disappointed.
Pros
Agile is so clean. The UI is easy to use right out of the box.
Great for small to medium customer bases that use social media.
Quick and easy to set up.
Support is FANTASTIC!
Great automated features.
All the great things you would expect from a cloud based CRM: Customer + Deal tracking, notes and communication history, marketing analytics, scheduling, etc.
Cons
It's hard to call all of these "cons", but let's say "growing pains". Agile is still a young software.
We had some problems setting up links between our WordPress site. They were quickly resolved to 100% satisfaction, but they had my boss pulling his hair out for a few days.
We have run into a few other issues that I would call "buggy". Some graphical, some needing to refresh a page, but nothing has halted production. All have resolved themselves.
Industry: Marketing & Advertising
Company size: 2-10 Employees
Used

Daily

for

6-12 months

Review Source
---
Amazing Complete CRM & Automation software: Great Infusionsoft or Salesforce alternative, for...
As a small business owner, and founder of Bloominari.com, a digital marketing agency helping small businesses to grow their companies online through beautiful design, automation and marketing tactics I was in search of the best CRM and marketing automation software for a truly affordable price.
After literally about 2 months of research of various CRM and marketing automation platforms I finally decided to take AgileCRM for a spin (It was easy to try it, as they have an always-free lite version). Immediately I fell in love with it's interface, ease of use, and easy-to-setup platform. I previously worked with Salesforce.com and Solve360 CRMS, and have also tried BaseCRM, SugarCRM and many others throughout my business life.
Pros
- Super affordable for the amount of tools, features and applications it includes. Starting at $10/user/month for it's starter version.
- Great user interface
- Easy to setup and use
- Lots of native integrations with lots of web-based (Saas) apps such as Gmail, Quickbooks, Twilio and many many others.
- Integration with Zapier, which basically let's you now integrate AgileCRM with 700+ other web apps, so this feature was a KEY for me.
- All your emails automatically load from your Gmail inside AgileCRM, no need to BCC some email address.
- Lots of sales, marketing, support, landing page, and amazing features added on at no additional cost.
- Now you can purchase add-ons such as user permissions, triggers, additional automation campaigns and others without having to upgrade all your users to the next subscription level (this is something I requested, and their team listened and did implement this).
-Their tech support is great, they care, they listen, and they modify/improve their system based on your feedback
- Their team update the app every few days
Cons
- Their standard subscription is $30/user/month if pre-paid for 2 years, otherwise $50/month, without too many added benefits for this level
- Their starter subscription limits your marketing campaigns (automation) to only 5 campaigns, with 10 nodes (steps) on each. The standard gives you 10 campaigns, with 25 nodes each (much better).
- Some updates happen without prior notifications to the user, and sometimes changes the User interface too drastically for some features.
- Their E-mail templates are limited, but you can still bring in your HTML templates or use their WYSIWYG editor.
Response from

Agile CRM

Hi Jaime,

Thanks for your appreciation and support.

Replied 25/11/2016
Industry: Management Consulting
Company size: Self Employed
Used

Daily

for

6-12 months

Review Source
---
Good little CRM for a great price
Great system for tracking and following up with clients through the sales, marketing and implementation phases of the customer relationship.
Pros
Agile has a very expansive set of features that I could not find on other similarly priced products. It is reasonably priced for solopreneurs and offers a grown-up set of features for even small companies. The system is very configurable and offers user-defined fields for contact, company, and deal records - most other CRM solutions don't.
Cons
It looks like it needs a facelift - the UI could be improved as it doesn't look like there has been an update in many years. I would like to see a view that combines the information from contact, company, and deal records on one screen.
Reasons for Choosing Agile CRM
Hubspot was much more money for similar features
Industry: Information Technology & Services
Company size: 11-50 Employees
Used

Daily

for

2+ years

Review Source
---
Agile - More than just CRM
With an enormous set of automated tools and processes, using Agile has become absolutely essential to our operation. Potential sales are monitored along with KPIs and success rates. Another aspect I personally appreciate is that dashboards are modular/extendible, allowing me a complete overview of everything that matters to my work at a glance.
Pros
Having all our tools unified in one system, all our databases automatically completed and maintained, all interactions logged, and all processes tracked - has made Agile CRM the foundation of every department in our establishment. Given the price point over functionality and support, there is simply no alternative to Agile.
Cons
Although it would be difficult to find fault with Agile on the surface, Agile CRM lacks integration with a few niche APIs we happen to use.
Reasons for Switching to Agile CRM
Agile CRM was somewhat cheaper at the lower price point for SMBs, and offered greater functionality.