About EngageBay
EngageBay is an integrated marketing, sales, support and CRM solution designed to help small to midsize enterprises acquire, engage and convert website visitors into customers. The cloud-based platform lets businesses use marketing tools to build relationships with customers and retain them for a lifetime. Features of EngageBay include email marketing, landing pages, live chat/helpdesk, ticketing, telephony, appointment scheduling, contact management and more. It comes with a built-in CRM, which allows firms to manage and track all activities across customers, leads and deals as they proceed through pipelines. Additionally, it provides marketing capabilities for users to generate leads through automated email templates, customizable forms/popups, social media engagement and more. EngageBay enables businesses to use Zapier and Xero integration to connect the platform with several third-party applications such as Salesforce, Intercom, MailChimp, Hubspot and more. Pricing is available on monthly subscriptions and support is extended via documentation, phone and email.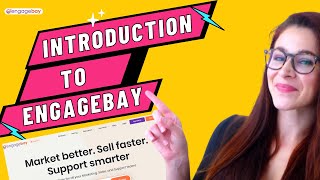 EngageBay has a free version and offers a free trial. EngageBay paid version starts at US$10.79/month.
Pricing Details:
Basic: $14.99/user/ month (paid monthly) or $12.29/user/month (paid yearly) or $10.79/user/month (paid biennially) Growth: $49.99/user/month (paid monthly) or $40.99/user/ month (paid yearly) or $35.99/user/month (paid biennially) Pro: $79.99/user/month (paid monthly) or $65.59/user/ month (paid yearly) or $57.59/user/month (paid biennially)
View Pricing Plans
Alternatives to EngageBay
Industry: Marketing & Advertising
Company size: 2-10 Employees
Used

Daily

for

6-12 months

Review Source
---
Great Product and Service
A pleasure to work with, really want to do anything thy can to help you out.
Pros
Really proactive when we ask for any update. Very responsive. Really friendly team. Easy to use.
Cons
There is nothing to add here but the form has to have 40 characters!
Response from

EngageBay

Thanks for the review Ian.

Replied 16/10/2020
Industry: Online Media
Company size: 2-10 Employees
Used

Daily

for

6-12 months

Review Source
---
Sophisticated Software
We run a number of businesses and use Engagebay for some of our clients. If you need to sort contacts, pick them out based on certain factors and send individual or broadcast emails and/or put them through a pipeline, this is for you. You know you need Engagebay when you're trying to organise your contacts by tags and have so many you're going mad.
Pros
How you can really drill down into sorting contacts. It's almost like have a spreadsheet to organise different contacts. We use it for sending individual booking emails alongside broadcast emails. We searched for ages for software that could combine a sophisticated CRM/contact management system alongside email and newsletters - this is the best on the market. The other thing we love is the customer response - there's a chat service and usually someone is on there within minutes of a request and they stick with you until it's fixed. Best on the market - and certainly at this price.
Cons
The training manuals could be improved - that said, they are always happy and prompt to help - but some of my queries could are general and could have been covered in a manual/video.
Reasons for Choosing EngageBay
Lack of features
Reasons for Switching to EngageBay
Features mainly and then support - they answered questions promptly. I also tried other products before I arrived at Engagebay but although they initially said they could do what I needed, after weeks of frustrating try outs - they didn't - and the support hadn't really listened to what I'd said I needed - Engagebay listened to what I actually needed before I got started and it did what they said.
Response from

EngageBay

Thanks for the review Sian.

Replied 16/10/2020
Industry: Consumer Goods
Company size: 2-10 Employees
Used

Daily

for

1-5 months

Review Source
---
Excellent Customer Service, Mostly Easy to Use
Pros
It offers lots of features that a small but growing business can access. The support team are incredibly helpful (and quick to respond) if you ever have trouble figuring something out. There are also plenty of free resources such as articles and videos.
Cons
Yes, there are some features such as the ability to view what list(s) a contact belongs to from their profile in the marketing hub, and the ability to forward tickets to other emails in the service hub. Some tasks require work-arounds to accomplish. The support team gladly take suggestions for improvements though, and the program is always improving.
Reasons for Choosing EngageBay
Salesforce wasn't offering enough with their basic membership. EngageBay offers service, marketing and sales capabilities at a fraction of the cost. EngageBay is much more user-friendly and intuitive.
Reasons for Switching to EngageBay
More affordable for small business
Industry: Internet
Company size: 2-10 Employees
Used

Weekly

for

1-5 months

Review Source
---
Absolutely horrible!!
I've setup a "Sequence" with 3 emails to be sent before holding my Webinar and thought everything was ok and went on.
Just to come back on the day of the Webinar to see that nothing was sent and every contact was hard bounced. Yes every single one of them.
Furthermore I couldn't send any email broadcasts to the contacts either. So mainly I was left with leads for my Webinar which I couldn't even use, were it up to Engagebay.
The support team's solution? Purchase credits to "verify the contacts" to be able to use them.
So besides making me lose my time, not delivering the emails and rendering all my contacts useless they want me to purchase something for it to actually work??
Absolutely disgusting and shameful business practices!
They then tell me that the problem is not on their end and insist that every contact has an invalid email address.
With another similar service I sent the emails with ease. Out of all the contacts, only 4 bounced.
Engagebay has set me back a lot with this.
Avoid at all costs!
Pros
At first I liked what it offered for the free plan (things that other similar services didn't offer for free).
Cons
It doesn't work at all and the support team asks you to purchase credits for it to work.
Response from

EngageBay

Hi there, sorry to know about your experience with EngageBay.

Just to bring to your notice, a hard bounce happens only when the email address is invalid. It looks like that is the case here. If the email address is invalid, there is nothing we can do from our end to avoid a hard bounce.

To prevent such cases, we recommend all our users to verify all the emails they have on the list. Please note that we do not provide email verifier service ourselves and hence recommend other 3rd party solutions.

Seems like the other service you used has a built in validation service and hence the bounces were limited.

I would recommend you to send an email to [email protected] including the registered email address for your account and we can check what may have caused the bounces, though we are certain that it was due to the emails being invalid, we could always cross check.

Replied 24/09/2021
Industry: Information Technology & Services
Company size: 2-10 Employees
Used

Daily

for

6-12 months

Review Source
---
A great priced and featured all in one CRM. We moved from Hupspot to EngageBay and love it.
Overall experience is fantastic.
We have not even started the marketing side yet so we are looking forward to that.
If you want an affordable CRM that does just about everything you need at a price that is actually affordable then EngageBay is a great choice.
Pros
It is fast and simple to use.
We live in deals and task most of the time and it gives you all you need.
Support is amazing. I have even made product change suggestions and some were implemented in a few days. That is amazing.
Cons
We wish we could easily change the sort order of the deals when in tablet mode to the order we want (custom order). Sometime we want to just call a selected few clients in a day and it would be nice to just show them or put them at the top of the list. A small con but still a con.