About Everhour
Everhour is a cloud-based time tracking and project management solution for teams and small to midsize businesses across various industries such as marketing and advertising, nonprofits, consultancies, and more. Track the time spent on projects using a timer or manual entry, clock in or clock out, and set time estimates for tasks. Everhour provides users with a central dashboard that helps them to keep track of multiple projects and team resources, monitor budgets, set alerts, and split billable and nonbillable hours for different team members. It helps to take care of HR and payroll activities, develop team schedules, and oversee the status of projects to secure client satisfaction. The timesheet app provides teams with the right tools for time management, allowing admins to control attendance and working hours easily. Furthermore, the app has several invaluable features at its disposal, such as integrations with other tools, filters for certain data, clear and interactive dashboards, and time reports. One of the most crucial advantages Everhour offers is integration with the most widely used project management and accounting tools, including Asana, Jira, Trello, Notion, Todoist, ClickUp, GitLab, Basecamp, QuickBooks, and Xero. Everhour syncs up all your tasks automatically and adds time controls inside the app of choice eliminating any tab switching. By integrating Everhour with any of these tools, you unlock a new level of productivity and transparency for your projects. Everhour can add time estimates to tasks, view task progress using a percentage scale, set up different types of budgets for projects, and monitor your resource availability to ensure the team is not overwhelmed with work. Furthermore, it's possible to measure the project progress and efficiency by viewing project summaries that show the time reported for a specific period. Another advantage Everhour presents is really straightforward budgeting — view your budget and keep track of it easily to ensure that your projects remain cost-effective and clients are aware of the process. Plus, if a budget is nearly exceeded, you can disallow overbudget, meaning users cannot report time on that task or project. Also, Everhour provides fantastic visualizations. See a clear plan including project portfolios or schedules on a single page — there's no need to do tab switching and go through numerous pages. Additionally, overseeing the project progress is seamless — thanks to Everhour's pre-set dashboards: project budget, project costing, team hours, billability vs. utilization, payroll, client profitability, and team schedules. However, there's more to this tool. With Everhour, you can: • Set up and receive time reminders • Offer quick and easy billing and invoicing • Filter and categorize team members and tasks • Track time and expenses • Create custom reports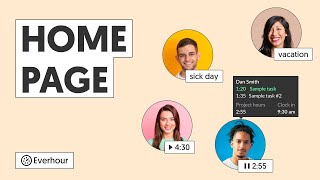 Everhour has a free version and offers a free trial. Everhour paid version starts at US$0.00.
Industry: Information Technology & Services
Company size: 2-10 Employees
Used

Daily

for

1-5 months

Review Source
---
Easy hour registration with budgetting + invoicing
The easy way of data entry of of my daily different tasks reduced my frustration of this tedious task and saved me time in the end.
I do not use a timer, but everhour does provide one too.
The overall functionality from time entry, scheduling, budgetting, reporting and invoicing makes it more than just time entry with a well thought out interface,
Pros
The software has a really nifty integration with Clickup and provides you the information in a single click.
The interface is very intuitive and helps us reduce time needed to report hours of different project tasks.
On top of the nice integration it goes even further and provides a way to get more grip on a project by defining a budget.
And when all hours written, you can customize your reports or use the API to run queries/exports of the data.
Cons
As we work with contracts too, we had to find a workaround to get these grouped/reported. We would love to see some kind of recurring projects which can be renewed on an interval, so support contracts on hourly or ficed price basis can be handled towards invoicing.
Reasons for Choosing Everhour
We used Jira together with Timesheet, the performance withheld us from quickly add tickets and time. We found Clickup and together with everhour we have a better solution which works faster and gives better insights.
Reasons for Switching to Everhour
Better integration with Clickup. Better user interface Existence of an API Budgetting + Scheduling of Projects
Response from

Weavora

Thanks for the insightful feedback, Paul!

Replied 30/08/2019
Industry: Marketing & Advertising
Company size: 11-50 Employees
Used

Daily

for

1-5 months

Review Source
---
Good product
Overall is a good product that have their pros and cons
Pros
It is very user-friendly and the interface looks good. Easy to use for the employees
Cons
The mobile app is what I liked the least because it is just for iPhone and not everyone on the company have iPhone, so when they are working outside the office they are not being able to keep track of the time spent on a project. Even with people with iPhone they are not able to search by project
Reasons for Switching to Everhour
It was the most user-friendly and quickly to understand and teach the employees. Also because I liked the interface
Response from

Weavora

Thanks for the feedback, Alan!

Replied 13/09/2022
Industry: Internet
Company size: 2-10 Employees
Used

Daily

for

Free Trial

Review Source
---
Great idea but let down by broken integration and open ended support
Pros
Logging hours in Basecamp 2 works really well.
They've definitely taken the time to think it through and look at usability.
It's really handy to have the start/stop buttons next to each task.
And the idea of being able to automatically pass that through to account software is a good one.
Cons
Sadly the integration with Quickbooks doesn't work
Invoice numbers are emptied and delivery email address is also removed
So it's a real pain to have to find and manually assign the correct sequential invoice number and address.
It's easier to copy and past the times from Everhour into a new invoice in QB
- but then that really defeats the whole point of the software!
Having spoken to the support team, I couldn't get a timescale for a fix.
They agreed it was unreasonable to pay for software whilst waiting for it to be made usable - but didn't have any other suggestions.
Good software needs good support and that wasn't a great response.
I'd love to use this software, but just can't wait indefinitely without any indication of how long for bugs to be resolved and sadly, competitors, much like Everhour all want an annual commitment
So it'll be at least 12 months of using something else before I can even think about looking at Everhour - by which time whatever alternative solution I've chosen will be entrenched in my business and difficult to change.
Response from

Everhour

Hi Nick,

Our apology for not living up to your expectations. I completely understand that my answer to you was not great, however, I did not want to feed you with false promises.

We highly welcome such users as you who could point to the drawbacks of our product. I will do my best to convince the team look into these issues as soon as they can.

Replied 05/04/2018
Industry: Health, Wellness & Fitness
Company size: 2-10 Employees
Used

Daily

for

2+ years

Review Source
---
Like
FInding how much work is being done on each project and categories. Easier to plan sprints.
Pros
The integration with Asana, ease of use and reporting.
Cons
Is slow, and responding slow in Asana. It would be great if it could pick up values from custom fields in Asana, as we often estimate and log in Asana as well.
Reasons for Switching to Everhour
I saw how it implemented into Asana and liked it.
Response from

Weavora

Hi Thomas, thank you for your review!

Replied 10/06/2022
Industry: Marketing & Advertising
Company size: Self Employed
Used

Daily

for

2+ years

Review Source
---
Great Time Tracking App!
Pros
I like how easy it is to set up and use. It also works great with Asana which is huge for me!
Cons
There's not much to dislike about the software. The integration has failed a few times but was restored quickly.
Response from

Weavora

Hi, thanks for the review!

Replied 04/10/2022