About The Magazine Manager
The Magazine Manager is a suite of sales, production, marketing and billing applications that helps businesses manage proposals, advertising, subscriptions, pagination and more. It allows users to review and share proofs and exchange feedback on a centralized platform. Pricing is available on request and support is extended via live chat, phone, email and other measures. The Magazine Manager's customer relationship management module enables businesses to build, categorize and search the customer database based on names, phone numbers, emails, companies and addresses, among other categories. The ad order entry functionality allows businesses to create contracts, insertion orders and invoice templates for print, digital and display advertisements. Thanks to Magazine Manager's collaborative production and project management module, publishers can rest assured that nothing falls through the cracks. Designed with customizable project stages and Project Timeline, any type of media buy can be accurately tracked and managed, including email newsletters, website ads, events, subscriptions, and bulk media buys. Team members receive live production updates of ad units, submit real-time feedback, and track time estimates of ongoing projects. And, using Magazine Manager's automation engine, the module even sends out automated notifications about upcoming material deadlines. The Magazine Manager's powerful reporting suite gives publishers insight into performance and profitability. Any information logged within the system can be effortlessly tracked and monitored. Additionally, it comes with an invoicing tool, which lets users filter invoices based on statuses such as open, closed, past due date and more. The Magazine Manager facilitates integration with several third-party solutions such as Quickbooks, Zapier, WordPress, MailChimp and more. The Magazine Manager's integration with QuickBooks accounting gives publishing businesses the power to perform transactions, collect payments, store invoices, and prepare custom reports based on aging A/R summaries, sales agent performance, and conversion rate analysis. With Magazine Manager's Gmail integration, users are able to send targeted emails to groups of ten through a Gmail account. These emails are then recorded in their Gmail folder. We also have a template editor that can be used for both small batches and individual emails, so users can save email templates for sales reps to use. We've also created our own Google Chrome extension that connects a user's Gmail account to our CRM allowing them to see Magazine Manager notes within their Gmail, add notes to Contact Records through their Gmail, and even copy emails into the CRM.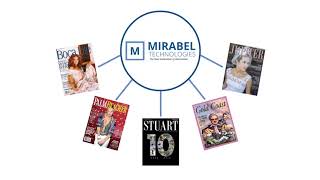 The Magazine Manager pricing
The Magazine Manager does not have a free version but does offer a free trial. The Magazine Manager paid version starts at US$60.00/month.
Starting Price:
US$60.00/month
Alternatives to The Magazine Manager
The Magazine Manager Reviews
Industry: Higher Education
Company size: 10,000+ Employees
Used

Daily

for

1+ year

Review Source
---
Amazing platform!
Pros
We are a student run college newspaper and this platform has made ad sales, publication timelines and more so seamless! The prior platform wasn't web based and very outdated. This has brought us to a new level.
Cons
To be fair, we are still learning the platform but take advantage of the webinars as often as possible.
Response from

Mirabel Technologies

Thanks for the awesome review, Amy! We appreciate you!

Replied 05/10/2021
Industry: Publishing
Company size: 2-10 Employees
Used

Daily

for

1-5 months

Review Source
---
Thank You. Finally we're not retrofitting a CRM to fit the world of publishing!
This software has promise to solve A LOT of bottlenecks in our workflow. We new it would be difficult to switch technologies but the 3 months free help from our Account Consultant has been fantastic!
Pros
By publishers, for publishers. Almost all of the components that anyone needs to run a publishing business.
Cons
We've had some hiccups with new product releases but our account consultant keeps us updated on the progress of the software engineers.
Reasons for Choosing The Magazine Manager
Pipeline CRM raised our price after 10 years at an introductory rate. When we looked around at what other software was offering for a comparable price it was a no brainer to switch. Now we have estimates/proposals, invoicing, ad trafficking, plus the Marketing Manager (email marketing and subscription management) for basically the same price. Almost everything a publishers needs – all in one platform. Only thing missing is Editorial management!
Reasons for Switching to The Magazine Manager
Made specifically for publisher of media.
Response from

Mirabel Technologies

Thanks for the great review, Julie. We appreciate you! Regarding your comment about Editorial Management, we are currently developing a new Editorial Product Type to allow our users to create, manage and track their editorial projects within the Production Module. You can expect to see this new feature released within the next two weeks.

Replied 17/11/2022
Industry: Publishing
Company size: 11-50 Employees
Used

Daily

for

1+ year

Review Source
---
The Good, Bad & the Ugly
I find it much more difficult that my previous database to work with when it comes to cancelling converted proposals.
Pros
The positive using this software is it is easy to see Accounts payable send invoices if needed.
Cons
It is not user friendly.
I find this software very difficult and cumbersome to manipulate.
Response from

Mirabel Technologies

Thanks for your review, Linda. We appreciate your feedback about the user experience on our software. We will forward your comments to our development team to better The Magazine Manager.

Replied 29/09/2020
Industry: Publishing
Company size: 2-10 Employees
Used

Daily

for

2+ years

Review Source
---
Back and Here to Stay!
Staff have been very helpful with transitioning our data to Magazine Manager. [SENSITIVE CONTENT] is so helpful!
Pros
Magazine Manager is relatively intuitive. Staff are much happier working in this system than the one we switched from. The data is reliable. I'm confident that when I run a report it's pulling in data correctly.
Cons
Pricing of the software is always challenging. I wish that they would not charge per user.
Response from

Mirabel Technologies

Thank you for the wonderful review, Becky. We appreciate you!

Replied 23/09/2022
Industry: Hospital & Health Care
Company size: 2-10 Employees
Used

Daily

for

1+ year

Review Source
---
Why every publisher should use Magazine Manager
Our team has been able to increase efficiencies across the board with Magazine Manager. There is much more transparency into all areas of the business as well as the production workflow. This tool has tremendously helped our sales team, production team and accounting team. We look forward to switching our circulation team and art [SENSITIVE CONTENT]
over to this platform so we can have our entire company operate out of a single system.
Pros
Above all else, the customer service I receive from Magazine Manager employees in unparalleled. Not only is it a fantastic software with every capability we need and then some, but the team they have put in place at Magazine Manager is what I like most about working with them. Everyone is so incredibly knowledgeable and willing to jump in and help no matter what the request may be. I don't consider myself well versed in anything technology, but in working with Magazine Manager, I've been able to overcome those challenges and help my team create a workflow that has much more ease and transparency than ever before.
Cons
Because there are so many features and capabilities, I sometimes feel as though I am missing out on some of the benefits the software provides. I want to be more of an expert on the software rather than an expert in only a few areas. I do appreciate all the webinars put out by Magazine Manager and am certain that my knowledge will expand as time goes on.
Response from

Mirabel Technologies

Thank you for the wonderful review, Aili. We appreciate you!

Replied 13/10/2022