About Gluu
Gluu is a cloud-based process management solution suited for a variety of industries. The solution helps users understand and execute their processes. Key features include process mapping, work instructions, task and case management, reporting and knowledge sharing around processes. Gluu enables process managers to automate recurring tasks. The solution provides a collaborative workplace where employees can create process flow charts collectively. It also enables users to organize responsibilities and allows workflow to be presented in a visual manner. Gluu performs process mapping and helps users assign roles to team members. It also tracks various stages of task completion and notifies process managers when tasks have not been completed in time. The solution also offers Office 360 and G Suite integrations.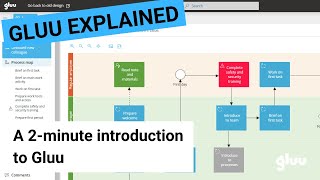 Gluu does not have a free version but does offer a free trial. Gluu paid version starts at €9.00/month.
Industry: Computer Software
Company size: 11-50 Employees
Used

Weekly

for

2+ years

Review Source
---
Great process platform!
We now have one place, where all employees enter all internal and to some extend external processes, and both new employees and people taking over new task areas can go in and read everything through. It saves us for a lot of time when running in new employees, and we can answer many questions from colleagues with "it's in Gluu", which helps bringing down our administration costs also.
Gluu has to some extend helped us in our GDPR compliance also. Documenting the internal processes helped us visualise where to make improvements, which where easier to do afterwards.
The support team is doing a great job in helping us, and they mostly answer right after writing them via their chat.
Pros
The option to standardise processes and get an easy overview per department, business area and role. The role division of each process really helps us to make a clear overview of tasks and responsibilities of each employee.
Cons
The drawing tool is not fully automated, and we are missing a lot of features there. Luckily, the support team us super helpful and good at suggesting workarounds and entering our suggestions as product ideas.
Response from

gluu

Thanks for this review!

Replied 08/01/2019
Industry: Management Consulting
Company size: 11-50 Employees
Used

Daily

for

6-12 months

Review Source
---
Amazing platform for process optimization!
I have used Gluu to digitalize workflows for several of our customers. The overall benefits we gained by using Gluu has been the reduced turnaround time. Generally caused by the decreasing number of mistakes and especially the smooth hand-over of tasks between different roles in the organization.
Pros
The ease of use and how it provided our organization with a platform that could map processes, clearly made a difference. Although, the biggest argument in favour of Gluu might be its ability to streamline workflows and hence reducing defects. By designing your own standard processes in Gluu, where you can add different instructions, checklists and roles, Gluu thereby enables you to ensure high quality processes.
All the above combined with a great user interface - provide you with a strong platform!
Cons
My experience with Gluu so far, has entailed limited cons. Since most of the features that I missed in the beginning, were later released. The only minor thing is that Gluu builds upon a process understanding which you then need to establish at your organization. An element which I also perceive as an advantage for Gluu, since a common language can then be established.
Response from

gluu

Thanks for this review. We're happy that you're seeing value from your company's implementation.

Replied 24/12/2018
Industry: Packaging & Containers
Company size: 51-200 Employees
Used

Weekly

for

1+ year

Review Source
---
Great search options
If it is entered in GLUU, chances are that you are going to find it when searching for it. This is the most important trait in my opinion. The diagrams are good, and service is responsive.
Pros
The search ability of the items is great. One of the biggest pros against the old solution.
Cons
The options to print the swimming lane diagrams can be somewhat tricky at times. The breadcrumbs stop before the main view, making it hard to detect the overall source
Response from

gluu

Thanks for the review and input - we'll consider the suggested features.

Replied 17/06/2019
Industry: Utilities
Company size: 1,001-5,000 Employees
Used

Daily

for

2+ years

Review Source
---
Processes in the easy way
Gluu is built by a team that really understand the challenges of getting business processes to work in real life. They always listen to our problems and have ideas for solving. Sometimes this includes developing new features and sometimes it is a more general/holistic discussion about processes.
Pros
The platform is very intuitive and easy to use. It does not require much training, compared to other software solutions. I really like how it takes a more holistic view of the challenges that we face as a Process Excellence Team by including work instructions, communications etc. Everything you need regarding a process collected in one place.
Cons
It currently doesn't include process mining and only has limited Enterprise Architecture capabilities. So other tools may also be needed.
Industry: Management Consulting
Company size: 11-50 Employees
Used

Daily

for

6-12 months

Review Source
---
Intelligent way to drive business processes in our daily operation
We have been able to Re-Design, optimize and standardize our core processes with less failure and a uniform performance based on the same great fundament. This allows our employees to focus on the task and skip several non-value creating activities.
Pros
Core processes are about to be standardized - and as our organization execute our tasks and projects on the Gluu platform, we are about to skip manual and slow cooperation and gain an easy, documented, high-level performance within our processes and tasks. Thanks to Gluu to bring life into our processes.
Cons
The software is a generic tool. Therefore you can't ask for very individual adaptions. On the other hand, if we could, it would never be available for such a low price. However, the Gluu Team are helpful to develop elements that fit the generic philosophy.
Response from

gluu

Really happy to hear when consulting partners are succeeding with using Gluuu.

Replied 03/01/2019