About Clover
Clover POS is an integrated point-of-sale (POS) system with custom hardware designed for several types of retailers. This POS system is available in both web-based and server-based deployment versions and offers countertop hardware options, a mobile POS option, contactless payments, plus more. Clover Dining is the main POS app built specifically for restaurants. With the Clover POS system, businesses can streamline payment processing, sales, and inventory management, plus more. Clover can replace outdated processes involving a cash register, paper receipt printer, label printer, barcode scanner, plus others. Payment processing supports PIN and chip card payments, credit card swipes, Apple Pay transactions, and contactless payment types. Additionally, the Clover POS program integrates with QuickBooks, includes a time clock to track clock-in and clock-out times, and manages vendor maintenance and purchase orders. Hardware components offered include the countertop Clover Station, Clover Go card reader, Clover Mini POS station, the Clover Flex mobile payment processor, plus more. Additionally, the Clover App Market offers various solutions including gift card branding, marketing promotions, detailed analytics, online store integration, plus more. With the Clover POS dashboard, businesses can visualize key data metrics in real-time. Other features include order tracking, menu editing, and data reporting.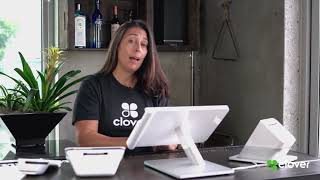 Clover does not have a free version but does offer a free trial.
Industry: Education Management
Company size: 51–200 Employees
Used

Monthly

for

1+ year

Review Source
---
One of the Better Deal Apps
In conclusion, ease of use and navigation not an issue. It isn't the most decorative in aesthetics but simple is good. I can't wait to see what other places near me joins the rank of discounts and to build a relationship with their local customers through it as I have through some of mine.
Pros
Although there do not seem to be a whole lot of businesses that use this App (compared to others, in a rather urban area), it does have growing promise. It either seems that this among two other apps are namely used by businesses here in and around Atlanta.
For what it is worth though, it is rather easy to navigate as a User and I like how well it keeps up with data and my purchases. Usage has never really been a problem.
I really enjoy the feature where a simple ''like/dislike'' display can be left for the Manager. I've been told that is something that is in fact received, so a great way to have voices of patrons or concerns heard in a discreet way. Nice feature!
Cons
Although very rare, scanning has been an issue, but I haven't had this issue in a long time and it may have even been the network at fault. Other than just looking forward for more business to grow from it, I have nothing really that I don't like about this app.
Industry: Entertainment
Company size: 2–10 Employees
Used

Daily

for

6-12 months

Review Source
---
Almost Great...
My overall experience with clover has spanned from the creation of menus and items with sub menus and add ons for each item, as well as specials for days of the week as well as happy hour times to daily usage for pos transactions. Overall I have been very happy with everything, other than the need to set up account through bank, as I mentioned before.
Pros
I love how easy it is to use clover for grab and go, sit down service, or retail services. It is the only pos system I know of that is easy to use for one or all three of the above type of service. With one pos you can easily switch apps and have optimized layout and design for each of the above, while keeping the same items and menus/submenus.
Cons
I dislike that it has to be used through your bank. It makes it really hard for management to have the ability to access customer support and full features, since most owners dont want their employees, even management, to have access to full banking info.
Reasons for Choosing Clover
Better overall bundles and all inclusive services made clover a sole replacement for multiple previous softwares.
Reasons for Switching to Clover
Again it allowed for the use of only one company/software versus having to use multiple items for different needs such as pos transactions, inventory, scheduling etc.
Industry: Retail
Company size: 2–10 Employees
Used

Daily

for

1-5 months

Review Source
---
The nightmare reviews scared us away. For good reason.
Getting this system set up and on board was a nightmare. Many of the features we were promised were add ons and were going to cost more. We canceled before we even started and they are still billing us over $1200. We have called many times to get fees removed as we canceled within the grace period and are still on a run around with them. The
Pros
The system appeared easy to use. The software was available to "high risk" businesses.
Cons
Tons of hidden fees. Many of the features you think are included are add ons. Set up took forever. Costumer service was sloppy and inadequate.
Industry: Broadcast Media
Company size: 2–10 Employees
Used

Daily

for

Free Trial

Review Source
---
popular point of sale (POS) system for small businesses
Overall, Clover is a great choice for small businesses looking for a comprehensive and flexible POS system. It offers a wide range of features, is easy to use, and is supported by a responsive customer support team.
Pros
Clover is a popular point of sale (POS) system for small businesses. The system offers a wide range of features, including inventory management, financial reporting, customer management, and integration with various payment processors. The user interface is easy to navigate and the system is relatively easy to set up. The customer support team is also very responsive and helpful. One of the biggest advantages of Clover is its flexibility. It can be used on a variety of devices, including tablets and smartphones, which allows for easy and efficient transactions on the go. Additionally, Clover offers a wide range of hardware options, from basic card readers to full-featured POS terminals, so businesses can choose the option that best fits their needs.
Cons
Conecting with another hardware is litlebit tricky, only expert can do this.
Industry: Sporting Goods
Company size: 2–10 Employees
Used

Daily

for

1-5 months

Review Source
---
Needed a new Payment Processor and they killed it
Customer service has been great to work with. The integration with my website was beyond simple which is what I need running a 2 person business.
Pros
The ease of which I was able to set up an account for my business and integrated it into my website was astonishing. Most people think of clover as a POS system but I primarily use it on the back side of my website and needed the option for a mobile POS. They have it both.
Cons
The cost of equipment that is needed to use this software as a POS is a bit daunting. There are different levels of equipment, but they are all a little pricey.
Reasons for Choosing Clover
The need for payments to run through my website and at my new storefront without having multiple processors.