About OpenSesame
OpenSesame is an elearning course provider that offers more than 20,000 courses covering business skills, safety, compliance, technology, industry-specific and certifications, and it is suitable for the training needs of organizations of all sizes and in all industries. OpenSesame's cloud-based LMS system, CourseCloud, offers users the ability to purchase, distribute and track courses. Email invitations for courses can be sent to select employees to alert them of required learning. Admin users have a dashboard that allows them to track whether employees have started, completed or passed the course. OpenSesame's courses are SCORM- and AICC-compliant and work in any learning management system (LMS). L&D administrators can preview courses, read reviews, and research the publisher before purchasing courses. OpenSesame customers have access to a dedicated customer success manager along with a support team via phone, email and online live chat.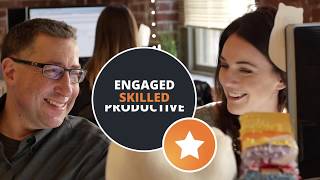 OpenSesame does not have a free version but does offer a free trial.
Starting Price:
Not provided by vendor
Pricing Details:
Contact OpenSesame for a price quote.
Alternatives to OpenSesame
Industry: Chemicals
Company size: 1,001-5,000 Employees
Used

Weekly

for

6-12 months

Review Source
---
OpenSesame Review
Pros
We love the access to diverse e-learnings, the continuous upgrades like smart lists, and the amazing customer engagement support team. OpenSesame continues to step up its game.
Cons
Well they have a great variety of courses we are always hoping for more, especially in our global company languages (we have over a dozen languages).
Response from

OpenSesame

Thanks Marti for sharing your experience with OpenSesame. We love helping our customers be successful and glad it shows!

Replied 12/04/2019
Industry: Medical Devices
Company size: 10,000+ Employees
Used

Daily

for

6-12 months

Review Source
---
Love OpenSesame
My overall experience has been amazing. The product has delivered time and time again, our employees have loved the content, and the support has been top notch.
Pros
What I love the most about OpenSesame is that they not only have great content to pull from (and plenty of it), but their support team behind the product is amazing. They can help curate content for you, as well as suggest content that works for your needs.
Cons
With some languages, there seems to be more limited options. But they are working on growing this all the time.
Response from

OpenSesame

Thanks for sharing your feedback!

Replied 17/04/2019
Industry: Leisure, Travel & Tourism
Company size: 201-500 Employees
Used

Daily

for

6-12 months

Review Source
---
More does not mean better
We were implementing an LMS and wanted pre packaged content available for deployment in order to give learners a starting point for development while we design our learning programs. There was a lot of effort required to review content. Customer service during implementation was not ideal because we had to go through LMS vendor and then often repeat to OS. There's wasn't enough collaboration between the companies so we felt we were initiating conversations most of time. The follow up from OS was not great at all, long delays in getting responses. Content needs to be vetted better. More does not mean better. In the end, we were able to offer content for learning and we are continuing to review and iterate our program.
Pros
There are a variety of topics in the library in which the company can choose for learning. There was a pre built integration with LMS which made the integration quicker. That doesn't suggest the integration process was effective. It was however relatively quick in that it did not require any overnight production runs to see changes between. Content updates could be manually pushed into LMS and they appeared almost immediately.
Cons
The quality of some videos are not as you would expect, some have heavy animation so it comes across cartoonish and takes away from the concept. There was no easy way to catalog content into customer categories. And no categorization by content type. There was no easy way to review the content. The review process requires you to launch over 20,000 content assets to preview one by one for appropriateness for your company. Not all publishers are created equal. Of the 20000+ content available there was quite a bit related to leisure topic areas very professional. Content include mostly videos versus elearning courses that actually have assessments and completion metrics. Filtering functionality was not as accurate as expected, especially when filtering by language origin. The LMS integration connector synch process was clunky due to the multiple steps that had to be taken. Customer has to initiate the synch manually versus it being an automated process. Limited reporting capabilities.
Industry: Machinery
Company size: 201-500 Employees
Used

Daily

for

2+ years

Review Source
---
E-Learninmg Advantages
Great, always seeking more content
Pros
Easy to use, very intuitive and user friendly
Cons
Not necessarily the software functionality but am always seeking more and broader content
Response from

OpenSesame

Thanks for sharing your feedback!

Replied 17/04/2019
Company size: 5,001-10,000 Employees
Used

Monthly

for

2+ years

Review Source
---
Positive experience with OpenSesame for past 3 years
Pros
There is a wide variety of training content available from multiple publishers and OpenSesame is constantly added more. Another big pro is the option to demo courses before buying them. It's very helpful that demo courses come with the option to assign to multiple users which enables my entire team to review the training before we are sure we want to purchase. Their support team has also been fantastic - response time is always quick and they are sure to follow up if they haven't received an updated within 24-48 hours.
Cons
In the past there has been limited availability of international versions, as well as alternative languages for those international courses. However, within the last year, there has been an increase in availability, likely due to demand.
Response from

OpenSesame

Thank you for your feedback! We are always working to expand our content. We appreciate you taking the time to review OpenSesame.

Replied 14/06/2019