About MeisterTask
MeisterTask is a cloud-based project and task management solution that caters to businesses of all sizes. The Kanban-style project boards are customizable and can be set up to support any agile workflow. From classic project and task management to software sprints, making it an excellent choice for virtually any team, department or industry. The tool offers a dashboard that helps users view current activities and active projects. It provides an online mind-mapping application that lets users create project plans and collaborate with teammates. Users can also discuss job details with team members, set due dates, upload files and add checklist items. MeisterTask's section actions feature helps users assign task to members, modify task status and move tasks to different channels. The solution offers integration with applications such as G Suite, Slack and GitHub, alongside more than 2000 other productivity, cloud storage, and data management applications via Zapier.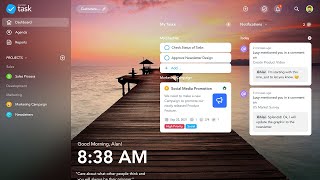 MeisterTask has a free version and offers a free trial. MeisterTask paid version starts at US$4.19/month.
Starting Price:
US$4.19/month
Alternatives to MeisterTask
Industry: Information Technology & Services
Company size: 10,000+ Employees
Used

Daily

for

2+ years

Review Source
---
It has several wonderful features that make me more productive
MeisterTask is excellent; it offers a plethora of useful features that will boost your productivity on your various assignments. The program is used by my entire team for both everyday tasks and project management. It's simple, quick, and available on all of our gadgets. It's something we use every day.
Pros
I like how clean and uncluttered it is, as well as how simple it is to navigate around the various parts. The lack of clarity in many of the project management tools was the most aggravating aspect for me. The number of symbols and sentences is almost usually out of control. My clients were able to comprehend Meistertask since it is bright, straightforward, and easy for them to use.
Cons
It is possible to add tasks by clicking the addition (+) sign in between tasks on mobile devices, however it is not possible to do so on a PC. It should be geared for individuals who work independently, and a pricing range should be established for those who aren't receiving assistance from their employer.
Industry: Museums & Institutions
Company size: 51–200 Employees
Used

Daily

for

6-12 months

Review Source
---
Great, Affordable Project Board for Teams
It's an easy-to-use tool for your entire team. The horizontal layout makes it easy to click and drag projects/tasks from one development stage to another (one board to another), trigger email alerts, and create checklists. That makes task organization easy for a team. We have around a dozen staff using MeisterTask, and they all love it.
Pros
It's an incredible value for the features. We only need to pay monthly for our administrator account, and all our staff users are free. They don't get to create projects or add/change actions, but their day-to-day use of MeisterTask is free (e.g., creating and completing tasks/tickets, moving tasks around, adding checklists, etc.). I also love the integrations with other services like Zapier, which we use to allow creation of tasks via sending emails, and the MeisterTask plugin for Gmail, which lets you create tasks directly from your Inbox. This adds tons of value for our staff, who again are free users.
Cons
I personally don't like task management that is laid out horizontally on boards (e.g., Trello). The board layout lacks a visual hierarchy that I prefer and see in other free/cheap task management products like ClickUp. Also, while you can upload and attach files to each task, you can't immediately download from the task. You have to wait while MeisterTask fetches them from wherever they are stored in the cloud. There's a short delay, and you need to refresh your browser page to see the notification that contains your download link. That's a slight annoyance.
Industry: Accounting
Company size: 2–10 Employees
Used

Daily

for

1+ year

Review Source
---
Wish they ironed out the bugs
Started with this software a few years ago and really need to spend some time looking for other software. Run accounting firm and use this software to manage the monthly entry for all clients. As all my workers are remote, I need something dependable to assign tasks and manage timekeeping for each client. Unfortunately Meistertask fails hard on dependability. The backgrounds are pretty and the aesthetic is the best thing about this software. The worst is that every other month I have issues pulling time tracking or some kind of glitch happening. For the last 2 weeks i've been unable to bill clients or access accurate reports for the time period I am trying to bill even though the hours show perfectly fine in the software, what is being downloaded is last month's time tracking which is not the search parameter I put in. Every time I contact Meister it takes a while for them to get back to me and has taken upwards of a week to fix issues with no explanation for why they keep happening. Currently I pay $70+ per month for what? I don't really care that the tasking software is pretty if the software in general stops working and I have to keep asking to fix. This is the 2nd time I've had an issue with the software in the last 3 months either not properly displaying time or not properly downloading. Don't use this if you need accurate and timely time keeping!!!!
Pros
-Can track time by task
-Can assign multiple team members
-Team members can view time
-Can set up multiple projects or clients
-Can get notifications when tasks completed
Cons
-Would be great if all workers couldn't view everyone's time
-Need feature to pull time for a date range
-Time Tracking glitches every other month
-Customer service takes forever to fix issues
Reasons for Switching to MeisterTask
Seemed like it had more functionality for what I needed. Boy was I wrong.
Industry: Consumer Goods
Company size: 51–200 Employees
Used

Daily

for

2+ years

Review Source
---
It is a great tool for managing tasks and staying organized!
I must admit, MeisterTask is absolutely fantastic. However, if I were to suggest an improvement, it would be the inclusion of a feature that allows users to switch the view from "task columns" to a calendar directly within the tool, rather than having to rely on Google Calendar. Although I understand that this might complicate things, I believe that simplicity is key. Having such a feature integrated within MeisterTask would truly elevate the user experience.
Pros
MeisterTask is my go-to task management tool. It's absolutely fantastic for keeping me organized and productive. The interface is a dream to work with—user-friendly, intuitive, and visually pleasing. I love how they've designed it with powerful features that make it effortless to stay on top of my tasks, collaborate seamlessly with my team members, and keep a close eye on the progress of my projects.
Cons
I haven't found a single thing to dislike about MeisterTask so far. It's quite astonishing, considering I've been on the hunt for the "perfect" project workflow system for months now. MeisterTask seems to tick all the boxes I've been longing for. It has truly captured my attention and might just be the one I've been searching for all this time.
Industry: Management Consulting
Company size: 2–10 Employees
Used

Daily

for

6-12 months

Review Source
---
Fantastic Task Management Tool: MeisterTask
Overall, MeisterTask is a great tool for managing tasks and collaborating with a team. It's easy to use and understand, and it provides great features for task management.
Pros
MeisterTask is an amazing task management tool that makes it easy to organize and manage tasks with its user-friendly interface. I love how I can quickly create tasks with due dates and assign them to team members. The collaboration features are great, and it's so easy to keep track of tasks and communicate with my team.
Cons
While MeisterTask is great for managing tasks, I do wish that the dashboard had more customization options. It's also lacking in some analytics and reporting capabilities.