About MeisterTask
MeisterTask is a cloud-based project and task management solution that caters to businesses of all sizes. The Kanban-style project boards are customizable and can be set up to support any agile workflow. From classic project and task management to software sprints, making it an excellent choice for virtually any team, department or industry. The tool offers a dashboard that helps users view current activities and active projects. It provides an online mind-mapping application that lets users create project plans and collaborate with teammates. Users can also discuss job details with team members, set due dates, upload files and add checklist items. MeisterTask's section actions feature helps users assign task to members, modify task status and move tasks to different channels. The solution offers integration with applications such as G Suite, Slack and GitHub, alongside more than 2000 other productivity, cloud storage, and data management applications via Zapier.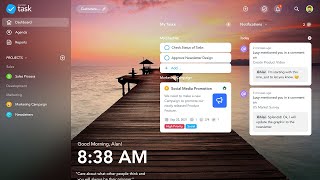 MeisterTask has a free version and offers a free trial. MeisterTask paid version starts at US$4.19/month.
Starting Price:
US$4.19/month
Alternatives to MeisterTask
Industry: Computer Software
Company size: 201–500 Employees
Used

Daily

for

2+ years

Review Source
---
MeisterTask helps teams manage tasks and collaborate
MeisterTask is an excellent method of task management and general organization. It's a terrific tool for teamwork because it's simple to learn and implement. The only drawback is that the free plan doesn't offer many many features, and the mobile app isn't very advanced either.
Pros
MeisterTask is an outstanding application for managing one's time and ensuring one's productivity. The layout is simple to understand and fun to interact with. To help users stay on top of their work, their teams, and their projects, it is equipped with robust capabilities.
Cons
MeisterTask's limited functionality and lack of customization possibilities in the base subscription is a drawback. The mobile app also misses some of the more advanced capabilities seen on the website.
Industry: Museums & Institutions
Company size: 51–200 Employees
Used

Daily

for

6-12 months

Review Source
---
Great, Affordable Project Board for Teams
It's an easy-to-use tool for your entire team. The horizontal layout makes it easy to click and drag projects/tasks from one development stage to another (one board to another), trigger email alerts, and create checklists. That makes task organization easy for a team. We have around a dozen staff using MeisterTask, and they all love it.
Pros
It's an incredible value for the features. We only need to pay monthly for our administrator account, and all our staff users are free. They don't get to create projects or add/change actions, but their day-to-day use of MeisterTask is free (e.g., creating and completing tasks/tickets, moving tasks around, adding checklists, etc.). I also love the integrations with other services like Zapier, which we use to allow creation of tasks via sending emails, and the MeisterTask plugin for Gmail, which lets you create tasks directly from your Inbox. This adds tons of value for our staff, who again are free users.
Cons
I personally don't like task management that is laid out horizontally on boards (e.g., Trello). The board layout lacks a visual hierarchy that I prefer and see in other free/cheap task management products like ClickUp. Also, while you can upload and attach files to each task, you can't immediately download from the task. You have to wait while MeisterTask fetches them from wherever they are stored in the cloud. There's a short delay, and you need to refresh your browser page to see the notification that contains your download link. That's a slight annoyance.
Industry: Information Technology & Services
Company size: 501–1,000 Employees
Used

Daily

for

6-12 months

Review Source
---
New User trying to create an Agile Product Portfolio
The Sales team have been very helpful in the initial stages, we have asked for involvement in the product development, but to date have not been invited to comment on our needs or issues.
Pros
The initial ease of use in creating the projects, tasks and the alignment and linking to Microsoft tooling
Cons
Lack of reporting and a true rolled-up Gannt chart that would and could be used to visually show project progress
Reasons for Switching to MeisterTask
Ease of use and initial cost, linking it with MindMapping tools
Industry: Investment Banking
Company size: 2–10 Employees
Used

Daily

for

2+ years

Review Source
---
Very nive product in the free version but only three projects allowed!
Very good projects, easy to use and their organization is great.
Pros
Great user interface, beautiful colors and excellent organization.
Cons
Unfortunately, the free version only allows three projects, in Trello there are unlimited projects.
Reasons for Choosing MeisterTask
Better and nicer user interface
Reasons for Switching to MeisterTask
Because its paid version had all the indicators we needed.
Response from

Meister

Hi Federico, thanks very much for reaching out!

We're glad that you found MeisterTask to be both intuitive and beautiful, but sorry sorry to hear you were disappointed in the free version's limitations. Unfortunately, it is expensive to maintain our apps and websites, so we do have to charge for certain features. Be sure to check out our affordable tiered subscription services at MeisterTask.com/pricing to learn more about an option that best suits your team's needs.

Best,

The Meister Team

Replied 29/11/2021
Industry: Internet
Company size: 1,001–5,000 Employees
Used

Daily

for

6-12 months

Review Source
---
Finally a tool that made me switch
My experience with MeisterTask has been excellent. After using Omnifocus for over 10 years, I made the switch to MeisterTask, and I'm glad I did. The first thing that stood out to me was how beautiful the interface is. I also appreciate how easy it is to use, and the visual tool aspect is a major plus. Being able to look at my boards and have a bird's eye view of my entire life and projects is extremely helpful. MeisterTask has made task management more enjoyable, and I look forward to using it every day. I would highly recommend MeisterTask to anyone who wants a visually appealing, user-friendly, and efficient task management tool.
Pros
MeisterTask is a beautiful and intuitive task management tool that stands out for its ease of use and visual approach. Unlike traditional text-based task managers, MeisterTask allows users to create and organize tasks using visual cards and customizable workflows. It's easy to set up and use, making it a great choice for individuals or teams looking to improve productivity and efficiency. MeisterTask's Kanban-style interface also helps limit work-in-progress, ensuring that tasks are completed on time and within budget. Additionally, MeisterTask is available on all platforms, including desktop and mobile, so you can access your tasks anywhere. Using MeisterTask is not only productive but also fun, thanks to its vibrant colors, animations, and user-friendly interface.
Cons
MeisterTask is a great task management tool that offers many benefits, but it does have some drawbacks. One of the main limitations of the tool is the lack of flexibility when it comes to customizing repeating tasks. Unlike other task managers, MeisterTask does not provide a lot of options for setting up repeating tasks, such as setting a task to repeat three days after it was last completed. Additionally, the tool is not as well integrated with Siri as some other task management tools, which can be a downside for users who rely heavily on voice commands.