About Hiver
Hiver is the world's first helpdesk built for Google Workspace. Hiver helps teams deliver fast and empathetic customer service, right from the tool they are already familiar with - Gmail. This means they can assign, track, and collaborate on customer emails, as well as run the most advanced analytics and automation from the Gmail interface, without sacrificing any time on learning new software or switching tabs. Hiver has all the powerful features of a helpdesk such as email tags for shared inboxes, auto-assignment to distribute emails to teams in a round-robin manner, email templates, and analytics to track all key customer service metrics. With collision alerts, users can receive notifications when someone is responding to an email to avoid duplicate and conflicting responses. Hiver allows managers to set up SLA and business hours and measure customer satisfaction by sending a short survey at the end of emails. It delivers secure customer service from Gmail and enables human-to-human conversations without storing any emails. Hiver helps multiple companies ranging from new-age startups to traditional enterprises such as Canva, Lonely Planet, Flexport, Pluralsight, Oxford Business Group, and Upwork.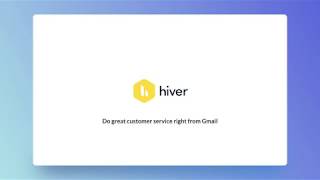 Hiver does not have a free version but does offer a free trial. Hiver paid version starts at US$15.00/month.
Starting Price:
US$15.00/month
Industry: Professional Training & Coaching
Company size: 11-50 Employees
Used

Daily

for

2+ years

Review Source
---
We are so pleased to have found Hiver!
It is easy to administrate, very user friendly, and the support is phenomenal. I don't think I've ever waited more than a few seconds for a response from a member of their friendly and extremely competent support team.
Pros
The collaboration between Hiver and G-Suite to create a cohesive team environment has allowed us to better collaborate together to improve the customer experience. We can assign emails internally, share inboxes and disposition emails as open, pending, or closed - chat about 'tickets' in the Hiver side bar, and step in to assist on existing email chains without having to forward emails to different departments or members across the team.
Cons
I'd love to be able to create a 'ticket' within Hiver on behalf of a customer. Currently tickets can only be created based on an email interaction between a customer and our company.
Reasons for Switching to Hiver
There was nothing that was going to remove us from all the robust solutions that are a part of our G-Suite platform, so once I discovered a platform that helped to level up the use case for our G-Suite email platform, it was a no brainer to give it a try. And so glad we did!
Industry: Translation & Localization
Company size: 2-10 Employees
Used

Daily

for

1+ year

Review Source
---
Hiver is the absolutely best Shared Inbox service and helped us optimizing our workflows by...
We tried several providers of Shared Inboxes and we ended up staying with Hiver for the solely reason that they choose to focus on the core aspects of mail management and not various other features, that businesses at our size usually use other Sales or Project services for. We have used Hiver for more than a year now and it has so far saved us from hundreds of hours by providing us with a great overview and management of all incoming mails/task to be taken care of. The service is not the cheapest on the market, but it's absolutely worth every penny. Hiver has given us the opportunity to work more effective, close deals faster, collaborate better resulting in overall higher turnover since we started using the tool. It integrates smoothly with G Suite and we would highly recommend this tool for any business.
Pros
The mail management part is alfa omega. Its the core of this service, that makes it stand out from competitors. This tool allows you to manage hundreds of mails weekly without losing the overview. It integrates smoothly with G Suite, so are you already comfortable with Gmail, then you cannot miss Hiver!
Cons
Setting rules for the automations could be optimized to handle more criteria and it would be great to be allowed to bulk add email adresses instead of manually adding one by one. It works though and its great.
Reasons for Choosing Hiver
Gmelius had too many bugs. I wrote the support constantly and many of the features I needed were still on their roadmap. I believe Gmelius is a great mail management tool, but they need more development before they are able to compete with Hiver.
Reasons for Switching to Hiver
We tested all products out and evaluated them on the same criterias. Ease of use, integration, features, core focus and Hiver scored highest apparently.
Industry: Furniture
Company size: 11-50 Employees
Used

Daily

for

2+ years

Review Source
---
Product ok, but be prepared for whacky price changes (last one 60%+ increase)
It's a pity what Hiver has turned into - I read they got VC funding. They are probably under a lot of pressure and have resorted to working out, looking at their existing customer base, what to change on their pricing plans to get the maximum return.
As email tools are a core part of any business, they know it's tricky to leave so they have you right where they want you.
Do yourself a favour and go to an alternative with much better features and who won't try and increase prices massively once you are with them for a while.
Pros
The product is ok, but their release of new features is so slow and not keeping up with the competition. Looking around at alternatives and comparing features, you can see Hiver is lacking in so many areas.
Cons
They constantly change their plans and doing this means huge price changes.
I've no problem with SaaS providers tweaking plans here and there and there being the odd price increase to help develop the product, but Hiver does not do this. Hiver changes their plans hugely every so often and forces existing customers onto these new plans.
Yes, this of course is their right, after all, it's their product, but how can they justify wild price increases like 62%?
No, this isn't fair and leaves existing customers feeling like they would never have signed up if they knew this was going to happen.
Industry: Information Technology & Services
Company size: 11-50 Employees
Used

Daily

for

2+ years

Review Source
---
Hiver has been a game changer our account management team!
Pros
Hiver has made it so much easier for our client-facing teams to collaborate with each other and better serve all of our clients' needs. Everybody can see all the emails coming in, leave internal notes for each other, mark emails as pending/closed, use templates...the list goes on. It's been a huge game changer!
Cons
I wish we could use Hiver for even more. Everything about it is great, including amazing customer service, and so now I want to get rid of our other software/integration app providers and just use Hiver exclusively.
Reasons for Switching to Hiver
Hiver integrates with Gmail right in your inbox so you don't have to have multiple windows and apps open at the same time. It's all in one-place and it's affordable!
Industry: Marketing & Advertising
Company size: 11-50 Employees
Used

Daily

for

1+ year

Review Source
---
Easy Email Management
Great overall experience that has helped us become more efficient and communicate very effectively.
Pros
Hiver is a great way to manage a shared inbox efficiently and integrates easily with Gmail. Our team is able to assign emails, share notes, and easily see a chain of communication ensuring all incoming enquiries are dealt with quickly and efficiently.
There are easy ways to set up template copy too, accessible to the whole team.
Cons
No cons, it's good to be aware that once an email is assigned to a staff member, you won't see this email thread again unless you actively search for it.