About Hiver
Hiver is the world's first helpdesk built for Google Workspace. Hiver helps teams deliver fast and empathetic customer service, right from the tool they are already familiar with - Gmail. This means they can assign, track, and collaborate on customer emails, as well as run the most advanced analytics and automation from the Gmail interface, without sacrificing any time on learning new software or switching tabs. Hiver has all the powerful features of a helpdesk such as email tags for shared inboxes, auto-assignment to distribute emails to teams in a round-robin manner, email templates, and analytics to track all key customer service metrics. With collision alerts, users can receive notifications when someone is responding to an email to avoid duplicate and conflicting responses. Hiver allows managers to set up SLA and business hours and measure customer satisfaction by sending a short survey at the end of emails. It delivers secure customer service from Gmail and enables human-to-human conversations without storing any emails. Hiver helps multiple companies ranging from new-age startups to traditional enterprises such as Canva, Lonely Planet, Flexport, Pluralsight, Oxford Business Group, and Upwork.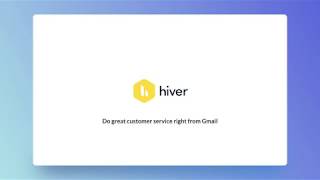 Hiver does not have a free version but does offer a free trial. Hiver paid version starts at US$12.00/month.
Starting Price:
US$12.00/month
Pricing Details:
Lite Plan: $12/user/month when billed annually. $15/user/month when billed monthly. Growth Plan: $24/user/month when billed annually. $29/user/month when billed monthly. Pro Plan: $37/user/month when billed annually. $47/user/month when billed monthly. Elite Plan: $57/user/month when billed annually. $69/user/month when billed monthly.
Industry: Professional Training & Coaching
Company size: 11-50 Employees
Used

Daily

for

2+ years

Review Source
---
We are so pleased to have found Hiver!
It is easy to administrate, very user friendly, and the support is phenomenal. I don't think I've ever waited more than a few seconds for a response from a member of their friendly and extremely competent support team.
Pros
The collaboration between Hiver and G-Suite to create a cohesive team environment has allowed us to better collaborate together to improve the customer experience. We can assign emails internally, share inboxes and disposition emails as open, pending, or closed - chat about 'tickets' in the Hiver side bar, and step in to assist on existing email chains without having to forward emails to different departments or members across the team.
Cons
I'd love to be able to create a 'ticket' within Hiver on behalf of a customer. Currently tickets can only be created based on an email interaction between a customer and our company.
Reasons for Switching to Hiver
There was nothing that was going to remove us from all the robust solutions that are a part of our G-Suite platform, so once I discovered a platform that helped to level up the use case for our G-Suite email platform, it was a no brainer to give it a try. And so glad we did!
Industry: Translation & Localization
Company size: 2-10 Employees
Used

Daily

for

1+ year

Review Source
---
Hiver is the absolutely best Shared Inbox service and helped us optimizing our workflows by...
We tried several providers of Shared Inboxes and we ended up staying with Hiver for the solely reason that they choose to focus on the core aspects of mail management and not various other features, that businesses at our size usually use other Sales or Project services for. We have used Hiver for more than a year now and it has so far saved us from hundreds of hours by providing us with a great overview and management of all incoming mails/task to be taken care of. The service is not the cheapest on the market, but it's absolutely worth every penny. Hiver has given us the opportunity to work more effective, close deals faster, collaborate better resulting in overall higher turnover since we started using the tool. It integrates smoothly with G Suite and we would highly recommend this tool for any business.
Pros
The mail management part is alfa omega. Its the core of this service, that makes it stand out from competitors. This tool allows you to manage hundreds of mails weekly without losing the overview. It integrates smoothly with G Suite, so are you already comfortable with Gmail, then you cannot miss Hiver!
Cons
Setting rules for the automations could be optimized to handle more criteria and it would be great to be allowed to bulk add email adresses instead of manually adding one by one. It works though and its great.
Reasons for Choosing Hiver
Gmelius had too many bugs. I wrote the support constantly and many of the features I needed were still on their roadmap. I believe Gmelius is a great mail management tool, but they need more development before they are able to compete with Hiver.
Reasons for Switching to Hiver
We tested all products out and evaluated them on the same criterias. Ease of use, integration, features, core focus and Hiver scored highest apparently.
Used

Daily

for

1-5 months

Review Source
---
Awful experience!!! After integrating this tool, my clients stopped receiving my emails.
None. Hiver completely derailed our operations at a period of peak media coverage.
Pros
Hiver features initially seemed great. I was eager to make use of their promised benefits. Unfortunately, Hiver completely halted our operations for over a week and lost us a great deal of business. Throughout it all, their team was unapologetic and dismissive of the role that Hiver had in derailing our email communications with clients. Rather than seeing this as an opportunity to resolve and repair clear technical defects, they blatanly blew off our repeated requests for support.
Cons
I tested out many collaborative email tools before deciding to go with Hiver. I was impressed by the intuitive design, canned response functionality and mobile app. Unfortunately, several days after installing the tool, we began to suspect that our clients were not receiving our emails consistently. I reached out to Hiver several times over the course of a few days and received no response. This lapse in email functionality coincided with some significant and favorable press coverage - our site traffic was nearly double what it normally was - and yet we went for 10 entire days without a single new client at a time when we would normally have 10-15 new clients typically. I tried for an entire week to engage help from the Hiver team. They insisted - and continue to insist- that their tool does not impact email sending functionality. I would beg to differ. As soon as I uninstalled Hiver, my communications with clients returned to normal. On a final note, to top this off, my team and I are 3 women. When we called Hiver's India-based support team, they were loudy making obvious, derogotary remarks about our being female and unable to understand their tool - calling us 'Dumb Blondes'. Highly inept and unprofessional team. Also worst nightmare for a growing startup!
Industry: Computer Software
Company size: Self Employed
Used

Daily

for

6-12 months

Review Source
---
Easy to manage shared email inbox
Hiver can be really helpful when you are using a shared inbox with email address like [email protected] or [email protected] It makes it so simple to assign email to the appropriate team members and you'll get notified if someone else tries to reply to the same email that you are looking at, avoiding the issue of more than one person replying to the same email.
Pros
This platform helps to organize our influx of emails from clients, etc. This tool makes collaborative teamwork possible. You can leave notes to your colleagues in an email and they can review your response without adding it in the email. You can also leave notes for yourself in an email. The system is easy to use and if you need a shared email box and a multiple-person team to manage support inbox then hiver is your best choice.
Cons
I actually don't find any issues with using this tool. It's 100% useful. However, if I was picky I am not a fan of keeping the email in conversation view. It makes a bit hard to read emails in a thread but had to adjust for hiver.
Industry: Information Technology & Services
Company size: 11-50 Employees
Used

Daily

for

2+ years

Review Source
---
Hiver has been a game changer our account management team!
Pros
Hiver has made it so much easier for our client-facing teams to collaborate with each other and better serve all of our clients' needs. Everybody can see all the emails coming in, leave internal notes for each other, mark emails as pending/closed, use templates...the list goes on. It's been a huge game changer!
Cons
I wish we could use Hiver for even more. Everything about it is great, including amazing customer service, and so now I want to get rid of our other software/integration app providers and just use Hiver exclusively.
Reasons for Switching to Hiver
Hiver integrates with Gmail right in your inbox so you don't have to have multiple windows and apps open at the same time. It's all in one-place and it's affordable!