About POS Nation for Retail
POS Nation is built to support retailers, including specialty businesses such as tobacco and vape shops, liquor, wine and beer stores, lawn and garden centers, hardware stores, convenience stores, groceries and markets. The software comes with all the features you need included out of your box, and specific to your industry--not as add-ons. Built-in discounting and sales pricing, the ability to accept and create coupons, age verification, and hotkeys, among other features, help businesses complete faster checkouts and easier transactions. Case- and carton-break inventory tracking, automatically generated purchase orders with reorder thresholds, an unlimited number of SKUs, and more, ensure inventory management is as simplified and streamlined as possible so owners and employees can always know what's in stock. Built-in employee management, customer loyalty, security, reporting and analysis all come within this powerful software to provide a complete retail point of sale system that doesn't just help you manage your store, but grow your business. POS Nation is also outfitted to handle multiple businesses and offers software add-ons such as cloud backup, mobile reporting, quick books integration, and inventory import to seamlessly integrate everything your business needs.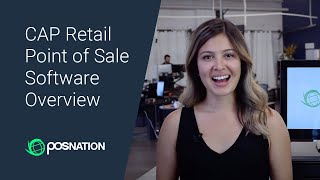 POS Nation for Retail pricing
POS Nation for Retail does not have a free version and does not offer a free trial. POS Nation for Retail paid version starts at US$39.00/month.
Starting Price:
US$39.00/month
Alternatives to POS Nation for Retail
POS Nation for Retail Reviews
Industry: Retail
Company size: 2-10 Employees
Used for

1-5 months

Review Source
---
I could not have asked for a better system and company!
My overall experience with POS nation is probably one of the best experiences I've had with another company. From day 1 everyone that I have spoke with at that company has done nothing but go above and beyond to help in any way they possibly can with anything that I needed. Their customer service skills were amazing. And that's very hard to find these days. Every employee that I spoke with was not only extremely nice and amazing and helped with anything that i needed but you could tell that they all worked for a great company and took great pride in the company that they worked for. Which is also very rare these days. I have nothing but amazing compliments for this company! From the bottom to the top! I'm so impressed with
Pros
What I liked most about this software was pretty much everything. From the price, the free installation, the iCloud monthly service, the 24/7 help line, and the overall easiness of the system. Everything was customized for the products we sell. If there wasn't a barcode, you could easily make your own button for the product. The ID option is amazing, it helps the employees on checking IDs for the sale of beer and cigarettes. The time clock for clocking in and out is very helpful as well. Along with the end of day report and all the statistics that it helps break down.
Cons
Your system is amazing and truly the only con I could actually think about would be to have a bigger font option on the screen or bigger square options on the main screen.
Response from

POS Nation

Thank you for your in-depth review, Jennifer! We appreciate your feedback.

Replied 17/01/2020
Industry: Retail
Company size: 2-10 Employees
Used

Daily

for

1+ year

Review Source
---
Great system for the Money
I have spent the most part of a year researching most if not all the different POS systems out there. Though there are other systems that would fit my business model, the down fall is a lot of them are cloud base. With the lack of internet available in Alaska I need a system that I could use without total reliance on the internet. POS Nation was the best application for my needs. I was able to purchase everything I needed to operate my business, I 'm currently operating two stations with a third acting as my storage and back up system that was purchased locally for that purpose. Take the time needed to properly setup this system, the data you can get form this software will greatly assist you in making decisions in maintaining and growing your business.
Pros
CRE is a good program for the kind of business that I run. I recently purchased a grocery/liquor store which has a RV park and small hotel that I have been able to manage through the software. It was a lot of work setting up inventory, and incorporating the RV/Hotel to make it work with the system but with due diligence and with the great support POS provides has made managing my business far easier then it would be without it.
Cons
​I have had only minor issues with the hardware for example the key boards that are sent with the system are not worth the box that the were sent in had to replace them with in a month of receiving them. The keys stick and get stuck and not everything can be done efficiently through a touch screen. The back office program is a great program with good reportage, but working with purchase orders need some work. The creation of a PO doesn't work with real world situations. Once generated the can't be adjusted when faced with stock outs or quantity changes. So I don't us it to generate my orders with vendors, more so for receiving my orders.
Again these are just minor issues. Again the reportage you get form the system is very informative and allows you to efficiently manage your day to day, monthly and yearly reportage.
Industry: Retail
Company size: Self Employed
Used for

1+ year

Review Source
---
My first POS
For the most part, the service has been good. I accidentally ended up talking to someone on the east coast when I first began investigating the possibility of making this POS purchase, which is a challenge when I am trying to talk to someone on the west coast where I'm located. Anything that I need must be shipped from across the country instead of up the coast.
But the people are friendly and helpful. Even if they insist I watch the videos in order to learn more about the operation of the system. That would be much easier if I actually had speakers on my machine or a place to hook them up, but I do not. Watching the videos on my home computer do not help, as I cannot practice what I just learned.
Would I buy this again, knowing what I know now? Probably, although I think I'd do a little more research and ask a lot more questions first.
Pros
I purchased this POS machine and software in order to streamline our monthly sales and inventory. For the most part, it has met those needs satisfactorily. I like that I can look up sales info for specific days and track inventory during both the busy season and the shoulder season. Being able to spot trends is paramount to achieving success in any business, and that's one of the main reasons I wanted to use this software. Tracking expenses and profit/loss is also something I'm looking forward to doing with ease once I figure it out.
Also, having an machine that links up to our online store and keeps inventory current is a major plus.
Cons
Oooh, this is gonna be a long list.
It is not exactly user friendly or intuitive. Entering inventory is a pain in the neck. You must go through two separate screens in order to complete all the information on each item! I would much rather have a long list of things to complete on one screen than have to close out Style Matrix, go into Inventory Maintenance, find the item, fill in the missing details (part number, description for the price tags, web description, etc.) then print out the price tags (which is on yet another screen!)
Also, there have been updates to the software that make some interesting changes, including having items go missing from the database and when I'm trying to ring up a customer and the machine insists that the item is NOT in inventory and would I like to add it now (even though I JUST scanned a barcode printed out by my machine) is super frustrating. Sometimes I just need to scan it for a third time before it recognizes the code and the purchase can continue.
Also, the TS lookup is a hassle, as there is no way to tell if you're choosing the correct color or size in a style matrix situation.
Also, when you get your online store together, the categories and departments are the opposite of what they are in the POS, which is horribly confusing, and you cannot easily change categories or departments. Don't even think about deleting one of them, because that is one button click from disaster. It gets ugly.
Response from

POS Nation

We appreciate the feedback, Karen!

Replied 12/09/2019
Industry: Retail
Company size: 2-10 Employees
Used

Daily

for

2+ years

Review Source
---
Tech Support
CAP POS is great to use but I notice they are few little things as end user myself, we need tech support to help us get though some of glitch & add-on products to the POS sooner & less wait time.
I am always please & special thanks to [SENSITIVE CONTENT HIDDEN] , he have always help solve all issue I encounter in just one call, his knowledge of this software is second to none.
Pros
We have been using Cap software for many years & I found it's easy to use, it have many options available that business manager would love to explore it for their business. I hope CAP will post more video in how to explore all the great feature in it.
Cons
I can't find much of what I like least about this software but I do hope the wait time for tech support is shorter, retail business POS can't be down for too long customers have least patient when system have a glitch and tech support can't be reach right away.
Response from

POS Nation

Paul,

Thank you for your feedback regarding both the software and our technical support team. We want to ensure that we are decreasing our wait time and you are receiving the help you need in a timely manner. Please give our customer success team at call if you find that the wait time has become too extensive. You can reach us at 877-727-3548 Option 2. Thank you again for your kind words and we look forward to working with you in the future!

Replied 18/12/2020
Industry: Retail
Company size: 2-10 Employees
Used

Daily

for

2+ years

Review Source
---
Dependable software/Easy to Use
We are very happy with the product. Otherwise, we wouldn't be such long-time customers. We can track sales hourly/daily/monthly/annually as well as by sales code. We can offer discounts to customers and track on type of discount given. Also, helps us keep track of inventory costs/turnover, sales taxes and much more.
Pros
Have been using the CAP POS system in our employees' store for 20 years +. Easy system for cashiers and administrator to learn and use. On the very few occasions that we've had issues, tech support was very responsive and fixed the problem on the first contact. No need for call backs.
Cons
Wish there was some way we could link it to our website so it could automatically track inventory on our online store and show items as sold out. Right now , we run reports daily and adjust manually. But Reports module is very easy to use and provides many different real-time reports with variables depending on info you are looking for.
Response from

POS Nation

Carol,

Reviews like this really make our team proud. Thank you so much for your kind words, and for being a valued POS Nation customer for over 20 years! We are so happy to hear that our technical support team has been very responsive to fix any problem that you have had throughout the years. Again, thank you for your feedback and kind words.

Replied 15/12/2020