About Quickbooks Point of Sale
QuickBooks Point of Sale is a retail point of sale system suitable for various small businesses such as clothing and shoe stores, small franchises, sporting goods stores and gift shops. It offers inventory and customer management tools, merchandise planning and a tablet-compatible POS. Cloud-based and on-premise deployments are available. QuickBooks Point of Sale provides standard point of sale features such as payment and return processing along with inventory management. This allows users to keep track of inventory, monitor items that are close to selling out and place orders for items that need to be restocked. The system also saves customer data to help users track purchase history and buying behavior. Users can configure price tags and receipts, set promotional prices, track layaways, manage rewards programs and ship packages using the Shipping Manager module. The POS system syncs automatically with QuickBooks accounting software. License-based pricing is offered. Support is available through an online knowledge base.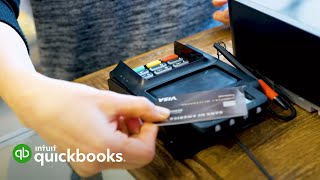 Quickbooks Point of Sale pricing
Quickbooks Point of Sale does not have a free version but does offer a free trial.
Alternatives to Quickbooks Point of Sale
Quickbooks Point of Sale Reviews
Industry: Retail
Company size: 11–50 Employees
Used

Daily

for

1+ year

Review Source
---
Best and Easiest POS
We use QuickBooks point-of-sale at work every day. It holds our inventory of over 2 million items. It's rugged, and never let you down. Finding mistakes that your employees made is super easy, and easy to rectify. Whether you are computer savvy, or just using a computer for the first time, You'll be able to use QuickBooks point-of-sale you'll be able to use QuickBooks point-of-sale
Pros
I love how this point of sale is fully customizable to the customers needs. It offers everything you could want in a point of sale system. From sale orders to layaways, with QuickBooks point-of-sale you'll be ready to sell within hours of super simple setup.
Cons
QuickBooks point-of-sale was quite costly to purchase all at once. But you only have to pay once.
Reasons for Switching to Quickbooks Point of Sale
Shopify does not support gun stores
Industry: Apparel & Fashion
Company size: 2–10 Employees
Used

Weekly

for

2+ years

Review Source
---
QuickBooks POS - not good for Retail, but anything else maybe
I generally liked the QB POS software and what it did for us, ... but we grew out of this. Ideally this would be great for a small business that had fixed assets that didn't change and if the SBO didn't want to pour out too much money for a POS.
Pros
1) They release a new product upgrade every other year so there is no need to update your computer software every year. The upgrades are not necessary, but upgrades to provide more features.
2) Everything is backed up to a single database file on the computer; so in the event of a computer crash as long as you're backing up the QBPOS db, you can re-install the software, re-point the db file and get going again.
3) It's easy to use and navigate.
4) Does not require internet connection if the internet goes down
5) Great reports
6) A great company, with solid reputation, with a good name brand product
Cons
1) Customer support is great, but you have to pay for it. I learned to reach out to 3rd party companies for Support. that seemed more eager and
2) Does not integrate with an online store presence. For our online store each time someone purchased something online we had to update our instore inventory; and vica-versa.
3) The software upgrade is a little pricey for 1 upgrade. I remember it was affordable for an upgrade for me; and we only had 1 POS computer & 1 seat. If we had 2 computers it would have been more expensive.
4) Constantly trying to add new inventory and remove old inventory was kind of a hassle. If your business had fixed assets then ideally this would be a good solution.
5) If your computer crashed or you need to get a new computer, you would have to setup the new computer and reinstall the software on the new computer along with the help of QB POS Tech Support. While this in itself wasn't bad it was trying to schedule a time that they were open and the store wasn't open so I could fix this.
Industry: Retail
Company size: 2–10 Employees
Used

Daily

for

2+ years

Review Source
---
Quickbooks POS
Our overall experience since using POS 19.0 has been BAD.
Pros
The system is fairly easy to use and generally intuitive.
Cons
Since they did the upgrade to 19.0 they removed the multiple email options. We have used Quickbooks POS for over 12 years and it worked well. There were a few minor things we had to work around, but that was okay and it served our company well. Since upgrading to 19.0 we have had nothing but problems. Feature were taken away, the screens freeze, it locks up our computers, etc. Then there is the service issue - it will shut down my entire POS system so I'll have customer calling or waiting and not POS, can't process credit cards, ets. You call for service and it 15 minutes or more to get assistance. You go online for "faster service" and get a technician that can't help. HORRIBLE customer service. Once in a while you'll get a good technician who is knowledgeable, but that is very rare.
Reasons for Switching to Quickbooks Point of Sale
I have used Quickbook Accounting software for over 30 years and it's worked well. I thought using the same parent company integration would be easier and work smoothly.
Industry: Retail
Company size: 2–10 Employees
Used

Daily

for

2+ years

Review Source
---
D cent POS software for the money but definitely could be better.
It runs my business
Pros
Seamless integration with Quickbooks and fairly simple setup as well as fairly inexpensive software are the best features.
Cons
Poor search features in make a sale and goofy differences between make a sale and sales order screens make it obvious that this is somewhat of an afterthought for QuickBooks.
Response from

Intuit

Happy Tuesday, Weldon. We love hearing about how we can improve the product, and interface suggestions are always very much appreciated. I'd be glad to pass your feedback along to the engineers directly, as they frequently review customer feedback when developing new features/enhancements. When you get a bit of downtime, please send your ideas to me in an email ([email protected]). I'll forward them on your behalf, and will keep a lookout for your message.

In the meantime, I encourage you to explore the Point of Sale Resource Center at https://quickbooks.intuit.com/point-of-sale/customer-resource-center/. There you'll find expert advice, articles, and workflow tips on the small business fundamentals, with a focus on the Point of Sale product.

Until we chat again, wishing you all the best!

Jess, The QuickBooks Team

Replied 17/07/2018
Industry: Retail
Company size: 2–10 Employees
Used

Daily

for

2+ years

Review Source
---
Gotta Love It
QB Pos has really helped give us control over our retail operations. Couldn't live without now.
Pros
This software is full-featured and really does a great job of keeping track of everything going on in your store. From inventory to sales, the information is there and easy to access.
Cons
It can be a little tough to get information out in the form I want. Overall the reporting is great but I sometimes like to look at details that are cumbersome to get to.
Response from

Intuit

Hi, Kevin. Knowing how helpful the product has been to keep up with your data makes our day. You can continue to count on us to have your back for years to come! To learn more about customizing reports, we recommend checking out this Community article: https://quickbooks.intuit.com/learn-support/en-us/run-reports/customize-your-financial-reports/00/186382

Cheering you to continued success.
Morgan, The QuickBooks Team

Replied 21/10/2019