About Dameware
DameWare is cloud-based remote access software that allows users to provide remote support on desktops, laptops and servers. It caters to businesses of all sizes. DameWare helps users centrally manage team members and customers, activate and control their licenses and share the host list globally. It also supports end-users through a mobile app for Android and iOS, so users can connect through smartphones and tablets. The window administration feature helps users troubleshoot problems without conducting complete remote control sessions. The solution also helps manage multiple active directory domains using a single interface. The product offers user account administration, password resetting and group policy editing. DameWare provides two-factor authentication, so users can log into remote sessions via the verification protocol. The solution also supports remote-access sessions by logging in from support tickets and creating an audit trail. The product integrates with SolarWinds Help Desk.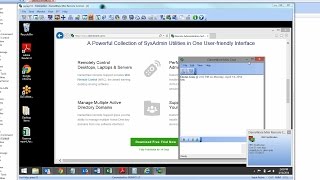 Dameware does not have a free version but does offer a free trial. Dameware paid version starts at US$540.00.
Starting Price:
US$540.00
Industry: Mining & Metals
Company size: 51–200 Employees
Used

Daily

for

2+ years

Review Source
---
I have used Dameware and its worth the money and then some.
No monthly fees, one you buy its yours per tech no matter if he uses more than one PC. Able to start and stop or even install and delete services, there is remote commnad prompts, remote screen control, and many more features.
Pros
Dameware is so powerful giving you insight in to services, allowing for remote command prompts, attaching to PC's in and out of your network, single pane of glass, and so much more.
Cons
I wish i could be on my laptop outside company and like a logmein hit any computer anywhere with in my company as a admin
Industry: Staffing & Recruiting
Company size: 51–200 Employees
Used

Daily

for

6-12 months

Review Source
---
Wonderful and effective bridge connecting systems, but not the finest
It aided in providing users both on and off campus with remote support. Additionally, it enabled remote access to servers and other devices that would have required troubleshooting. Not having to travel to many offices to help with a few clicks saves so much time. Using the tool was like having an extra set of hands because I saved so much time.
Pros
A simple method of linking systems to examine problems with end-user equipment even when the user is not there. I like how simple it is for me to remote into my users' computers and assist them when they run into problems. This product also comes with excellent support and documentation. By setting a password, you can establish a secure connection. The password might be fixed or random.
Cons
Improved multiscreen remote sessions should use one screen for each slide. There is no option to add notes to entries for improved support, and adding machines is a bit laborious. For us, recording is not currently enabled. needs a strong connection to function correctly. When services on distant workstations break down and the remote connection breaks down, you must uninstall and reinstall the services, which is occasionally challenging.
Industry: Information Technology & Services
Company size: 501–1,000 Employees
Used

Daily

for

1+ year

Review Source
---
Dameware - A good Remote Desktop Control Software
Since we became distributed, Dameware has provided a generally positive experience and service. It's been really beneficial for remote assistance when we can't physically go, and we're now able to help individuals across countries. It's a must-have tool for any IT professional offering remote control.
Pros
1. The most significant advantage is that Dameware provides high-level protection that meets all security standards.
2. The desktop app at is extremely light and simple to set up.
3. It enables the supported end-user to authorize the request for remote access. first
4. As long as other team members are logged in, you can invite or transfer the remote control to a session.
5. It supports chat, audio, and video calls within the session, allowing for more seamless assistance.
6. It's reasonably priced since the price drops as you buy additional licenses.
Cons
1. The Dameware program frequently becomes stuck on the connection screen, necessitating a restart.
2. The procedure of seeking administrative rights on the client's PC is inefficient.
3. The most significant disadvantage has to be the User Interface. It's a little busy and could require a lot more work to make it simpler to navigate.
4. Their support team isn't available 24/7 to support their customers
Industry: Hospital & Health Care
Company size: 1,001–5,000 Employees
Used

Daily

for

2+ years

Review Source
---
Easy to use remote software
We use this software to offer remote support and it has been a great addition to our software library and has increased productivity since we no longer have to go in person to a majority of our service calls now that we can just remote in and take care of the issue.
Pros
It has an easy to use gui that lets you find the workstations on your network and connect to them without a lot of issues. you can also do things like remote registry editing or backdoor into a workstations drives. They also offer a mobile app for you to be able to offer remote support while you are not at your desk.
Cons
The initial setup could be daunting for some users. It supposedly will interface with Kace Management appliance but we could never get it to work completely.
Industry: Hospital & Health Care
Company size: 1,001–5,000 Employees
Used

Daily

for

2+ years

Review Source
---
I used DameWare in a previous job for remote support, and it was an awesome product! I miss it!
With DameWare, I was able to quickly and efficiently provide remote support to our end users. Awesome product!
Pros
The thing I liked most about DameWare is that I could easily connect to a remote machine and support the user. You were able to see the user's screen in realtime and walk them through whatever you needed. Very easy to use!
Cons
The thing I liked least about the software, was the number of features. There were so many features, I never felt like I would use them all, so I felt that some of them would be wasted. It's not necessarily a bad thing, but it was too much for me.