About TalentLMS
TalentLMS is the LMS built for training success. Designed to get a yes from everyone, its where great teams, and companies, go to grow. With an experience thats fully customizable and easy to manage, teams embrace training while feeling right at home. TalentLMS makes it easy to provide the right training to any team and every use, while giving expert guidance and support every step of the way. On a mission to democratize training, TalentLMS already serves 70, 000+ teams worldwide.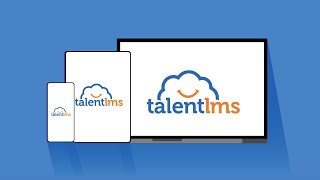 TalentLMS has a free version and offers a free trial. TalentLMS paid version starts at US$0.00.
Alternatives to TalentLMS
Industry: Investment Banking
Company size: 51-200 Employees
Used

Daily

for

1+ year

Review Source
---
Effective platform for corporate training
Pros
It has the ability to enhance the training processes in my organization, virtually. It stands out for the possibility of creating virtual interaction environments suitable for each training process. It has the option of generating certificates with each approval of the training phases. The video quality of the training materials is excellent.
Cons
This platform is very complete, but sometimes pop-up windows become a nuisance instead of helping. Its user interface can improve.
Response from

Epignosis

Thank you for your valuable feedback, Sthefany. It's great to read that TalentLMS has helped you enhance the training processes in your organization. About the UI, keep an eye out for some updates and improvements which are on our product roadmap for this year!

Replied 08/08/2022
Industry: E-Learning
Company size: 11-50 Employees
Used

Daily

for

1+ year

Review Source
---
Excellent LMS that is good value for money
We have been able to move our courses online and provide a very good level of support and care to our students and seeking to expand our course offerings on the platform.
Pros
The ability to allow students to download courses into the app and study offline.
Cons
A bit more flexibility in how students are forced to complete courses.
Reasons for Choosing TalentLMS
Value for money offering by Talent LMS and most importantly the fact that I could evaluate the product for as long as I want and have some courses on for free for as long as I want to effectively test the system without stress or pressure and start paying only when I was ready.
Reasons for Switching to TalentLMS
Value for money, ease of use and free options.
Response from

Epignosis

Gilbert, thank you for sharing your experience using TalentLMS. It's fantastic hearing that the platform allows you to provide online courses to your students while maintaining a good level of support for them.

Replied 24/01/2022
Industry: Higher Education
Company size: 2-10 Employees
Used

Daily

for

2+ years

Review Source
---
Positive review.
Pros
The off-the-shelf features of Talent LMS had 95% of what we wanted. We were able to begin with a modest plan and have the option to upgrade as our customer base enlarges.
Cons
The recent decision to increase the price AND reduce the features (e.g. branches).
We had to create a workaround for a situation where a repeat customer wanted to repeat a course. This is a change that many businesses will need.
Response from

Epignosis

Thanks for sharing your thoughts on TalentLMS with us, Alan! We strongly believe that your LMS should grow as your company does, this is why we offer various plans to help you scale up and match your training needs. We're glad to read that you were able to do just that with TalentLMS!

Replied 15/07/2022
Industry: Facilities Services
Company size: 1,001-5,000 Employees
Used

Daily

for

1+ year

Review Source
---
Don't buy into the hype. At best...it is only OK.
Frustrating...mostly because they are slow and unhelpful when dealing with technical issues.
Pros
It is inexpensive and intuitive to use. It is good for adding videos, articles, and quizzes within the LMS.
Cons
I have had nothing but problems trying to get Articulate 360 courses to communicate course completion with this LMS. It works most of the time, but it still misses 15% or so of my users. Having over 2000 users, I cannot be hunting down everyone that did not show as completed, especially when they tell me they did it! Honestly, there have been a myriad of other technical issues that they cannot fix, or do not know how to fix. At this point I have to figure out if I just live with the limitations of their program, or go through the hassle of switching to a new LMS.
Alternatives Considered
Docebo
Reasons for Switching to TalentLMS
It was cheaper.
Response from

Epignosis

Timothy, we are sorry to hear that you've encountered frustration with the responsiveness of support. Our Customer Support team strives to answer all queries in a timely manner (they currently have a 95% satisfaction score given by customers) and we find that the email ticket system allows us to ensure all queries are tracked and addressed in the most thorough way possible which is offered on all paid plans. We suggest you advise your support contact of your specific timing restrictions (including your timezone) and they'll do their very best to accommodate your needs. Thanks for your review!

Replied 03/01/2022
Industry: Insurance
Company size: 2-10 Employees
Used

Daily

for

1+ year

Review Source
---
Great platform for creating a basic course structure that fits your training needs
Overall, TalentLMS has met our needs and allowed us to create a custom online course and expand the reach of our organization's education programs.
Pros
The product is pretty user-friendly, and if you are struggling with how to do something while creating/editing your course, you can easily find answers to most issues in the knowledge base.
I also liked the various types of content that can be added to a course. For example, I've utilized text, PDFs, Microsoft Word documents, images, videos, tests, surveys, web links, and more all in one single course - and I probably haven't even explored half of the available features!
Cons
Working with a user's course expiration date can sometimes be tricky and could definitely use some improvement. For example, to change the expiration date for a user, logically I would go to the "Users" page, go to the user's courses, and extend the date there. Instead, you have to go to the course page, go to course content, go to course users, and extend it from there. Also, I've found that sometimes you can't extend a user's deadline without resetting their progress for the entire course. I haven't quite figured out why that happens.
I also think the navigation on the user's end could use a little clarity. An automated "course tour" would be beneficial.
Reasons for Switching to TalentLMS
An annual subscription to TalentLMS was less than half the cost of an annual Blackboard subscription.
Response from

Epignosis

Hi Alyssa, thank you for your insightful review of TalentLMS. We are glad to read that your experience has been a pleasant one and that you've been enjoying the variety of content you can work with on the platform. Regarding user navigation, lots of good think are coming out your way soon, keep an eye out!

Replied 01/06/2022