About TalentLMS
TalentLMS is the LMS built for training success. Designed to get a yes from everyone, its where great teams, and companies, go to grow. With an experience thats fully customizable and easy to manage, teams embrace training while feeling right at home. TalentLMS makes it easy to provide the right training to any team and every use, while giving expert guidance and support every step of the way. On a mission to democratize training, TalentLMS already serves 70, 000+ teams worldwide.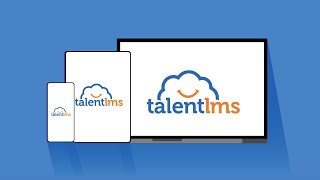 TalentLMS has a free version and offers a free trial. TalentLMS paid version starts at US$89.00/month.
Alternatives to TalentLMS
Industry: Insurance
Company size: 2-10 Employees
Used

Daily

for

1+ year

Review Source
---
Great platform for creating a basic course structure that fits your training needs
Overall, TalentLMS has met our needs and allowed us to create a custom online course and expand the reach of our organization's education programs.
Pros
The product is pretty user-friendly, and if you are struggling with how to do something while creating/editing your course, you can easily find answers to most issues in the knowledge base.
I also liked the various types of content that can be added to a course. For example, I've utilized text, PDFs, Microsoft Word documents, images, videos, tests, surveys, web links, and more all in one single course - and I probably haven't even explored half of the available features!
Cons
Working with a user's course expiration date can sometimes be tricky and could definitely use some improvement. For example, to change the expiration date for a user, logically I would go to the "Users" page, go to the user's courses, and extend the date there. Instead, you have to go to the course page, go to course content, go to course users, and extend it from there. Also, I've found that sometimes you can't extend a user's deadline without resetting their progress for the entire course. I haven't quite figured out why that happens.
I also think the navigation on the user's end could use a little clarity. An automated "course tour" would be beneficial.
Reasons for Switching to TalentLMS
An annual subscription to TalentLMS was less than half the cost of an annual Blackboard subscription.
Response from

Epignosis

Hi Alyssa, thank you for your insightful review of TalentLMS. We are glad to read that your experience has been a pleasant one and that you've been enjoying the variety of content you can work with on the platform. Regarding user navigation, lots of good think are coming out your way soon, keep an eye out!

Replied 01/06/2022
Industry: Machinery
Company size: 51-200 Employees
Used

Daily

for

2+ years

Review Source
---
It meets our needs on a budget
Overall, it has been a positive service that has allowed us to create a repeatable training process for our organization in an affordable manner.
Pros
The product is fairly intuitive and user-friendly. I was able to start working with it meaningfully day one without intervention. Where I've needed support, the knowledge base provided a lot of value and where that fell short (rarely), I had fairly quick responses that resolved the issue. It allows me to create content using a variety of methods, upload it, cause for an interactive assessment component with review, and allow info to be allocated on our schedule. I can tailor course schedules to an individual's needs. It is great for developing a repeatable onboarding program as well as updating people as needed. It's great to store all training materials long-term.
Cons
For the most part, where I've run into issues, I've found that I just need to research the product more as there are ways to achieve what I want. The limitation is primarily within the packages available. It jumps from $59/month for 40 licenses to $129 a month for 100. If my organization needs 43 licenses (which is my current issue), there isn't a way to achieve that without jumping to double the pricing.
Response from

Epignosis

Britini, what a great and insightful review! It is fantastic hearing that our knowledge base has helped set up your portal without too much trouble! Regarding plans and user limits, maybe you could look into Active plans ? Active Plans let you register an unlimited number of users. Their pricing is based on the number of different users that login to your portal each month. Those plans come with soft limits. We do not prevent users from logging in if your plan limit has been reached!

Replied 24/01/2022
Industry: E-Learning
Company size: 11-50 Employees
Used

Daily

for

1+ year

Review Source
---
Excellent LMS that is good value for money
We have been able to move our courses online and provide a very good level of support and care to our students and seeking to expand our course offerings on the platform.
Pros
The ability to allow students to download courses into the app and study offline.
Cons
A bit more flexibility in how students are forced to complete courses.
Reasons for Choosing TalentLMS
Value for money offering by Talent LMS and most importantly the fact that I could evaluate the product for as long as I want and have some courses on for free for as long as I want to effectively test the system without stress or pressure and start paying only when I was ready.
Reasons for Switching to TalentLMS
Value for money, ease of use and free options.
Response from

Epignosis

Gilbert, thank you for sharing your experience using TalentLMS. It's fantastic hearing that the platform allows you to provide online courses to your students while maintaining a good level of support for them.

Replied 24/01/2022
Industry: Nonprofit Organization Management
Company size: 11-50 Employees
Used

Monthly

for

1+ year

Review Source
---
Great LMS!
Excellent. Sadly, mid-2021 we switched to a comprehensive Coalition Management System which includes and LMS among other management systems. We are phasing out of TalentLMS and I'm sad! Many features in TalentLMS have spoiled us for other LMS's where features and flexibility are lacking. Our customer support at TalentLMS are phenomenal!
Pros
TalentLMS is easy to use for learners, instructors, and admin alike. The ability to import not only users to TalentLMS but also to import user changes and assign courses, groups, branches, etc. by import is excellent. The user-interface is top-notch as well. Navigation throughout is smooth and intuitive. Creating course certificates was clunky at first, but compared to other LMS's TalentLMS offers more flexibility. Data and summary graphics are great in TalentLMS, too. A deciding factor for us was also no minimum annual membership. I also must say customer service was great -- both when we had the basic 500-user plan and when we bumped up to the 1000-user plan. Always professional and friendly and knowledgeable.
Cons
We preferred user registration for courses external to TalentLMS and importing learners as opposed to direct registration by users to a course in TalentLMS. One reason for this was a user creating an account and filling in loads of custom fields only to be told at the end their email/userID already existed in the system. Branches were a bit confusing to learners and others. Certificates being tied to courses without the ability to tie a certificate to a learner was frustrating for us because various learners completing online learning might each have various output for their certificates. We ended up with loads of courses just for the purpose of certificate issuance. Event automation and notifications was somewhat complicated to learn and many an automatic email was sent in error.
Response from

Epignosis

Lisa, thank you for taking the time to review TalentLMS. We are glad to read you found the user experience on the platform to be a smooth one. We are sad to see you go due to your company's switch to a CMS, but you can trust that TalentLMS and it's top-notch support team will be here for you if you decide to come back to us!

Replied 24/01/2022
Industry: Computer Software
Company size: 51-200 Employees
Used

Daily

for

6-12 months

Review Source
---
My TalentLMS Experience
From my very first encounter with the TalentLMS team, I was extremely impressed with their professionalism and fantastic customer service! Every question was answered promptly with care and knowledge.
Working in TalentLMS is a dream experience in that there are so many online learning resources available. It is so easy and quick to get up and running with it – most intuitive LMS I've come across so far. If the answer isn't online, then a quick email to my customer representative returns a very quick response, and if it is a technical question in nature, it is forwarded to the TalentLMS Technical Support team ASAP for a speedy turnaround time.
In my opinion, we couldn't possibly be happier with any alternative LMS.
Pros
If I had to select three main reasons why I recommend TalentLMS, they would be: 1) exemplary customer service, 2) intuitive and fun application to work in, which integrated seamlessly with our existing business processes 3) abundance of online resources to leverage from.
Cons
If I had to select three areas that are not my favourite, I would select 1) it would be so much more beneficial to my creative side if I learned more HTML (you don't need it, as it has a great editor, but I like to add a little extra sometimes than the editor offers – so I dive into the source code and keep my finger's crossed :) – but at least I can do that! 2) sometimes there seems to be a minor delay in the group enrollment processes and I cheat and click a convenient button to hurry it along if I need to 3) we have implemented single sign-on and when I want to test a learner's view rather then my super admin view, I have to log out of all my SSO systems before I can simulate the learner to see their view, so if I could come up with an easier way to be a test user, that might be nice (maybe more experimenting with cache clearing and browser incognito mode might help).
Response from

Epignosis

Lorraine, what an insightful review! Thank you so much for sharing yours thoughts and experience with us. It is very interesting and as we strive to improve TalentLMS, your comments really help us. You can be sure that we have passed them on to our developers team and they will look into it. We also love hearing that after thoroughly searching for the best possible LMS to fit your needs, it was TalentLMS that you chose! Thanks!

Replied 03/01/2022