About Nutshell
Nutshell is an all-in-one CRM and email marketing platform that helps B2B organizations work together to win more deals. Simple enough for any user and sophisticated enough for any business, Nutshell is built for teams who are tired of juggling separate sales and marketing tools and don't want to pay a full-time admin to manage their software. Every Nutshell subscription includes unlimited CRM contacts and data storage, fully customizable reporting tools, free data migration assistance, and world-class live support, all at an extremely affordable price. Nutshell integrates with the software small businesses already use, including Google Workspace/Gmail, Microsoft Office/Outlook, QuickBooks Online, Intercom, and Slack. Nutshell also offers native iPhone and Android apps, allowing sales reps to create, search, and edit contact information while in the field. Launched in 2010, Nutshell serves thousands of businesses around the world and has been named a top CRM for both user-friendliness and affordability. Nutshell has been honored as a "Leader" in G2's Grid® Report for CRM every quarter since Fall 2020. In 2021, Nutshell released Nutshell Marketing, which allows Nutshell customers to design and send beautiful marketing emails and automated drip sequences, and instantly measure their engagement, directly out of Nutshell. Nutshell Marketing seamlessly connects to your CRM data, so you can target custom audiences in a snap and manage all your outreach out of a single tool.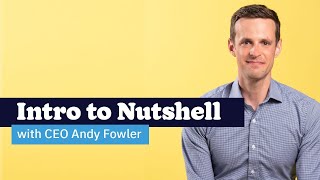 Nutshell does not have a free version but does offer a free trial. Nutshell paid version starts at US$27.00/month.
Starting Price:
US$27.00/month
Industry: Management Consulting
Company size: 2-10 Employees
Used

Daily

for

2+ years

Review Source
---
I've used CRM software on Mac, PC, & midrange IBM systems. Nutshell is at the top of the heap.
It's CRM that actually is liked and used!
Pros
Easy and flexible setup; consistently clear design. Can use basic functions without tripping over the advanced ones, and can gradually add feature/function for a smooth transition from beginner to power user.
I also like the way you have color-keyed the function buttons to the main color on functional screens. A nice visual orientation cue!
Cons
I worked full-time in the design profession for 17 years, so this is a 'studied' critique:
There is a lot of market pressure for tech products to follow design trends. Unfortunately, design trends often are based on designers designing for other designers -- which tends to leave certain kinds of user needs out in the cold. One of the most common of these 'orphaned' needs is the need for contrast and clarity. Nutshell's UI gets high marks in my book for uncluttered design and common-sense functionality. But as people get older, it gradually becomes harder to distinguish low-contrast elements in a design. Contrast (and color, of course) also can be used (and is used to a degree in Nutshell) to 'lead the eye to where the action is. ' My suggestions for improving the main user screen are these:
1) Search Everything is, by definition, a key feature -- it should have a STRONG presence, instead of looking almost greyed-out.
2) Use bolder and slightly larger text throughout. To a degree, weight and size will compensate for lack of contrast -- and without cluttering the layout.
Response from

Nutshell

Hi Mark!

Thanks for taking the time to give us some feedback. We appreciate the positive review and will pass along the feedback to our design team. Thanks for being part of the Nutshell community.

Amanda

Replied 30/05/2017
Industry: Electrical/Electronic Manufacturing
Company size: 2-10 Employees
Used

Daily

for

2+ years

Review Source
---
Good starter CRM
Consolidated location for prospects and communication history.
Pros
We explored a number of CRM solutions and initially selected Insightly after trying to get Tiger CRM working. Insightly functionality was too limiting and consequently was not being used. Our second round of trials lead us to Nutshell, which we have been using for about two years.
We found Nutshell to be reasonably robust and easy to use. We have been using it for about two years now. We have about 30,000 contacts and 11,000 companies.
Cons
We are now running into some functional issues which we have to address with addons, including Mailjet for email campaigns and Zapier for data transfer. The lack of a quoting interface, manual address entry into Quickbooks, lack of phone integration, and incomplete email integration. With the exception of QB integration, the other functions can be addressed with more addons. By the time we get done adding on the functional holes, the price becomes quite high.
The reliance on addons also means that the system becomes unwieldy; a different system, management interface, and subscription for each function.
At this time, I don't think there is a good solution for QB integration at all. This may not be significant since QB for Manufacturing is below our needs anyway. Our next step may be to use PostBooks, Xtuple, or some other MRP system that includes CRM. But, those also carry their own management burdens and costs.
Nutshell does have a reasonable email interface to send correspondence through our IMAP server, but the markup tags are cumbersome, are error prone, has no CC or BCC field, and the reply emails don't populate under the Nutshell customer(s). Consequently, only half of the conversation is visible. Of all of the above, this is the most significant limitation at this point.
Industry: Machinery
Company size: 11-50 Employees
Used

Daily

for

2+ years

Review Source
---
Excellent CRM for our Niche Application - Best of Multiple Reviewed/Used
Excellent! The customer service has been responsive and the system has been 100% reliable.
Pros
Barrier to entry was low with minimal upfront cost needed to evaluate the software. Ease of use for a small company with minimal resources to devote to developing, executing, and maintaining the system.
Cons
So far the only con that we have experienced has been in the reporting functions. This could be a by-product of our unique needs or our lack of resources available to investigate it further. It does seem limited compared to Salesforce.
Reasons for Choosing Nutshell
Cost. Ease of implementation and end user usage.
Used

Daily

for

2+ years

Review Source
---
Nutshell is overall a great CRM that incorporates good features and provides great customer...
Pros
I appreciate the constant updates. Nutshell has some ways to come, so it is nice seeing changes be made. Customer service is always on spot and very friendly. Nutshell support page is great for new employees, referring them straight to there for advice. The adaptability & usability of the interface is very user friendly.
Cons
I have been using this software since October of 2014. So far, I think what needs to be implemented on the "Admin/SetUp side" is making sure Products, Reasons why Leads Close, the Sales Process Competitors, and so much more need to be added from the start with Nutshell and the business buying the service. The reason being is because over the last two years, slowly things have been added/removed/changed. So now we have 2 years worth of jumbled data IMO. Going through a thousand leads that only a handful of them have tags on to find out why something was closed via notes or what product was sold is a little silly. I think the setup process should include this for the end user (being our company). Mind you, I was not the one to set up the account with Nutshell so I am unsure if this is something offered, but It helps a lot when running reports on products, etc.
Response from

Nutshell

Hey Sebastian!

Thanks for taking the time to share your feedback with us. I hear you on the changes over the last couple of years. I will talk to our dev team about the requests you mention below on the Company.

We appreciate you being a part of the Nutshell community.

Amanda

Replied 14/05/2017
Industry: Marketing & Advertising
Company size: 11-50 Employees
Used

Daily

for

1-5 months

Review Source
---
An Elegant Yet Powerful CRM
We are now better organized with our sales process and are more collaborative. This allows us to keep our important information in one place that is easy to use and work as a team to get things done!
Pros
I love the filtering ability with our companies and people lists. It allows us to really drill down and get the exact metrics we want. We are better able to see a lot of information at a glance in a dynamic way.
Cons
I would love more options when emailing groups of people in the system. Currently, I need to only use templates when emailing groups and I would like to be able to type out the email in one shot instead.
Reasons for Choosing Nutshell
We realized we did not need a ticketing software but something more like a CRM, in looking over a lot of options this was the best price point and the best fit for what we needed.
Reasons for Switching to Nutshell
A lot of the other systems seemed overly complicated to use, we had a relatively short onboarding period to get our people trained quickly. The price point for the number of features was the best and most sustainable for our company. And we feel like we can grow with Nutshell.