About 3CX
3CX Phone System is an open standards communications solution, suitable for any sized business that wants all the features of an advanced contact center at a fraction of the cost. 3CX can take your business communications to the next level, helping to improve collaboration, boost productivity, increase mobility and enhance the customer experience. Installation and maintenance can be handled effortlessly by anyone, whether installed on-premises on Windows or Linux on an appliance or server, or in the cloud.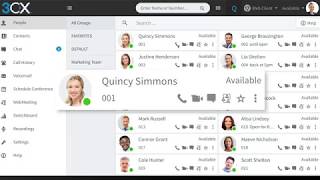 3CX has a free version and offers a free trial. 3CX paid version starts at $0.00/year.
Starting Price:
$0.00/year
Pricing Details:
1 year free, no credit card required.
Industry: Internet
Company size: 2-10 Employees
Used

Daily

for

2+ years

Review Source
---
3CX offers everything you need for low budget
well it is a phone system. We use 3CX to talk to our customers, we use it as webconference solution and we use it as a very lowlevel slack alternative.
Pros
3CX is a solid voip solution that offers all the features and functionality an ordinary team or company needs. Installation and maintenance is simple. The webclient is getting better and better with every version. Speaking quality is great if you use the right codecs or hard phones.
We love 3CX and use this pbx since many years.
Cons
There is no documented API. Either something is supported or not. There is no possibility to get individual implementations.
Response from

3CX

Hi Christoph. Thank you so much for your detailed review. We are happy to hear that you are happy with 3CX over the years!
Currently the only Public API that we have is for our WebMeeting Platform: https://www.3cx.com/blog/releases/video-conference-rest-api/
We do plan in the future to also have another REST API that would allow to perform more actions directly related to the calls and 3CX Server, but at the time of writing, this has yet to be released.

Replied 18/10/2021
Industry: Computer Software
Company size: 11-50 Employees
Used

Daily

for

1+ year

Review Source
---
Serves small businesses very well for free.
In my opinion, it is a very good tool and hardly ever had problems, because the tool is very stable and with a very good usability, serving very well small businesses.
Pros
• It is free.
• Assists in the company's internal communication.
• It is always updated with improvements.
• Ease of receiving and transferring calls.
• Ease of configuration and installation by the end user.
Cons
• We used the trial version quietly for 1 year, but due to technical problems due to a codec, it caused a major internal problem where we stayed 3 days without a phone. For this reason the support of the company that provides the service asked us to change the application.
Response from

3CX

We are sorry to hear that you had codec issues. Can you explain which codec was used and what issues it created?
Codecs work using the SIP Offer - Answer model - a standard in SIP used for the update of session dialogs. This means that when a codec is offered by one endpoint (phone), and the receiving endpoint answers "no available codec" then a codec exchange occurs where both endpoints try to find one common codec (language) to use for their media. Like this every call is serviced and has more chances to get 2 way audio. It is important to tell us which codec you tried to use. Because firstly, we might have an issue to investigate or we might also give you an alternative codec you can use. We support all major codecs so I am surprised how the company that serves you recommended that you change the whole app.

Nonetheless, thank you for your feedback. I will forward this to the development team.

Replied 20/01/2020
Industry: Telecommunications
Company size: 11-50 Employees
Used

Weekly

for

2+ years

Review Source
---
Effective Phone System For Small, Simple Offices
For under 50 extensions and without any special functionality, 3CX is a very user-friendly platform. However, for any project that requires any custom functionality, 3CX will simply not be able to offer help.
Pros
The 3CX installer on both Linux and Windows is incredibly easy to use and users can go from nothing to a fully-featured phone system in less than 20 minutes. Once installed, the user interface is very clean and straightforward.
The 3CX Softphone that can be installed on Windows and mac computers pairs effortlessly with 3CX provisioning files.
Cons
3CX offers very little customization outside of the user interface, and commonly phone system managers will be simply unable to perform more-complex call routing. As an example, dynamic outbound routes are simply not possible outside of the overly-simple Outbound Routes tab, and you are limited to only prefix, length of destination, and from extension.
Compared to FreePBX and FusionPBX, the ability to customize 3CX is almost non-existent.
3CX Support will 100% of the time deflect any technical issues to the carrier, and after numerous ticket responses later, they will finally admit to being able to help.
SIP SRV records are completely broken and not compliant with the SIP RFC. It's hilarious how catastrophic this lack of functionality is.
Faxing is completely broken. It will be a complete nightmare if you attempt to run T.38 faxing over a 3CX phone system.
Industry: Retail
Company size: 10,000+ Employees
Used

Daily

for

1+ year

Review Source
---
Calls made easier and more organized
Pros
The quality of the recorded calls is amazing and it makes them very useful for training purposes . 3CX gives you a lot of freedom to organize the call list in a way that works for you . The admin panel is centralized ,which makes it easy for managers to properly oversee everything.
Cons
Configuring it when you are starting out takes a lot of time . Status changes ( from online to away and vice versa ) take a while to sync up and this could lead to missed call .
Response from

3CX

Hi Jessica. So happy to hear that 3CX has enabled you to organize the call in a way that works for you.
Installing 3CX from scratch, by following our online guides takes between 5-15 minutes typically, depending on what platform you are installing on (Windows/Debian amd64/Raspberry Pi). The time it takes to configure the system thereafter depends only on how big and complex it is.
The statuses, if setup correctly, change on precisely on the second configured. If you were experiencing delays, it is most likely the NTP time that was consistent on your network. Our installation guides also mention when and where actions need to be taken to avoid this.

Replied 18/10/2021
Industry: Computer Software
Company size: 201-500 Employees
Used

Daily

for

2+ years

Review Source
---
3CX - The Softphone that works
The day to day operation is more streamlined and at a management level, it helps keep track of those taking calls on out various teams. It also allows us to be away from our offices but take the mobile app with us and get our VM's via email... all positives and allows us to be more attentive.
Pros
3CX has made it easier to maintain our calling network and allows us to bring its features outside of the office which aids in our day to day. The phone dial pad it self is very user friendly and the software it self has a very ease of use feel to it.
As a manager it is nice to view, listen and transfer my teams calls on the fly - the logging system also allows me to keep track of activity within my teams.
Cons
Not a ton of cons to be honest, there are some issues of delays from when you ask for a function (click delay) like looking up a contact from the address book and clicking to call the contact, sometimes there is a bit of a delay.
The product could use a bit of a refresh look, but overall the ease of use and user friendly Softphone does hit it's marks.
Reasons for Switching to 3CX
As I understand it, it was about the features available and overall value of the product we were getting - the user interface were also big reasons.
Response from

3CX

Thank you for your feedback. We are delighted that 3CX is proving to be a useful tool in your organisation.

Replied 15/01/2020