About Blackboard Learn
Help learners, instructors and institutions achieve their goals with Blackboard Learn by Anthology, a market-leading Learning Management System (LMS). Blackboard Learn runs from course development to assessments and integrates with the world's most holistic EdTech ecosystem. Powered by a community of millions of learners, instructors and administrators across more than 70 countries, Blackboard Learn has been redesigned in collaboration with educators, and is even better than before. A mobile-first design offers learners the flexibility to access courses on the go - no matter what device they may be using. Thoughtfully designed, Blackboard Learn extends pedagogical freedom with flexible assessment types, personalized feedback for learners, peer assessments, group and individual assignments, discussion boards, messaging and more, all while operating reliably across your current tools and integrations. With an emphasis on positive student outcomes, the new Blackboard Learn provides actionable data and insights embedded right into student and instructor workflows. This makes it easier to track progress, highlight areas of opportunity, and identify struggling students early on. Blackboard Learn offers best-in-class technology to educators, admins, and institutions. Our network of over 200 partners allows organizations to extend the LMS functionality to meet their specific needs, while native integrations with the tools instructors use most allow more engaging and collaborative instruction. A cloud-based offering, Anthology makes regular, frequent updates for enhanced security and improvements, and redundant architecture supports business continuity - so your team can focus on more forward-thinking efforts. See what else is new at Anthology.com/Learn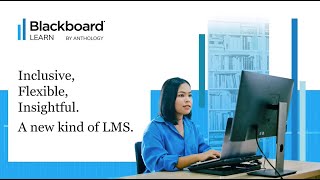 Blackboard Learn does not have a free version but does offer a free trial.
Alternatives to Blackboard Learn
Industry: Education Management
Company size: 1,001–5,000 Employees
Used

Daily

for

2+ years

Review Source
---
Blackboard Learn Review
I had great experience with Blackboard Learn and I will continue to use it in the future. I have not found any other education software out there that can do what Blackboard Learn does.
Pros
It is easy to use and has all of the feature I need like auto grade, the ability to create quiz and text on the fly and allow the student to get involved in the discussion.
Cons
There is nothing I do not like about the software.
Reasons for Choosing Blackboard Learn
Google classroom do not have the ability to auto grade and it does not have the ability to organized things in different pages like Blackboard.
Reasons for Switching to Blackboard Learn
I chose Blackboard Learn over these alternative because it is a higher quality product with far better features than any other I have ever seen.
Industry: Higher Education
Company size: 501–1,000 Employees
Used

Daily

for

2+ years

Review Source
---
A decent LMS, but there are better ones out there that have less workability issues
I have used both Blackboard and Moodle in the past, and I found them very similar for what they offered. I would have been fine using Blackboard indefinitely had I not found out about Canvas, which is what we are using now and I am absolutely it's biggest fan!
Pros
I used Blackboard for almost 10 years, and it was a decent LMS for my needs. When Blackboard Collaborate came out, it was even better because it added a new layer of possibilities (I could have several webinar/conversations going, merge conversations, and/or present to different groups at one time). However, there were always bugs in the system, even though we updated constantly. The Blackboard app was also very limited.
Cons
Too many bugs and freezes; many of my students had issues with accessing links when they used different internet browsers. Good for a small school or business, but not larger ones.
Industry: Education Management
Company size: 501–1,000 Employees
Used

Daily

for

2+ years

Review Source
---
BlackBoard Learn is a Relic of a Bygone Era
I have used BlackBoard Learn for 5 years now, and I can report that it's a tool that I've tolerated with a fair degree of frustration, as opposed to a tool that I'd relish and recommend to others.
Pros
BlackBoard Learn is a reliable tool for basic communication, content collection, and assessments. There are convenience factors baked into its framework in the sense that instructors can readily copy and reuse materials from earlier semesters, but other capabilities have far surpassed the benefits of this complacency factor. Also, the price point of BlackBoard Learn is extremely compelling, and they have reliable customer support and service.
Cons
Doing anything on BlackBoard Learn requires significantly more clicks and testing than competing products. The design is clunky, and it directly contradicts the instructional delivery of faculty who know what else is out there, as well as the learning-design preferences of Gen-Z students.
Reasons for Switching to Blackboard Learn
I was not part of the committee that made the decision to continue with BlackBoard Learn, but I believe the continuation was justified because of its low-cost and the challenge of switching to a competing model. Upgrading the LMS is a bit like updating your operating system. You can kick the can down the road and keep your status quo in place, but when you eventually update, you gain new capabilities, efficiencies, securities, and collaborative synergies.
Industry: Higher Education
Company size: 501–1,000 Employees
Used

Daily

for

2+ years

Review Source
---
Great for Online Learning
My overall experience with Blackboard has been good overall. Although it has not been very easy to use, it still offers great features for instructors and students.
Pros
Blackboard Learn is a great platform both for offline and online learning. It has a lot of nice features and allows instructors to structure their courses in an organized manner. Online tests are also a great feature that allow students to take tests at their own time. Blackboard Learn has also an automatic grading system to evaluate the student's work.
Cons
Although Blackboard Learn has a lot of important features, it is not very user-friendly in the edit mode for instructors, and is very hard to use, especially for beginners. In addition, browsing student submissions is not very streamlined as opening a link in a new tab will not actually open the selected item but take you to the home page.
Industry: Design
Company size: 501–1,000 Employees
Used

Weekly

for

2+ years

Review Source
---
Blackboard as a home base for college students
I had a fairly pleasant experience with blackboard, i was able to do much of the tasks I expect to be able to do on an LMS. I just wish that the design interface would be more simple and modern. Also more functionalities and integrations would be nice. Eg: opening a pdf file on blackboard directly instead of a redirection to a page or a pop up
Pros
I like that it is fairly easy to use. Users don't require extensive training to be able to use the product, and I like that as a student I can upload assignments and get learning modules from the same place, so it is convenient.
Cons
I think the user interface design is a bit outdated. It is less appealing than other LMS such as canvas learn. I also hear a lot of my professors complain about how complicated it is on their side to navigate blackboard due to the repetitiveness and redundancy of blackboard.