About Blackboard Learn
Help learners, instructors and institutions achieve their goals with Blackboard Learn by Anthology, a market-leading Learning Management System (LMS). Blackboard Learn runs from course development to assessments and integrates with the world's most holistic EdTech ecosystem. Powered by a community of millions of learners, instructors and administrators across more than 70 countries, Blackboard Learn has been redesigned in collaboration with educators, and is even better than before. A mobile-first design offers learners the flexibility to access courses on the go - no matter what device they may be using. Thoughtfully designed, Blackboard Learn extends pedagogical freedom with flexible assessment types, personalized feedback for learners, peer assessments, group and individual assignments, discussion boards, messaging and more, all while operating reliably across your current tools and integrations. With an emphasis on positive student outcomes, the new Blackboard Learn provides actionable data and insights embedded right into student and instructor workflows. This makes it easier to track progress, highlight areas of opportunity, and identify struggling students early on. Blackboard Learn offers best-in-class technology to educators, admins, and institutions. Our network of over 200 partners allows organizations to extend the LMS functionality to meet their specific needs, while native integrations with the tools instructors use most allow more engaging and collaborative instruction. A cloud-based offering, Anthology makes regular, frequent updates for enhanced security and improvements, and redundant architecture supports business continuity - so your team can focus on more forward-thinking efforts. See what else is new at Anthology.com/Learn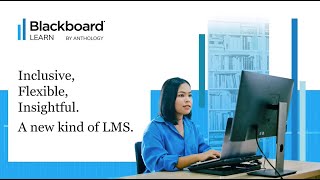 Blackboard Learn does not have a free version but does offer a free trial.
Alternatives to Blackboard Learn
Industry: Computer Software
Company size: 11-50 Employees
Used

Daily

for

2+ years

Review Source
---
Reliable where it counts
Pros
Blackboard is a rather intuitive learning platform, packed with a huge amount of features. If you need it for your school, it can be done. There were also a number of training materials and good customer support. It's reliable, which means students and instructors will know when to expect outages and prepare accordingly.
Cons
The UI, until recently, was a bit stale and outdated in appearance. Thankfully this has been updated and seems more modernistic now. It is also a bit more expensive than alternatives.
Alternatives Considered
Moodle
Reasons for Choosing Blackboard Learn
Moodle didn't have enough of what we needed and experienced a lot of down time.
Reasons for Switching to Blackboard Learn
It had more features and seemed more reliable based on our experience.
Industry: Education Management
Company size: 1,001-5,000 Employees
Used

Daily

for

2+ years

Review Source
---
Blackboard Learn Review
I had great experience with Blackboard Learn and I will continue to use it in the future. I have not found any other education software out there that can do what Blackboard Learn does.
Pros
It is easy to use and has all of the feature I need like auto grade, the ability to create quiz and text on the fly and allow the student to get involved in the discussion.
Cons
There is nothing I do not like about the software.
Reasons for Choosing Blackboard Learn
Google classroom do not have the ability to auto grade and it does not have the ability to organized things in different pages like Blackboard.
Reasons for Switching to Blackboard Learn
I chose Blackboard Learn over these alternative because it is a higher quality product with far better features than any other I have ever seen.
Industry: Writing & Editing
Company size: Self Employed
Used

Daily

for

2+ years

Review Source
---
Simplifies Grades, Course Communications, & Materials Distribution
There are a lot of learning management systems out there, and I've used several of them. Blackboard is my favorite. It has excellent capabilities, improves organization, and makes it very easy to communicate with students.
Pros
Blackboard is a great tool for communicating with students, distributing course materials, and recording student grades. The "one-stop shopping" approach makes it easy for professors to stay organized in each class, and it also makes it easy for students to stay organized. When used well, Blackboard allows you to do everything from communicating with students to uploading assignment sheets to sending class announcements.
As a writing professor, I especially appreciate the SafeAssign feature that checks student assignments for plagiarism. Once I started requiring my students to use SafeAssign, I found that plagiarism attempts dropped off significantly. (So did attempts to recycle papers from one course to another.) In addition, SafeAssign saves me a lot of leg work when students DO plagiarize -- it flags the suspect text as well as the source, so I don't have to hunt it down myself.
Cons
For me, Blackboard wasn't intuitive to learn. Even after 7 years of using it nearly ever day during the semester, I had some challenges making it do what I wanted it to do. I often spent far more time than I should have trying to customize things for my courses. But, as long as I stuck to the basic features -- which are also the ones I personally found most useful/beneficial -- Blackboard was a great tool for organizing my courses and keeping students on track.
Industry: Consumer Electronics
Company size: 201-500 Employees
Used

Monthly

for

1+ year

Review Source
---
Wow..an excellent online Learning platform
Pandemic-related problems with submitting assignments and accessing information for my online and face-to-face classes. It has become increasingly apparent to me as I progress through graduate school that this site will be useful not only for my coursework, but also for group presentations and collaboration with other students.
Pros
My assignments and materials are organized in one place. As of the most recent update, it is now much easier to use than it used to be. Assigning assignments and adding details to classes has never been simpler. Now, it's much easier to use than it was before. The process of giving students feedback and organizing my responses is simple. It's also how I communicate with them. As a result, it's easy to refer back to them and remember what I said.
I also like that Blackboard integrates well with other apps. When it comes to presentations, I rely heavily on VoiceThread and Panopto. GoReact and Top Hat are also on my to-do list.
Cons
An update to the mobile app is still in order. There is a lot of work to be done on this project. On the web, the user experience was much better.
Alternatives Considered
Moodle
Reasons for Choosing Blackboard Learn
I've used Moodle and Canvas, and I believe Blackboard Learn is more user-friendly and easier to use. The saying "you get what you pay for" applies to Blackboard.
Reasons for Switching to Blackboard Learn
Student logistical challenges were addressed and resources were provided by Blackboard. It simplifies managing and improving communication with students and teachers. The whiteboard allows you to attach Microsoft Outlook, and anyone in the class can send an e-mail to the class.
Industry: Higher Education
Company size: 501-1,000 Employees
Used

Daily

for

2+ years

Review Source
---
A decent LMS, but there are better ones out there that have less workability issues
I have used both Blackboard and Moodle in the past, and I found them very similar for what they offered. I would have been fine using Blackboard indefinitely had I not found out about Canvas, which is what we are using now and I am absolutely it's biggest fan!
Pros
I used Blackboard for almost 10 years, and it was a decent LMS for my needs. When Blackboard Collaborate came out, it was even better because it added a new layer of possibilities (I could have several webinar/conversations going, merge conversations, and/or present to different groups at one time). However, there were always bugs in the system, even though we updated constantly. The Blackboard app was also very limited.
Cons
Too many bugs and freezes; many of my students had issues with accessing links when they used different internet browsers. Good for a small school or business, but not larger ones.