About Homebase
Homebase is a cloud-based time tracking and scheduling solution that helps human resources personnel organize and manage employee schedules, timesheets and payroll. It caters to businesses in industries such as food service, retail, healthcare, software and more. Users can build employee schedules using a drag-and-drop interface. Schedules can be sent to employees via text message or email. The solution also enables users to get visibility into labor costs by tracking employee hours and overtime. Homebase also offers automatic error reporting and various data export capabilities. Integrations include multiple point of sale solutions like Clover, Poynt, Talech, Square, Breadcrumb, Lightspeed and Revel Systems. Mobile applications for iOS and Android devices are also available for remote usage. Services are offered on a monthly subscription basis. The package includes support via phone, email, chat and webinars.
What is Homebase?
Homebase is an HR solution that ecompasses payroll, scheduling, time sheets, hiring, compliance, and more.
How do I use Homebase?
Homebase is used to manage employee scheduling and payroll. Employee timesheets can be immediately submitted to payroll with one click, allowing for Homebase to calculate paychecks and send direct deposits to employees.
Who uses Homebase?
Homebase is used by businesses of all sizes who need to manage their HR processes.
How much does Homebase cost?
Homebase's basic version is free to use. It includes timesheets, scheduling, messaging and hiring. The next level up, the Essentials version, costs 14$ per month and location and adds features for team communication, performance tracking, and remote field tools. The Plus version costs 35$ per month and location and adds on features for labor costs and budgeting, time off and PTO tracking, and HR and compliance.
Does Homebase have an app?
Homebase has an app for employee scheduling and time tracking.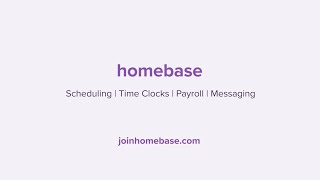 Homebase has a free version and offers a free trial. Homebase paid version starts at US$19.95/month.
Starting Price:
US$19.95/month
Pricing Details:
Basic: Free Essentials: $19.95/month/location or $14/month/location (billed annually). Plus: $49.95/month/location or $35/month/location (billed annually). All-in-One: $99.95/month/location or $70/month/location (billed annually). Full-service payroll: Add payroll to any plan for $35/month + $5/active employee.
Industry: Food & Beverages
Company size: 2-10 Employees
Used

Weekly

for

2+ years

Review Source
---
Scheduling & Labor Costing
Years of working with Homebase have shown that they constantly improve their product, and make it easier to use with integrations with common applications (via API access).
Pros
Quite honestly, one of the first things I recommend to businesses that want to schedule employees and know their labor costs that are up to the minute.
Cons
The one feature that I do wish was available, would be a calendar view that showed the entire department or business, so that it could be displayed on a monitor or web-based application.
Reasons for Choosing Homebase
The integration with Square POS and ease of use made it a reasonable switch. After years of use, I don't know if I would go back.
Reasons for Switching to Homebase
Homebase seemed to offer a solid free version, that makes it easier to implement with a client before showing them the added advantages of a premium plan.
Industry: Recreational Facilities & Services
Company size: 11-50 Employees
Used

Daily

for

2+ years

Review Source
---
Simply the best
Great, saves time and keeps people up today with the ever changing schedule of a seasonal recreational business.
Pros
How easy it is to have staff clock in and out. I also love how easy it is to fix hours when staff forget to clock in or out.
Cons
When setting up schedules you can not just copy one employee from week to week.
Industry: Construction
Company size: 2-10 Employees
Used

Daily

for

Free Trial

Review Source
---
Excellent tool for my small home renovation business
I am very happy with Homebase and as the company grows, I plan on upgrading my subscription.
Pros
Ease of use, presentation of information, team or individual communications, scheduling
Cons
There is no note section for daily time logging. I have teams at different project sites and I need to track their hours by project address to reconcile labour costs to the various budgets. I didn't see any easy way to achieve that... so I continue to do that manually.
Industry: Financial Services
Company size: 11-50 Employees
Used

Daily

for

1-5 months

Review Source
---
I've never seen so many bugs....
Bad,bad,bad. Customer service is responsive but there are just soooo many bugs with this software.
Pros
Very easy to use. The user interface is very simple and easy to navigate.
Cons
I feel like this is a beta software that should not have been rolled out yet. We have been using it for a week and have had issues every day since we started using it. Basic things that you think should just work doesn't work.
Example: All my employees have a 1 hour, unpaid lunch everyday. They clock in and clock out on this required one hour lunch but Homebase is still counting it in their total hours. So know I ma getting alerts that they all have overtime but they actually don't because Homebase is not calculating hours correctly.
So there have been several little things (Bugs) that I have found every day since using Homebase. I contact customer support and they tell me that they will pass it on to their product team.
This may sound harsh but the product team really should have tested this software more before rolling it out. Makes me question all the reviews I am seeing on here. All the bugs have been on basic functions.
Response from

Homebase

Hi David -

We are so sorry to hear you've been having issues your Homebase account. This is not the experience we want our customers to have. Our head of technical support has just emailed you to see if we can remedy these issues for you. If you have any further issues, please reach out to me directly at [email protected] Looking forward to getting these issues resolved for you, and so sorry again for all the challenges here.

- Ryan

Replied 30/04/2020
Industry: Food & Beverages
Company size: 11-50 Employees
Used

Daily

for

2+ years

Review Source
---
Fairly good for scheduling, could use some work
We are utilizing the HR function. It is nice to be able to send in questions and get responses from HR professionals. The help desk is responsive and usually helpful
Pros
Being able to create a base schedule of open shifts as a template is nice. You apply the template to the week, and then you can drag and drop the shifts onto employees. You must use a computer for this to work. The auto-scheduling feature can give you a good starting point but has flaws that make it impossible to publish a schedule using only auto-scheduling.
Cons
I would like more categories than owner, manager, employee. With more options of who can see what information. Auto schedule feature needs improvement to not schedule people on doubles and multiple locations at the same time. They've made a number of improvements over the years, but I sometimes think they are trying to add too many new features when they need to perfect the features already available first.