About Homebase
Homebase is a cloud-based time tracking and scheduling solution that helps human resources personnel organize and manage employee schedules, timesheets and payroll. It caters to businesses in industries such as food service, retail, healthcare, software and more. Users can build employee schedules using a drag-and-drop interface. Schedules can be sent to employees via text message or email. The solution also enables users to get visibility into labor costs by tracking employee hours and overtime. Homebase also offers automatic error reporting and various data export capabilities. Integrations include multiple point of sale solutions like Clover, Poynt, Talech, Square, Breadcrumb, Lightspeed and Revel Systems. Mobile applications for iOS and Android devices are also available for remote usage. Services are offered on a monthly subscription basis. The package includes support via phone, email, chat and webinars.
What is Homebase?
Homebase is an HR solution that ecompasses payroll, scheduling, time sheets, hiring, compliance, and more.
How do I use Homebase?
Homebase is used to manage employee scheduling and payroll. Employee timesheets can be immediately submitted to payroll with one click, allowing for Homebase to calculate paychecks and send direct deposits to employees.
Who uses Homebase?
Homebase is used by businesses of all sizes who need to manage their HR processes.
How much does Homebase cost?
Homebase's basic version is free to use. It includes timesheets, scheduling, messaging and hiring. The next level up, the Essentials version, costs 14$ per month and location and adds features for team communication, performance tracking, and remote field tools. The Plus version costs 35$ per month and location and adds on features for labor costs and budgeting, time off and PTO tracking, and HR and compliance.
Does Homebase have an app?
Homebase has an app for employee scheduling and time tracking.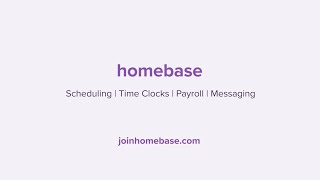 Homebase has a free version and offers a free trial. Homebase paid version starts at US$14.00/month.
Starting Price:
US$14.00/month
Industry: Food & Beverages
Company size: 11–50 Employees
Used

Daily

for

2+ years

Review Source
---
Best Scheduling Tool for Small Businesses
Overall experience with Homebase has been exceptional. We used another scheduling tool in the past and it was much too complicated and difficult to look at.
Pros
I thoroughly enjoy the Homebase platform and its ease of use. Everything is color coordinated, which is my favorite part. I use this to schedule my employees for all my locations. My employees enjoy it too because they can request time off, trade shifts, and see when they are scheduled on their phone. I also love the stats where I can keep track of sales and labor - and it links up all my locations which is a plus!
Cons
There honestly isn't anything I dislike about the software. I use it mainly for scheduling, but it does so much more than that. I would maybe like to customize admin roles a little more for better security, but that isn't entirely necessary.
Industry: Food & Beverages
Company size: 2–10 Employees
Used

Daily

for

1+ year

Review Source
---
Good stuff
Pros
I really like the geo clock and functioning with employees using their mobile phones instead of store equipment
Cons
Cost and reporting could be more detailed to be more HR equipped
Reasons for Choosing Homebase
Easier to make schedule
Reasons for Switching to Homebase
Easier to use
Industry: Hospital & Health Care
Company size: 11–50 Employees
Used

Daily

for

1+ year

Review Source
---
Scheduling Made Simple
It has been the best decision We made for scheduling our staff. User friendly and easy accessibility.
Pros
How easy friendly to use, can communicate with staff and changes are not difficult.When I have had issue, the support is great and is done in a timely matter.
Cons
Not being able to print out a 2 week schedule that is easy to see on 1 page.
Industry: Security & Investigations
Company size: 11–50 Employees
Used

Daily

for

2+ years

Review Source
---
Honeymoon phase is definitely over........contemplating a "divorce".
Heartbroken, disgusted....and anything else I didn't mention above.
Pros
In 2018 everything was so great and at an incredible price, by my second year as a monthly subscriber I upgraded my plan, in spite of the problem integrating homebase timecards with my QuickBooks payroll, and had to manually enter the data personally. I loved being able to see the total hours per employee when creating a schedule, until one day it disappeared. Still undeterred, I loved the ability to access the app from any mobile device and desktop. Only androids & Desktops access the app easily and iphones or ipads come with headaches. I fell in love with the ease, simplicity and it's sexy platform look of this time tracking/management app, until one day everything changed and I lost my ability to view time cards all on one screen. Little issues were just an alert in the far upper right corner like a nudge. Now they scream in double size that takes up half the monitor, leaving only an inch or two to view time cards accompanied with a lot of scrolling. Nowadays I'm afraid to login and be greeted by a scowling dashboard with a list of issues nagging to be resolved. Issues caused by employees that can't log in or out and got tired of uninstalling and reinstalling the app as a temporary fix. I knew my relationship with homebase was reaching a bitter end when without so much as a "heads up" warning there would be an increase to my subscription (almost $20.00 more). When I said "Oh h#!! NO!" and lowered it to essentials...
Cons
I was denied the ability to manage my PTO mandated sick leave pay feature that never matched QuickBooks anyway, and the feature to assign different roles/rate of pay for different jobs among my existing employees. I now have a default pay rate/role homebase deems as "fitting". After a 5 year relationship with all the little things I loved, I can have back if I pay $20.00 more a month. Out of some "disturbed" sense I felt I owed to Homebase, I emailed support with an offer to pay a small increase but not at their ridiculous price with it's 15 features included that I would never use. If they can't find my request reasonable and let me pay only for what I use, I will fly into the arms of another app that gives me the basic features for free. The email was sent last week and long past the "24 hour" promise to respond. I never called out their promised "money back guarantee" after 5 years and the inability to integrate their application with my payroll system......Seriously? How much alimony is it worth? No, it's too late now. I'm divorcing homebase from my company forever.
Industry: Banking
Company size: 5,001–10,000 Employees
Used

Daily

for

2+ years

Review Source
---
Allows hours worked to be better managed
Allows you to create work schedules and share them, so it could also become an organizational collaborative tool, its platform is understandable and also accessible
Pros
This is a business tool that allows professionals to plan their strategic plans without problems, it has calendar systems and notifications for better efficiency, it is the type of tool that as a professional is quite necessary when working with large amounts of information constantly, It also allows monitoring and more functions that this tool presents
Cons
I have no problems or it has not stopped working for me since I understood the importance of this tool, it is generally the type of tool for professionals with heavy workloads or helping them reduce them and improve the environment in which they work