About Paylocity
Paylocity is a cloud-based human capital management (HCM) platform that provides human resources and payroll management tools to help businesses manage core HR functions. Key features include payroll processing, benefits administration, time management, talent management, employee engagement, an integrated applicant tracking system (ATS) and data insights. Paylocity's payroll module allows businesses to simplify payroll operations, automate processes, and stay tax compliant. With expense management, payroll administrators can eliminate spreadsheets and payroll calculators by automatically pulling expenses into Paylocity. With the pre-process register, users can preview, correct and verify employee paychecks before processing payroll. Businesses can also utilize Paylocity's payroll service to manage tax filings and wage garnishments. Paylocity's core HR enables businesses to manage HR functions using quick-edit templates, custom checklists, action forms, position management, and dynamic reporting.
What is Paylocity?
Paylocity is an all-in-one HR and payroll suite that provides modern workforce management solutions.

How do you use Paylocity?

With Paylocity's web application, users can access a unified HR and payroll dashboard with all employee details. A self-service portal allows employees to complete HR tasks, access pay information, and read company news.
Who uses Paylocity?
Paylocity is used by HR and payroll professionals in U.S. based businesses of any size across many industries including financial services, healthcare, manufacturing, education, and others.
How much does Paylocity cost?
Paylocity does not share pricing details publicly. Please contact Paylocity for information on starting price and available plans or tiers.
Does Paylocity have an app?
Yes, Paylocity has a mobile app (for iOS and Android) where employees can clock in/out, request time off, access pay info, and more.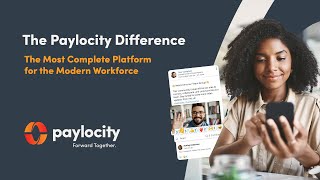 Paylocity does not have a free version and does not offer a free trial.
Alternatives to Paylocity
Industry: Apparel & Fashion
Company size: 51–200 Employees
Used

Daily

for

6-12 months

Review Source
---
Great for Remote Worker
I love Paylocity. My only con isn't an everyday issue that many users will encounter. It was mainly my bad luck. I would highly recommend this product for those that work remotely. I love that I don't have to get to a computer to clock in and out. The app is super easy to use, a child can figure it out in a jiffy.
Pros
clock in / clock out from ANYWHERE
Keep track of your hours with a simple click
missed punch? No problem. you can fix it yourself (if your HR didn't lock you out of it that is)
Impressions section: Your company can give you praises and make it public.
Cons
There was a time that my bank account got compromised so my direct deposit info needed to be changed. It took my HR department a long time to get my info updated and for my pay check to be sent. I work remotely so Paylocity sent my paycheck to my company's office then my company sent the pay check to me through snail mail... with bad luck usps lost the letter.... getting my paycheck processed again took an entire pay period to receive my paycheck.
Industry: Accounting
Company size: 51–200 Employees
Used

Daily

for

1-5 months

Review Source
---
Paylocity has been a great tool for our company!
Our overall experience has been very positive. The implementation process went smoothly and felt like we had a good team at Paylocity helping us get started with the product. The system was able to meet our pretty sophisticated needs and has been a very good investment if you are looking to move into a more user-friendly product.
Pros
Some of the best parts of this product is how everything is connected and works well together. There is no disjointed feeling as you move from one part of the software to the next. This makes life as an HR professional, payroll preparer, or general accountant a lot easier. We appreciate being able to place all of our HR processes and especially onboarding into Paylocity and eliminate a lot of busy work behind the scenes.
Cons
We wish the workflow software was a little bit further along but we have been told it is a priority in development right now so that is good to hear.
Alternatives Considered
Paycor
Reasons for Choosing Paylocity
We made the switch because we needed a software that was a little bit more sophisticated and more connected across all of its programs. Netchex could be a very good tool for some companies, but we needed one that was a little bit more advanced for our needs.
Reasons for Switching to Paylocity
We chose Paylocity because it was a good price for what they offered and the site was very user-friendly. Other products we looked at were not as easy to navigate.
Industry: Marketing & Advertising
Company size: 11–50 Employees
Used

Daily

for

1+ year

Review Source
---
Paylocity, a low-cost human resources and payroll software package
In short, Paylocity is a robust solution for human resources and payroll management, guaranteeing transparency and security of user data.
Pros
As a digital marketing freelancer, I'm often asked to lead web projects (that exceed 1 year's work). In these cases, I team up with other freelancers. I've enjoyed using Paylocity software to manage human resources and payroll. In my experience, I've really appreciated the online payroll processing features and the fast data entry. This saves an incredible amount of time, and everything is done in complete transparency.
Cons
I can't think of a single negative aspect of using Paylocity's payroll and human resources management software; I find it very efficient for payroll and human resources management.
Industry: Accounting
Company size: 2–10 Employees
Used

Daily

for

6-12 months

Review Source
---
Very glitch software, if you want to be irritated and take more time to do everything in their...
I would never use this payroll software again, even the app is not operational.
Pros
I did not like anything everything was very complicated and did not work. Do not get this app until they fix it.
Cons
Every single aspect that I tried to use in this software did not work, it was so frustrating and took me so many more hours to complete and all of my co workers say the same thing.
Industry: Retail
Company size: 51–200 Employees
Used

Daily

for

1+ year

Review Source
---
Quick and Painless
Pros
Access to everyone's records and time make it easy to work with multiple people at the same time on getting an issue solved. The physical time clock is great for all the employees to use. Correction was quick and easy for any clocking in error or HR issue. The transition of data from the other payroll software was done perfectly.
Cons
The issue of the first set up was terrible. We had a team to help us transition and get the set up for the system changed about three times before we could actually move forward. Running reports can also be hassle if you are looking for something specific.