About Cerner Ambulatory
Cerner's PowerChart Ambulatory EHR is a hybrid EHR solution that caters to clinicians in hospitals and ambulatory facilities. PowerChart is designed to help with multi-entity electronic medical record creation. This solution can be hosted on the cloud or on-premise. It provides various built-in templates that cover various specialties, thus serving a wide range of medical providers. PowerChart coordinates care between multiple locations and practitioners, helping office staff manage medical record processes while still offering flexible documentation options. These options are reflected in the solution's database of clinical data templates, customizable procedure workflows, and patient chart options. PowerChart is ONC-ATCB certified and Meaningful Use Stage 1 and 2 certified. Its patient portal helps office staff manage patient communication by sending appointment reminders and enabling patients to access their medical records online. PowerChart Touch is also available for healthcare providers needing to access mobile workflows using tablets and smartphones. Cerner offers support via phone, FAQs, and Cerner's online client portal.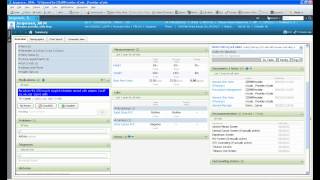 Cerner Ambulatory pricing
Cerner Ambulatory does not have a free version. Cerner Ambulatory paid version starts at US$25.00/year.
Starting Price:
US$25.00/year
Alternatives to Cerner Ambulatory
Cerner Ambulatory Reviews
Industry: Hospital & Health Care
Company size: 10,000+ Employees
Used

Daily

for

6-12 months

Review Source
---
Functional Software that plays an important role in the healthcare field
Overall, i have had a pleasant experience with this software, it is definitely user friendly and provides healthcare workers a variety of tools that make charting much easier. Also, it is extremely easy to find information about a specific patient due to the fact that it has different sections with up to date information about the patient and that takes off a lot of times from reading the physician's documentation, at least on my current job position. I highly recommend this software!
Pros
I work in the healthcare industry and use this tool on a daily basis. The software contains a variety of tools that allow healthcare workers to document patient's visits very easily and it is very user friendly. Moreover, it is an extremely well developed software where you are able to navigate through patient's chart, test results, patient's scheduled visits and many other tools that healthcare providers use to get acquaintance with the personal history of the patient. In regards to my position, the Oncology flowchart provides me with information about the cancer staging, treatment name and dates, BMI and lab results. It is a highly functional tool with multi faceted use.
Cons
In order for the software to function correctly, massive amount of updates need to happen monthly from the IT team in my organization. It can be very glitchy sometimes or freeze when there are large amount of information, for example, the MAR section freezes a lot. But other than that, it is highly functional and well developed software.
Industry: Hospital & Health Care
Company size: 5,001-10,000 Employees
Used

Daily

for

1+ year

Review Source
---
Cerner PowerChart Review
Overal Cerner PowerChart satisfies electronic medical record needs well with a few areas of improvement. I am not involved with EMR purchasing decisions but from what I understand, Cerner PowerChart is a good product for the money.
Pros
Cerner PowerChart provides a comprehensive location for all medical information. Information display can be customized to fit user needs and provides quick access to pertinent info with continued use. Home screens are customized for each particular practitioners credentials and needs making many commonly used tasks always right at hand. Accessing information from other visits is also easily performed regardless of which encounter the patient was initially pulled up. One of my favorites is the results callback functionality that allows easy review of discharged patients culture results.
Cons
While Cerner is not difficulty to use, not all features are entirely intuitive. Many functions require repeated use and lots of clicking to access and perform relatively simple tasks. While there is a quick link for Meds Manager access for pharmacists, the link does not pull up the current patient profile opened, necessitating re-entering of the patient encounter number which is a bit tedious. Additionally, the disjunction between FirstNet and PowerChart is inconvenient and would be nice if charts opened through FirstNet opened PowerChart rather than a separate entity of FirstNet given the difference in functionality between the two programs.
Industry: Hospital & Health Care
Company size: 10,000+ Employees
Used

Daily

for

2+ years

Review Source
---
Rich function, poor user friendly interface
We could deal with physicians' need of a comprehensive computer system to support patient care. Usability issues still remain but it's quite common in modern EHR systems.
Pros
Cerner Ambulatory EHR is one the well known and popularly used EHR systems in the US. It has most of the functions that are needed for outpatient care, computerized order entry system, and data data entry for meaningful use. The consultants from Cerner are hard-working, knowledgable, and deal with issues in a prompt manner.
Cons
Although it is a production system, it used to be so slow and physicians complain about ordering time takes up to 10 seconds. Citrix based desktop is slow. User interface and layout of components in Physician workflow is not intuitive and hard to learn. Overall it results in longer data entry time and takes physicians' time to talk to patients.
Industry: Hospital & Health Care
Company size: 11-50 Employees
Used

Daily

for

6-12 months

Review Source
---
harder to get used to after using EPIC for EHRs
I learned to use it and I think with more time I will get better as always, but the learning curve was a bit different from EPIC charting which seemed to be more color coded, and easier to navigate, but also full of facility wide things that had to be filled out but didn't apply to the patient, so that was cumbersome.
Pros
It is easy to use once you get to know where things are located, but it has more of a windows software feel than a mac software. It is more utilitarian in that it is not colored and the font is small, which is good for efficiency in documenting once you know where things go and are located. Does not have hangups that EPIC has when company wide documenting is required for certain areas that sometimes do not apply to particular patient such as was the case on a pediatric floor where I was using this system and I appreciated not having EPIC.
Cons
Hard to get used to. I was coming from using EPIC mostly, which seems easier and more intuitive to learn. I found the smaller black boxes and hidden tabs harder to get used to when trying to document daily things. As a nurse the med administration tab wasn't as easy to use as it is in EPIC and wasn't as intuitive and I sometimes messed up at first in documenting med administration especially when trying to add something that wasn't scanning from the pharmacy and I had to do an override.
Industry: Hospital & Health Care
Company size: 10,000+ Employees
Used

Weekly

for

2+ years

Review Source
---
Organized, but repetitive.
Overall it wasn't a hassle and made each day better with it's ease of use. Some days you feel like there's just so much to be done through it and you wish it didn't exist but that's part of what you sign up for in nursing!
Pros
I liked the ease of use and how it allowed for enough tabs for all my patient's charts during any shift. IT allows for most of the required charting to be done just with clicks via the mouse and not too much typing which saves time. It would help generate scores for certain diagnostics which also aids time management.
Cons
A lot of it was repetitive and sometimes the options for a certain part of an assessment didn't quite exactly meet what was assessed. It also times out after a while, which was unfortunate for those days when charting seems to take forever and you leave your desk by a patient or coworker and if not promptly resumed you lose what you were working on, had it not been saved. Makes you really want to get friendly with the save button.