About Moodle
Improve your teaching and learner outcomes with Moodle LMS, the customisable open source learning management system used by over 300 million people in over 100 languages worldwide. Our feature-rich platform is secure and scalable, integrates seamlessly with third-party platforms and plugins, and allows teachers to create engaging, accessible and active learning experiences. Since 2005, we have efficiently supported educational institutions and companies with a suite of technology and level of customer service that allows Learning & Development professionals, LMS administrators and instructors to focus on creating quality learning and an engaging learning experience that allows both learners and stakeholders to enjoy learning and track learning results.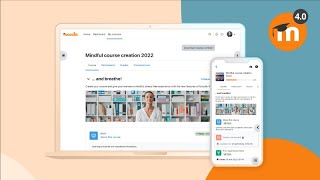 Moodle has a free version and offers a free trial.
Industry: E-Learning
Company size: 51-200 Employees
Used

Weekly

for

2+ years

Review Source
---
Best in class LMS
The use of Moodle is a great way to have students manage their own work and assignments. This allows students to take charge of their own learning and be more independent. The interface is easy to use and understand, so it can be accessed by students with little to no technical background. Moodle also provides a forum for teachers to post announcements, which can help to keep the whole class on the same page.
Moodle also has an online community for support. Moodle is a place for teachers, students, administrators, parents, and anybody else with an interest in education to come together for collaboration and discussion.
Pros
Student can manage their progress by checking off work as they complete it.
Moodle has a large number of features that allow instructors to customize their courses. Some of these features include: Course topics and assessments, discussion forums, quizzes and assignments, discussion groups etc.
Cons
The user interface can be a bit overwhelming for some users, forcing them to use the platform less.
Industry: Leisure, Travel & Tourism
Company size: 2-10 Employees
Used

Weekly

for

6-12 months

Review Source
---
Fairly poor tool
I had it in my phone for the whole school year but rarely did the quiz on that and it functions not really well. Anw, this is the only choice if your university portal doesn't offer anything else.
Pros
The only good thing about the application is its integration in mobile to pop up notifications when my university student portal posted something new.
Cons
The application often cracks in the middle, it's heavy to keep files downloaded with it and boring appearance.
Industry: Higher Education
Company size: 201-500 Employees
Used

Daily

for

2+ years

Review Source
---
The all in one tool for learning management
Moodle is our one stop shop for all our course materials, course communication, and operational functions. It is a big chunk of software and you need a good server and a qualified administrator, but then your are done and can offer a modern learning environment.
Pros
Moodle is more than just a platform for sharing learning materials. It is a real managment tool that allows to steer the learning process of the students. In Learning, communication is everything. Moodle provides the tools to communicate from the trainer to the students, vice versa, and between the students.
The tools are very versatile so there is the right functionality for every learning experience you can imagine. It even contains a H5P editor.
Cons
If you use Moodle out of the box ist looks pretty much like your file exporer in Windows. It need some additional themes and styling to look attractive for students.
Industry: Writing & Editing
Company size: 11-50 Employees
Used

Weekly

for

2+ years

Review Source
---
Moodle is great for educational institutions and organizations
Moodle allows our organization to manage workflow and content, as well as administrative documents and user management. Moodle is also our internal directory and all backend information on our Active Directory gets synched to Moodle daily so staff can find and connect with each other internally.
Pros
Moodle is free and open source so customizing it to whatever needs is always an option and it allows for great work to be done.
Cons
Moodle does have some complications and things that are confusing. However, Moodle has a great community platform and blogs to help with navigating around administrative tools and backend files.
Alternatives Considered
CANVAS
Reasons for Switching to Moodle
Moodle was easier installation for a cloud-based self-hosting setup and was more familiar to our set-up team.
Response from

Moodle

Thank you for your review. We appreciate your feedback. At Moodle, we are constantly working on new ways to improve our solutions to deliver the best learning outcomes.
Discover Moodle 4.0's fresh and intuitive user experience. https://bit.ly/3bgVsDC
Regards.

Replied 28/08/2022
Industry: Higher Education
Company size: 1,001-5,000 Employees
Used

Daily

for

1+ year

Review Source
---
A great platform to use for online related learning
Except for the fact that it is free, the moodle interface is simple, user-centered and generally friendly. It may lag at times when I am using the mobile application but it hardly does if I am using a browser.
Pros
It is a free software. The LMS is very good and customizable. I also like the fact that I can access it both offline and online when using the mobile application.
Cons
The security measures on the software are fragile. The platform also lacks poor customer support.