About Moodle
Open LMS leverages open-source software to deliver an effective and engaging online learning experience. As the largest commercial provider of highly curated, enhanced, SaaS-based versions of the world's most widely used open-source LMS, Moodle™ with our exclusive platforms Open LMS WORK and Open LMS EDU, we help organizations and institutions deliver the best learning experiences without complexities. Previously a Blackboard product, Open LMS was acquired by Learning Technologies Group plc (LTG) in March 2020. Since 2005, we have efficiently supported educational institutions and companies with a suite of technology and level of customer service that allows Learning & Development professionals, LMS administrators and instructors to focus on creating quality learning and an engaging learning experience that allows both learners and stakeholders to enjoy learning and track learning results. We're part of Learning Technology Group plc, an industry-leader in the workplace digital learning and talent management market that has been recognized as a strategic leader in Digital Learning in the 2021 Fosway 9-GridTM for the 5th year in row. With an extensive development roadmap, our developers are always making upgrades and improvements to meet your needs of today.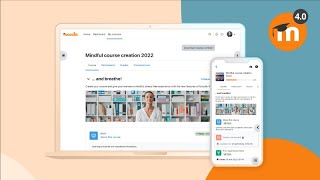 Moodle has a free version and offers a free trial. Moodle paid version starts at N/A.
Pricing Details:
Moodle is provided freely as Open Source software, under the GNU General Public License. Anyone can adapt, extend or modify Moodle for both commercial and non-commercial projects without any licensing fees and benefit from the cost-efficiencies, flexibility and other advantages of using Moodle.
Industry: E-Learning
Company size: 11-50 Employees
Used

Daily

for

2+ years

Review Source
---
Awesome Learning Management System
I'm overly excited about Moodle because it offers just everything to support all educational institutions to deliver high-quality services to their students.
It's unbelievable to know that you can use Moodle for free if you have your own server and technical team.
Pros
I love its flexibility to allow you to customize the UI and other features to meet your exact taste and requirement. And most importantly, it supports all kinds of projects from basic to more advanced features.
Cons
I wish the support could make available more documentation or content to address common technical problems.
Industry: Libraries
Company size: 11-50 Employees
Used

Daily

for

2+ years

Review Source
---
Solid choice
We run and manage our own Moodle installation. As we have that capability, it has greatly reduced the financial commitment necessary to implement the software. As we are a non-profit, this is a huge factor in our decisions regarding software options.
Pros
We have been using Moodle for well over a decade to handle our continuing education program. It's flexible enough to generally handle most styles and formats in some way.
Cons
The overall look of Moodle has remained constant over the years. A good chunk of that is handled by the theme you implement, however, the base interface is mostly the same regardless of the theme used. Deviating from that is not a path for the timid.
Reasons for Switching to Moodle
Moodle just turned out to be a better fit. The interface worked better for us, and the system requirements made it simple enough to jump in.
Industry: Education Management
Company size: 11-50 Employees
Used

Daily

for

2+ years

Review Source
---
Getting to know the Ancestor of the new Virtual Classrooms
It was a great way to start learning how to use a Virtual Clasroom, but I had to keep switching and integrating other platforms
Pros
It is a great way to remain distanced with students in th epersonal way which can be a positive thing for teachers like me.
Cons
It ensures very liitle contact with others and can be negative for a hands on Teachers... unlike myself.
Reasons for Choosing Moodle
Because the School already had it
Reasons for Switching to Moodle
It was a matter of trying different things in order to become more cost effective at the company
Industry: Education Management
Company size: 201-500 Employees
Used

Daily

for

2+ years

Review Source
---
Oodles of Moodles!
Pros
The Moodle LMS was among the first to offer modular add-ons and incorporation of existing curricula. The modular design is the best feature, in my opinion, as it allows "tweaking" of capabilities.
Cons
Occasionally the linked pages create confusion and on rare occasions, the password resets fail to deliver e-mails.
Industry: Education Management
Company size: 201-500 Employees
Used

Daily

for

2+ years

Review Source
---
Moodle
I am very satisfied on it. My clasess and the material that I share with my students has been never so easy to manage, interact and grade.
Pros
I have been using it for about 10 years from now. I celebrate that the platform is in constant development, I appreciate the FAQ, guides and tutorials. It allows me to plan, organise and execute with a high rate of excellence my lessons and I can monitor every students development in a peer to peer environment
Cons
You need some time to gain expertise in the platform