About Edmodo
Edmodo is a cloud-based learning management application for teachers to connect and collaborate with parents and students. The solution allows teachers to create academic groups, distribute assignments and homework, schedule online tests and track student performance. Edmodo also offers collaborative tools for students to post questions, conduct polls and interact with each other. Teachers can award certificates and badges to students based on their performance in online tests and exams. The snapshot feature allows teachers to monitor academic progress, track student performance and view upcoming sessions. Parents can also register with Edmodo and track the academic progress of their child in real time. With Edmodo, educators can categorize their content and can also sell premium educational content and request information from students or parents. Edmodo offers dedicated mobile apps for Android, iOS and Windows smartphones and tablets. Support is available through an online help center.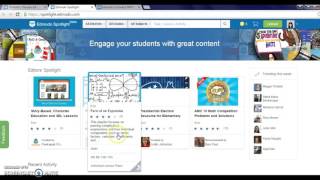 Edmodo has a free version. Edmodo paid version starts at N/A.
Pricing Details:
Contact Edmodo for pricing details.
Industry: Hospital & Health Care
Company size: 501-1,000 Employees
Used

Weekly

for

2+ years

Review Source
---
Very useful even for non 100% educational institutions
We are not an educational institution like a School, College or University, but we at the hospital we offer Continuing Medical Education and Educational Training to the nurse staff and Doctors. Thats how we applied for this amazing platform without being an educational institution per-sé.
It has worked for us very nice, until now, it has been well accepted among the users.
Pros
The user interface is very friendly (because its based in the UI of Facebook), so people get used to it very easily. I also like all the features that this platform offers.
Cons
Its a little bit tricky to use at the beginning even for the administrator if you don't have to much knowledge about it.
Reasons for Switching to Edmodo
Google asked us to be 100% an educational institution, which we aren't, so we looked for other options, and the other best option was Edmodo. They asked us a lot of things to, but they were very receptive about what we do, and how we do it, and they accepted us that way.
Industry: Education Management
Company size: 51-200 Employees
Used

Daily

for

1-5 months

Review Source
---
Great range of features, high usability
I love that Edmodo does pretty much everything that Google Classroom can do, but is linked to Microsoft instead. It has a huge range of features, is fun for kids to use, helps me organize all my online resources, manage my students' work, and provides a multitude of external resources to help me find topical lessons.
Pros
My favorite feature is by far the Discover section. A huge range of resources are grouped by subject, and within the subject, it tags each video or resource for elementary, middle, or high school. Teachers can rate as helpful, which cuts my time searching for resources in half. I love that I can browse leisurely, or quickly search and evaluate a resource if I need something last minute to fill some time.
Cons
While I love the fact that they just added a new daily agenda feature, it is a little too bulky for my liking. It's great that a teacher can add documents and links and whatnot, but I would prefer a slimmer, daily schedule just so students can see the general timeframe of our day. I can create that, but it's honestly easier to just make a post with that information than to spend the time filling in the agenda feature.
Industry: Media Production
Company size: 2-10 Employees
Used

Daily

for

1+ year

Review Source
---
Best document integration ever
We love to encourage the learning of new languages ​​and Edmodo has been a complementary tool for the teaching of them and we love it.
Pros
I really like the document integration, because it allows you to edit, take notes, correct the uploaded docx and keep track of that, plus the comments section is very nice, because once the task is loaded, the topic does not close completely loke on Blackboard. , and that makes following up really easy.
Cons
They say that Edmodo isn't for higher education, but I think the other platforms are missing something very important, that Edmodo has, and that is the ease of use.
Industry: Education Management
Company size: 201-500 Employees
Used

Daily

for

6-12 months

Review Source
---
Good LMS to Help Manage the Classroom
Overall, this is a good product for basic LMS needs, and worked for me in the beginning. After playing with a number of LMS apps and continuing to revamp my needs and redesign what online learning should look like, other LMS might just offer more in flexibility/features.
Pros
As is the case with most LMS apps out there, Edmodo does a nice job shifting from paper-digital, and giving students and teachers a platform to help manage and stay organized in the digital space. The fact that you can do a lot with the free platform is a big plus and educators Everything updates in real time, and is simple enough to put together your digital needs in one space.
Cons
To me, unlike some other LMS apps out there, Edmodo is limited. It doesn't have the modern or sleek look and design as others. It also doesn't have as interactive capability to embed a number of other apps/tools that teachers use daily into it. This is a must have when it comes to the digital classroom space. The more we can limit sending links and have one program integrate everything else into it, the better classroom management will be. I would also like to see some integrated features like virtual chats/video conferencing, and more enhanced lesson design features.
Industry: E-Learning
Company size: 51-200 Employees
Used

Daily

for

1+ year

Review Source
---
The use of Edmodo in e-learning
I used Edmodo in online teaching throughout the whole pandemic period. This experience was outstanding, my students and I loved the software so much. It made them feel as if they were using a social media platform, which made the process of teaching fun. It has some issues, yet it's still my favorite so far. I highly recommend teachers to use it, they will definitely love it.
Pros
• The software allows collaboration between students and teachers.
• It contains several tools that help interaction between students and teachers.
• I love the fact that assignments can be scheduled easily.
• Students can easily access it.
• It allows teachers to upload files and documents for the benefit of students.
Cons
• The interface is a bit complicated to understand from the first time.
• There are problems with the mobile version.
• The software sometimes runs slow.