About Edmodo
Edmodo is a cloud-based learning management application for teachers to connect and collaborate with parents and students. The solution allows teachers to create academic groups, distribute assignments and homework, schedule online tests and track student performance. Edmodo also offers collaborative tools for students to post questions, conduct polls and interact with each other. Teachers can award certificates and badges to students based on their performance in online tests and exams. The snapshot feature allows teachers to monitor academic progress, track student performance and view upcoming sessions. Parents can also register with Edmodo and track the academic progress of their child in real time. With Edmodo, educators can categorize their content and can also sell premium educational content and request information from students or parents. Edmodo offers dedicated mobile apps for Android, iOS and Windows smartphones and tablets. Support is available through an online help center.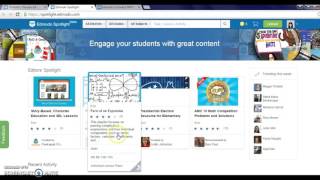 Edmodo has a free version.
Company size: 51-200 Employees
Used for

2+ years

Review Source
---
A "natural flow" LMS for students. Great for posting from homework to tests to parent...
Edmodo completely changes the flow of the classroom from when I was a student. Before you lecture as students take notes, then hand out homework. There may be notes home for parents that you then have to keep track of. NO MORE! The LMS allows to you upload all of the notes ahead of time, keeping students engaged, paying attention and participating. The homework can be uploaded, reducing the environmental impact of education in our one-to-one iPad environment, reducing the "I lost my homework/ You lost my homework" issues (the internet could eat it, but haven't had that yet!), test functions reduce the amount of paper tests to complete. Finally, parent communication can largely occur through the application as well. It creates a "one-stop-shop" environment for the classroom and streamlines the classroom process for easy teaching, and easy learning.
Pros
I like the user-friendly interface of Edmodo. It seems similar to some social media platforms, making it easy for students to interact in a familiar way. There are good controls, such as restriction of student access, and read-only abilities. It is a great way for teachers to share work, notes, homework, etc with their classes, and interact with their students. Tests can also be handled through this platform. Students can also edit their work on the platform and receive feedback. Parent communication can also be handled through the application, which keeps them in the loop and helps students communicate at home with their parents regarding their work. Badges are a great motivator, especially in the gamified classroom. Students can also use the planner feature to keep track of and prioritize their work. It is also a way that teachers can interact with each other. Finally, the integration with other software, like Google, is pretty well handled.
Cons
The features of Edmodo can be a bit limited compared to some other LMSs, but it is also what makes it a simple enough tool to be easy to learn. The grading is simplistic and makes it harder to use in upper-level education. There has also been some interruption from ads, that while always school appropriate, are not always age appropriate, so it has created some questions in the classroom. I have had some problems with notifications, which support suggests is working as designed, but I would like to receive a bit more notification other than direct student messages. Parents would also like to have communications with them and their student come from one source for two-way communication, to one area, rather than what it is now, which is a bit wider spread across platforms. I have also had some issues with the display of my Chinese characters. Additionally, weighted grades, or varying the assignments by students would be helpful.
Industry: Education Management
Company size: 5,001-10,000 Employees
Used

Weekly

for

1+ year

Review Source
---
Love it!
I used this software when tutoring my students in multiple subjects. It helped me collaborate with other tutors and tailor lessons to each student.
Pros
This is an online learning platform that allows teachers, students, and parents to collaborate and create custom made lessons for students. It's like combining Dojo, Moodle, and BARBRI all in one.
Cons
It may take a little practice to get the hang of the software. It has a few moving parts because the software has so much to use!
Reasons for Switching to Edmodo
Edmodo could be used for all grades. Moodle seemed to work better for older students.
Industry: Education Management
Company size: 51-200 Employees
Used

Daily

for

6-12 months

Review Source
---
Industry: Retail
Company size: 10,000+ Employees
Used

Monthly

for

6-12 months

Review Source
---
kids likes to do homework
Pros
is one of the successful actors of online education (lms-learning management systems). The interface is very simple and useful. After completing the necessary procedure, you can become an approved teacher and classes are created. When the code given when the class is created is given to the students, all of them can register for that class, file sharing can be done from both the computer and the existing library. One of the most beautiful applications is the exam application, multiple choice, short answer, matching, correct-answer, open-ended questions can be created and hundreds of students can participate. can be provided. The results of the exams can be taken in detail and exam analyzes with success percentage and response time indicator can be created with a single click. Motivation can be increased by giving badges to students for their achievements.
Thousands of educators who teach in the same fields around the world can be contacted and information and materials can be shared.
Cons
proficient notifications and alert system are understaffed, there should be more options for feedback on assignments and tasks
Industry: Information Technology & Services
Company size: 11-50 Employees
Used

Weekly

for

1+ year

Review Source
---
Great software for E-Learning
Pros
Easy to use for both teachers as well as students. Teachers can easily share assignments, timetables and other content with students quickly and easily. Also, students can easily view the shared documents by the teachers.
Cons
As this software provides several features it becomes a bit complex in starting to understand the software.