About Jira
Jira Software is a business process management tool used by agile teams to plan, track and release software. Jira Software supports Scrum, Kanban, a hybrid model or another unique workflow. Jira enables users to create project roadmaps to map out all projects in progress. The project board includes a drag-and-drop interface that allows teams to manage every project detail. The system offers functionality to create user stories and issues, plan sprints and distribute tasks across the team. Users also have access to information from thousands of business apps, from design and monitoring tools to source code and productivity apps. A mobile app is available for Android and iOS devices. Pricing is per user per month. Support is available through an online support portal, online documentation and tutorial videos.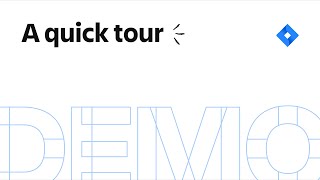 Jira has a free version and offers a free trial. Jira paid version starts at US$7.00/month.
Starting Price:
US$7.00/month
Industry: Semiconductors
Company size: 501-1,000 Employees
Used

Daily

for

2+ years

Review Source
---
Jira for bug tracking and project management
I highly recommend Jira for a bug tracking tool and especially for Agile software teams. For us it has really made a difference in terms of: team collaboration, Agile methodology adoption, decreased time to market of new projects/new features and on the overall teams' spirit. We have seen a wide adoption for the other departments as well, non software development.
Pros
We used several bug tracking tools in the past but Jira is by far the best one. What I like most:
- user friendly interface, provides a nice user experience
- Agile SCRUM/Kanban support out of the box
- extremely configurable on almost everything
- extendable through custom scripting, either built-in or via addons
- very collaborative
- there are thousands of addons in the marketplace; you can even write your own
Cons
Being so flexible to be configured, the learning curve for admins is a little steep.
The price is based on the number of users and if you experience wide user adoption in a big company, you end up in paying more for upgrading to the next tier, than if you would pay for that tier first time.
Industry: Financial Services
Company size: 11-50 Employees
Used

Daily

for

2+ years

Review Source
---
Love/hate relationship with JIRA
I'll focus on the experience of moving from JIRA Classic to Next Gen project types.
Basically, over 19 years of existence, Atlassian made JIRA so customizable, that it was difficult for new users to get started. You had to spend months learning the platform just to make simple changes to process management.
So Atlassian started over with Next Gen projects. Next Gen projects have some cool features like a road map.
Even though I'm experienced with Classic, I decided to try Next Gen. 95% of the time, it works fine. However, there are frustrating limitations:
* Workflow transitions rules are very limited. Next Gen allows transition to any status.
* Custom fields are project-levels, so moving issues between projects is a pain.
* You can only do Sprints or Kanban
* Epics are just grouping issues. They don't do much else and don't show on the board.
* Single board per project
Pros
* Allows the issue flow to be perfectly configured to match your software development practices.
* Highly customizable process management - define the properties of issues and how they transition between states.
* Integration with many other products, like Slack & GitLab
Cons
* "Next Gen" project type lacks many features of Classic projects.
* Classic Project configuration is full of bloated features and complexity
* Next Gen projects sometimes have frustrating bugs and limitations that don't get fixed for years.
* Issue transition between Next Gen and Classic projects is not smooth (custom properties don't carry over)
Industry: Higher Education
Company size: 1,001-5,000 Employees
Used

Daily

for

6-12 months

Review Source
---
More then you will ever need / Tool to handle thousands of problems one by one
Pros
*Functionality
The best feature of Jira is a huge number of integrations, massive amount of possibilities, statistics and tricks that you can you inside the platform.
There is an integrated tracking, kanbans, lists, sorting direct contact with chat (stride) and feature to work with git right from every task or issue.
* New UI
Recently Jira got an update, a new chat (Stride, instead of Hipchat) and a new UI for the tasks. I can see that company goes in the right direction to adopt all of it's powers.
*Customization
Jira, being confusing at first hides a lot of it's features inside most of which you can change and adjust to your business needs. It is a great solution for a big corporation with dozens of departments, hundreds of employees and thousands of issues and tasks daily. However, in all other cases Jira can be a nightmare at this point.
Cons
*Slow
Out off all CRM platforms and tools to handle tasks and issues Jira is the slowest by far. Is it initial problem or has it appeared after adopting so many technologies under one roof - I can't be sure. But one thing is clear - Jira is awfully slow.
*To many features
Yes, it is a disadvantage when it comes to Jira. When a new customer comes to Jira I believe, he is most definitely confused. Especially, if he/she tried ANYTHING else before. Of course, I see that company does a lot to make it easier and more comfortable, but as it is now, Jira is a terrible solution for fast adoption, scary for a small or middle sized team and most definitely not a great choice for personal use.
Jira is Huge. If you are huge - great features, customizing, different apps and plugins will help you solve a lot with Jira. If you are just starting or don't have that many tasks and issues and people in your company - you should probable check other options.
Industry: Computer Software
Company size: 11-50 Employees
Used

Daily

for

6-12 months

Review Source
---
Excellent tool to organize and control for work processes
It is great! we use JIRA to manage projects (internal and external), customer services desk process, reporting, measure work efficiency, monitoring and work hour control.
Pros
It is an outstanding platform easy to use, with a great UI design, and wide range of customization and con configuration.
It has standard templates to manage projects according to current approach and new trends (Agile/scrum/PMI). It service desk offer everything you may need to control all of the process internal and external.
It has a large number of app to aggregate, as well as REST full API, Webhooks, and the likes to extract data or make interfaces with company's systems.
Cons
About the cloud service, is a litther pricy, and most of the time you need to contract (monthly fee) some apps to do basic things.
On the other hand, support service has its opportunities. Response time is quite slow, and in some occasions -simply- not attended.
Industry: Wholesale
Company size: 11-50 Employees
Used

Daily

for

1+ year

Review Source
---
The best option available, and a great value
Pros
This software is so great, that you really don't need to train people on how to use it. Project managers will be familiar within a day, and users will understand it quickly because Atlassian put a lot of work into an intuitive user interface.
This is the best option on the market if you want something that scales across your company without draining your energy. Not only will you run projects through here, but you can also setup all your standard business processes to run through here.
Using the marketplace, there are some great extensions for Jira. We built our entire accounting team into Jira, and used it to know we were following through with our key daily, weekly, monthly processes. Using a scheduler plugin, we were able to create tasks, with subtasks, delegate them, follow up with progress, and print a custom summary report at month end outlining completion, completion date, user, and notes.
Cons
You will likely want confluence or google sheets to keep overall big picture notes.