About Zoho Projects
Zoho Projects is a cloud-based project management solution designed for small and midsize companies. It offers project scheduling and budgeting, which allows project managers to define project tasks, assign them to their teams, estimate project costs and follow up on in-progress tasks. Zoho Projects automates document processes such as revision tracking, access control and search and retrieval. Other product features include document management, which provides a portal for sharing documents within the team members. Zoho Projects also offers issue management features, which help managers resolve errors in the project tasks. Dashboards and reporting module helps users prepare business reports and management summaries. Users can use Gantt charts to get a visual presentation on the progress of tasks in comparison to what was planned. The resource allocation chart helps users know how many team members are free and how many are overloaded with tasks. Milestones and tasklists help users organize complex projects by breaking them into subtasks. Pricing is per month.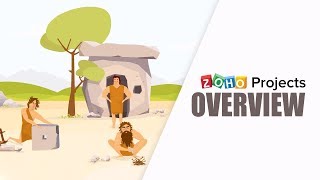 Zoho Projects has a free version and offers a free trial. Zoho Projects paid version starts at €5.00/month.
Alternatives to Zoho Projects
Industry: Apparel & Fashion
Company size: 1,001-5,000 Employees
Used

Daily

for

2+ years

Review Source
---
Excellent tool for task management
My overall experience is great with Zoho projects, it works fine if given the right technology support. In past three years we have done multiple updates and customization on Zoho projects and they have worked well for us. I personally would recommend Zoho projects to others to built a very good project management tracking system.
Pros
Zoho projects has been part of our organization from past 3 years. It is a very useful tool for project management. It has high importance in task management especially in tracking down deliverable in kanban projects. The user interface is very friendly and the dashboard is highly interactive. Milestones can be easily set and can be tracked throughout its completing period. Project lags, time delays, and bottlenecks can be identified easily in the system. This tool also helps to manage teams and individual tasks assigned to each person. Notifications can be enabled to track individual performances. Overall, this tool is multi-purpose tool that can perform wide range of tasks.
Cons
Zoho projects are hard to customize. Its scalability is very limited to certain tasks. It is good in project management, but it fails to provide a communication channel between people. Chat windows lag a lot between communication and real time forums take lot of time to update. Zoho requires high internet bandwidth, slow internet creates problem with updates and Zoho starts lagging. Multi user portal has also lot of issues. Even multi user portal is a common feature. The feature creates issues with file sharing. It takes lot of time for file transfers.
Industry: Information Technology & Services
Company size: 10,000+ Employees
Used

Daily

for

2+ years

Review Source
---
This easy-to-use app keeps track of chores and projects quickly
I really like the functions, the tools, and everything else that this software provides us with in order to manage a project. Those tools are really useful and important at the moment in order to manage a project and collaboration, and this software, it's absolutely useful if you want to manage like a professional.
Pros
Zoho projects have a number of great features, but one of my favorites is the option to personalize the parameters for the project management. In addition to being incredibly simple to operate, the customization function meets the vast majority of the needs that my firm has in regard to project management.
Cons
Zoho Projects is, without a doubt, one of the least user-friendly and most aggravating pieces of software I have ever worked with. It has some of the worst user experience and interface (UI) that I have ever seen, and it is missing some of the most fundamental capabilities that a project management software ought to have. It has been nothing but a hassle from the beginning to the end.
Industry: Transportation/Trucking/Railroad
Company size: 10,000+ Employees
Used

Daily

for

6-12 months

Review Source
---
I definitely recommend to use
The interface is very user friendly and I found the features very useful. I especially like the ability to manage tasks, track progress and store documents. I'm also grateful for being able to customize the clipboard to suit my specific needs. I highly recommend Zoho Projects to anyone looking for a comprehensive project management solution.
Pros
I liked the fact that Zoho Projects is a powerful and easy to use project management software that allows me to better manage and organize my projects. It has a great interface that's easy to navigate and understand, and it has a wide range of features that make it a great tool for managing projects of all sizes and complexities. Additionally, the software integrates with other Zoho products, making it easy to manage multiple projects from one platform.
Cons
I was extremely satisfied with the Zoho Projects platform, frankly, there was nothing I didn't like.
Industry: Marketing & Advertising
Company size: 2-10 Employees
Used

Daily

for

6-12 months

Review Source
---
I wanted to love it.
I wanted to love ZOHO Projects and all of ZOHO suits. And I still believe the concept is a fantastic one. Most of the major apps any small business will need one place. But it felt like ZOHO haphazardly patched together apps from several different creators.
I will be happy to try ZOHO again, once integration becomes more seamless. I look forward to newer versions!
Pros
The single login with the ZOHO suite was a nice feature. I tried ZOHO primarily because I wanted one suite for the majority of my business app needs.
Cons
My major complaint falls into two categories:
1. Integrations between ZOHO's own products are not as good as could be. And I have seen better integration with other PM software and third-party apps.
2. ZOHO suite, in general, does a lot of things, but most things not well.
I signed up for ZOHO Projects primarily because I wanted to integrate it with other apps in the ZOHO suite. However, I found these integrations were not seamless and nowhere near as functional as they could be. For example; I use both Projects and Invoices for clients, can send them invites from both applications for a client portal. However, both portals require a seperate login for the client. This frustrates clients, as they know both apps are ZOHO, yet they need separate credentials.
On my end, all of ZOHO's billing was not integrated. Which means there was a separate invoice and viewing page for billing for each ZOHO APP. I would expect billing to function more like G Suite, with all ZOHO apps billed together.

As a stand-alone PM APP I found it not to be user friendly. You can't choose which fields or features you want. We tend to use more of a Kanban methodology and would prefer if task start and end dates were not mandatory. While I like the idea of the Sprint version of this APP, I wanted some of the client management features of full Projects.
Industry: Information Technology & Services
Company size: 51-200 Employees
Used

Daily

for

1+ year

Review Source
---
Best Task management Software compared to other software
I have used Zoho from last 2 years but the services of Zoho software best ever I have seen so as per my perspective Zoho is good task management software compared to others.
Pros
The tabular form of zoho has been best features of zoho so user can easily understand.
Cons
There are some glitch on zoho software so there should be fixed on mobile responsive design.