About ITM Platform
ITM Platform is the Project Portfolio Management solution that easily connects your business strategy with your project management. Offering powerful tools that allow you to manage all components at portfolio, program, project, and task levels, ITM Platform makes it easy to oversee agile and waterfall projects, prioritize the unique needs and requirements of your business, and use real-time information to report progress to key players. You and your team will be fully operational quickly due to our speedy, two-week integration schedule and an easy learning curve, thus giving you the project and work management tools you need to align your portfolio with your overall business strategy.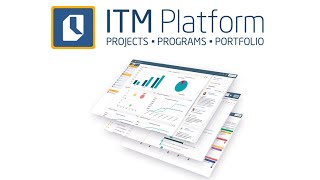 ITM Platform has a free version and offers a free trial. ITM Platform paid version starts at US$24.00/month.
Starting Price:
US$24.00/month
Alternatives to ITM Platform
Industry: Commercial Real Estate
Company size: 11–50 Employees
Used

Daily

for

6-12 months

Review Source
---
Great program and portfolio management solution
Compared to Planview ca PPM and others, this is by far the most intuitive and user-friendly tool.
Also, they offered a free 14-day trial, which is common in smaller solutions, but not in the PPPM space.
Pros
I find extremely valuable the project prioritization along with the portfolio management features.
Cons
Although it has revenue management features, it lacks most advanced billing features
Industry: Logistics & Supply Chain
Company size: 501–1,000 Employees
Used

Daily

for

1-5 months

Review Source
---
A Customizable Software with Excellent Support
So far it has been favorable. There are a few pain points, but not too bad.
Pros
There is a great deal that is customizable in the views and has ability for custom fields. This allows us to present the reporting as our executives wish to see it while still providing functionality for the PMs
Cons
There is a lot of 'click' fatigue. You cannot assign one member multiple tasks at once. There is no drag and drop functionality in the Gantt screen. The Gantt bars cannot be customized with colors to show red, yellow, and green tasks. There are not color options in the program progress area, and pink/salmon look a lot like red, which usually translates to at risk. ALSO and most importantly. There is no way to permanently delete a project without ITM's help. We know about the inactive portal, but this does not meet our needs. We want to use this as a TAC portal, so not being able to permanently delete rejected projects will clutter up the projects that have been completed that we do want to maintain visibility on.
Response from

ITM Platform

Thank you so much for your review, John.

We just wanted to point out that the Gantt --as well as the agile board- does have a drag and drop functionality. You can extend or move tasks with the mouse or, on mobile devices, by touching the screen.
You may have tried to move a locked task. The support team will be more than happy to help you with this one :-)

You are right: projects that have had activity --such as hours reported- cannot be deleted, only inactivated. This feature helps you keep a solid consistency within your portfolio.

Again, thank you very much!

Replied 12/06/2020
Industry: Automotive
Company size: 10,000+ Employees
Used

Daily

for

2+ years

Review Source
---
ITM
We control project status and costs with this tool.
Pros
Cloud based app and lightweight in almos every case.
Cons
Some functions require several web refresh and this is not always fast.
Industry: Information Technology & Services
Company size: 2–10 Employees
Used

Weekly

for

1-5 months

Review Source
---
ITM contains all the features you could possibly want in a PPM tool with good customer support.
I see a huge improvement in team collaboration.
Improvement in Portfolio Management due to custom reporting and the ability to export to Excel.
Cost Management: It's the first tool I use where the budget makes sense. The top down budget consists of figures from the business case. The bottom up budget is built from the estimates I put in. You can then directly compare with actual values.
Resource Management is a huge time saver and the timesheet feature.
Methodology: It's fully configurable and it makes provision for a combination of Kanban boards and Gantt views which satisfy both the traditional and Agile PM's.
Pros
I like the user-friendly interface which means users require little training. It's fully configurable to make it custom to your organization's processes and terminology. Because it's cloud-based it can literally be implemented within weeks instead of months.
You have an unlimited document repository for all your projects.
It makes provision for projects and workflow, is fully compatible with MS Project and Outlook. You can use it for resource management including timesheets and managing capacity and demand across all projects.
For teamwork it has a built-in social communication network. It allows you to manage all costs and budget, even internal and charge-out rates if you're a consulting firm. You can also use it for supplier and customer management.
For PMO's and Portfolio Managers it caters for Dashboard Reporting, KPI's and alignment with business objectives or strategies.
For the Agile and blended with Agile PM's, it has a Kanban Board function and a Task Management functionality.
Lastly I like the API's that makes it compatible with any third party solutions.
Cons
When you import Microsoft Project Plan, it doesn't bring the resource names across. You have to add the resource names separately and add them to the plan.
Also you cannot export the MS Project Plan out again.
Industry: Hospital & Health Care
Company size: 501–1,000 Employees
Used

Weekly

for

2+ years

Review Source
---
Implementing project management with the help of ITM
User support has been fast and effective.
The section of "Team", with the matrix of Components, Tasks and Responsibilities in the tasks gives a complete, fast and clear vision.
In the Gantt, it is very practical to be able to change data of the tasks and the degree of progress. Automatically, you can check degree of progress of the whole project.
Regarding Monitoring and Documents, I highlight the ease of adding some and others. In Project Documents, it is very useful to see to which task the documents have been linked.
The monitoring reports are added in a simple way and provide a valuable contribution to the lessons learned.
Program monitoring has been very useful for me to see the progress of the related projects together.
Another aspect that I have valued a lot has been the documentation sent (e-books, articles ...), which has been very motivating for me in my role in the Project Support Office.
Finally, assess the excellent professionalization of the entire ITM team with which I have been in contact.
Pros
In general, the clarity with which the concepts are displayed on the screen is very practical and intuitive to record the project manager, showing the key elements to him and to the project team.
Cons
In "Services" I have missed a calendar, in the style of the Gantt, to visualize the key dates.